Patriots
5 matchups the Patriots must win to defeat the Broncos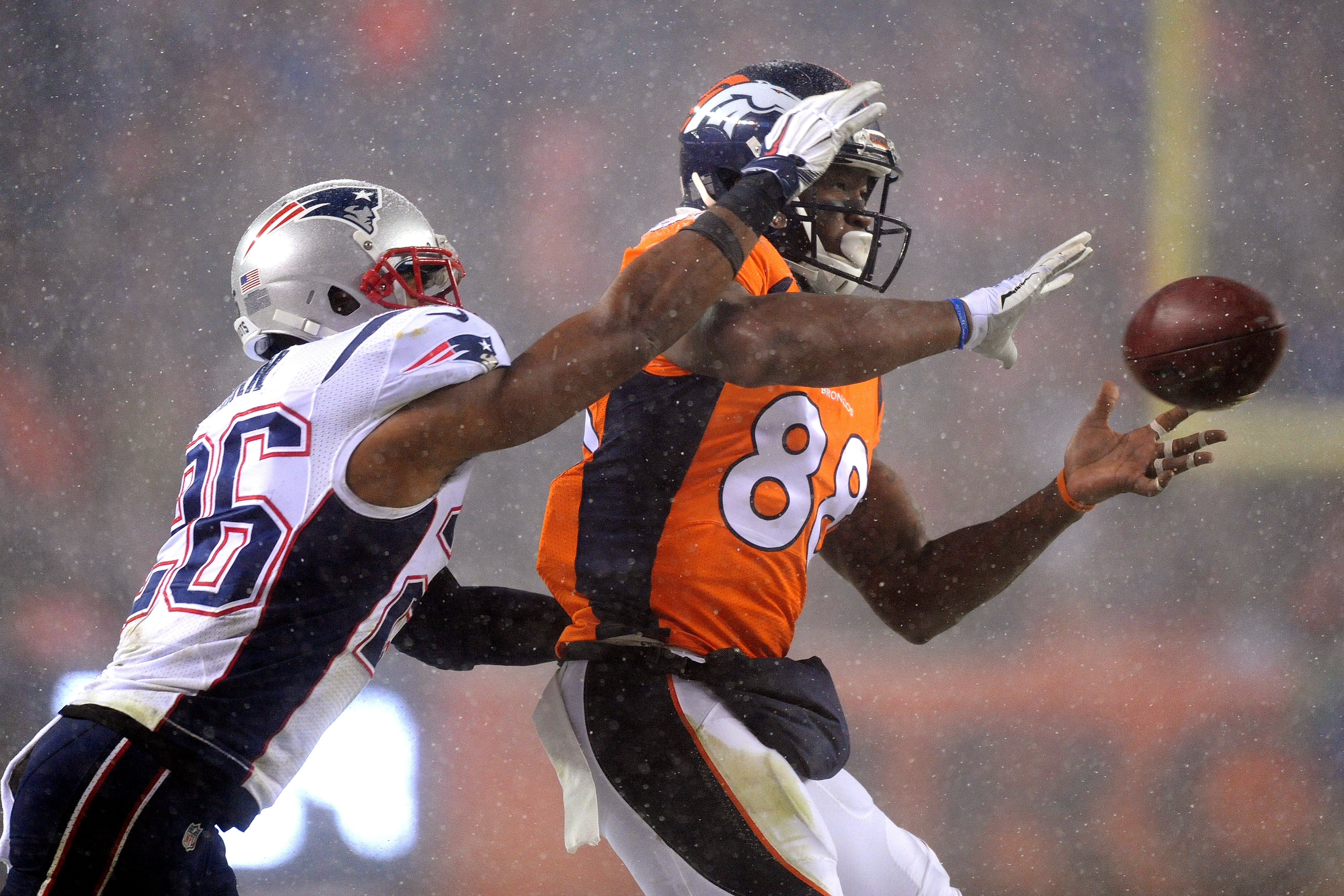 COMMENTARY
Brady-Manning 17.
Is it just a coincidence that the above words fit perfectly with that Nationwide jingle we've heard for more than a year now? Probably not.
Despite the hype, the quarterback matchup is not the only one that's going to determine the outcome of the New England Patriots' second trip to Denver this season. In fact, it's not even a one-one-one matchup that will take place on the field — unless Tom Brady switches to defensive back or Peyton Manning becomes a linebacker.
While the performances of Brady and Manning will inevitably be compared and contrasted, there will be more direct confrontations all over the field that will set the tone for the game. These are the matchups the Patriots must win to make sure they earn a spot in Super Bowl 50.
1. Logan Ryan vs. Demaryius Thomas
One of the lasting memories from the Patriots' previous trip to Denver to play the Broncos in the AFC Championship Game is Logan Ryan stepping in as one of the team's top two cornerbacks when Aqib Talib was injured in the first quarter. In that game, Ryan was covering wide receiver Eric Decker and gave up a lot of production (nine targets, seven receptions, 99 yards).
Ryan was once again one of the top two cornerbacks in the Patriots' return to Denver earlier this season. He was covering wide receiver Demaryius Thomas (a more dynamic player than Decker) this time around, but allowed him just one catch on eight targets, and a total of two catches on nine targets for 24 yards. Although Ryan did his part with two pass-breakups in that game, Thomas also dropped a pass to help the Patriots' cause.
2. Julian Edelman vs. Chris Harris Jr.
Wide receiver Julian Edelman's absence is perhaps the most important footnote to the Patriots' overtime loss to the Broncos in Week 12. Without Edelman from Weeks 11-17, Brady spent an average of 2.45 seconds in the pocket, according to Pro Football Focus. When Edelman came back against the Chiefs, that average dipped to 2.13 seconds. Edelman was targeted 16 times in that game and finished with 10 receptions for 100 yards.
Broncos cornerback Chris Harris Jr. would ordinarily be the matchup for Edelman, but he has been nursing a shoulder injury. Harris should be able to play on Sunday, but the Broncos might have to switch their coverage on Edelman if he is less than 100 percent effective.
Getting Edelman the ball quickly is the Patriots' best bet at neutralizing the Broncos' outstanding pass rush, which ranked No. 1 in the league with 52 sacks.
3. Marcus Cannon vs. Von Miller
While it would be nice if Brady got the ball out of his hands within two seconds of each snap, that's probably not going to be the case every time. At some point, the Patriots' pass protection is going to have to hold up against the Broncos' pass rushers, notably right tackle Marcus Cannon against linebacker Von Miller.
In Week 12, Cannon allowed just one hurry and one hit of Brady in pass protection. As a team, however, the Patriots did not protect Brady particularly well in that loss. According to Pro Football Focus, Brady was pressured a total of 19 times on 45 dropbacks (42.2 percent) and completed just seven of 16 aimed passes (43.8 percent percent) with one interception while taking three sacks. Miller generated pressure five times, with two hurries, two hits and a sack.
The Broncos like to create pressure with exotic blitz packages meant to get different pass rushers free. At some point, Cannon is going to have to block Miller, one on one. Cannon's ability to win that matchup will go a long way toward not only ensuring Brady doesn't get destroyed, but that he has enough time to make downfield reads and throws.
4. Tom Brady vs. Wade Phillips
In addition to the player matchups on the field, Tom Brady will be engaged in a chess match against Broncos defensive coordinator Wade Phillips.
Brady has owned a lot of defensive coordinators in his career — including Dick LeBeau and Jack Del Rio — but his dominance of Wade Phillips has been especially thorough. In seven games from 2005-2015, Brady has completed 175 of 287 throws (61 percent) for 2,183 yards (312 yards per game, 7.6 yards per attempt) for 20 touchdowns, five interceptions and a 100.6 passer rating. Brady's record is 5-2 in those games.
If Brady is going to make it to 6-2 against defenses coached by Phillips, though, he's going to need to play better than he did the last time around — and take advantage of the improved lineup around him. Brady went 23 of 42 (54.8 percent) for 280 yards (6.7 yards per attempt) with three touchdowns in Week 12. That isn't a bad stat line, but Brady's performance wasn't enough to earn a victory due to a lack of pass protection and the absences of Edelman and Danny Amendola. With a deeper arsenal of offensive weapons, Brady will have to get the ball out quickly to ensure he stays clean against Phillips' defense. But should know exactly what to expect. He's dissected that scheme before, and he'll have to do it again to ensure a Patriots victory.
5. C.J. Anderson vs. Patriots' front seven
This isn't a one-on-one matchup, but it is a vitally important one for the Patriots to win if they want to head to the Super Bowl once again.
Why? Because these Broncos are not the Broncos we're used to seeing since Peyton Manning arrived in Denver. This team is much more focused on running the ball. That's the way Broncos head coach Gary Kubiak likes it, with an offense that is predicated on zone runs and play-action passes.
The last time these two teams met, the Broncos ran the ball 32 times for a whopping 179 yards and three touchdowns. Patriots Linebacker Dont'a Hightower was less than 100 percent in that game, and it showed, as he had trouble chasing down the Broncos running backs when they ran east to west, a major emphasis of the zone-blocking running game the Broncos employ.
It will take discipline from the Patriots' front seven to stop zone runs, which are meant to isolate certain defenders to open holes for the back to cut through for long gains. The Patriots linebackers will have to stay clean of blocks at the second level to ensure those runs are bottled up before Broncos backs can pick up big yards.
Every matchup between Tom Brady and Peyton Manning
[bdc-gallery id="544114″]