Patriots
Patriots' 3 biggest offseason priorities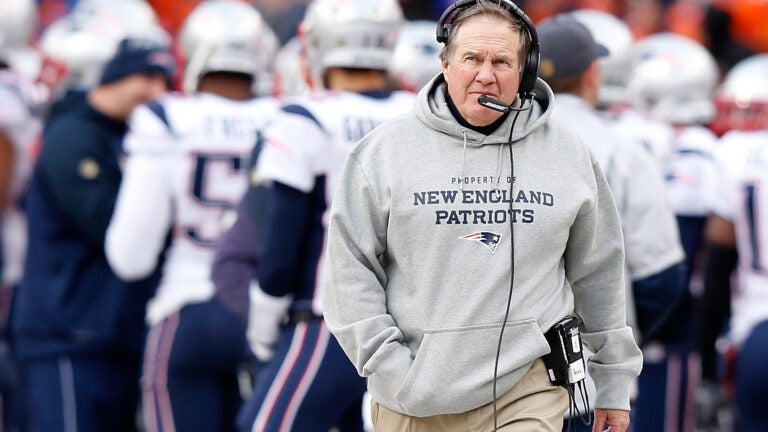 COMMENTARY
Time waits for no one.
The New England Patriots already face a disadvantage for the 2016 season. That disadvantage is their late start to the offseason. Twenty-eight other NFL teams got a head start on them when it comes to evaluating their own rosters, and in turn getting ready for free agency and the draft.
Now that the Patriots' dreams of a fifth Super Bowl victory have been put on hold for at least one more year, head coach Bill Belichick and his staff can get started with their post-mortem of the 2015 season. The offseason evaluations and changes have already begun with the reported departure of offensive line coach Dave DeGuglielmo. While the offensive line was one of the biggest problems for the team this year, there is clearly much more to be done.
Here are just a few of the Patriots' biggest priorities this offseason.
1. Reshuffle and rejuvenate the offensive line—coaching and personnel
The reported firing of offensive line coach Dave DeGuglielmo was logical. The offensive line was one of, if not the most, inconsistent units over the past two seasons. Yes, it played well down the stretch in 2014, but that proved to be more the exception than the rule under DeGuglielmo's tutelage.
Of course it would be perfect if Dante Scarnecchia came out of retirement, but that would only be a temporary fix. At 67 years old, Scarnecchia probably wouldn't be coaching much longer regardless. Even though head coach Bill Belichick has preferred to promote from within, there's really no one on the coaching staff who looks like a good candidate for an in-house promotion.
But the coaching isn't the only problem. The Patriots also need to fortify their depth and starting talent at some positions. Nate Solder's return at left tackle will be an upgrade over Sebastian Vollmer, who is better at right tackle than left. Vollmer, in turn, is certainly better than Marcus Cannon at right tackle. According to Pro Football Focus, Cannon ranked 52nd out of 75 qualifying offensive tackles in pass protection (19 hurries, eight hits, four sacks) and Vollmer ranked 41st (25 hurries, four hits, seven sacks). Belichick and his staff clearly like Cannon, having signed him to a four-year extension last year, but he didn't play up to the potential they see in him this year.
Between Cannon's shaky play and Vollmer's lengthy injury history, a backup tackle could be a top priority this offseason.
There's also a few decisions to be made at the interior offensive line positions. The first is to decide whether 2014 fourth-round pick Bryan Stork or 2015 undrafted free agent David Andrews should be the starting center. As a unit, the line played well with Andrews at center, but any dropoff is not necessarily Stork's fault. What is on him to improve is his temper, which boiled over in back-to-back games and resulted in an unnecessary roughness penalty against the Broncos.
Next, the Patriots must also decide on their situation and depth at guard. Tre' Jackson and Shaq Mason were up and down. Both need more consistency and to round out their game (Jackson is much better in pass protection, Mason is a better run-blocker). Josh Kline started hot, but finished cold. Between the three guards, the Patriots are hoping that two can prove themselves as starting-caliber players for 2016.
2. Sort out the depth chart at running back
One of the first decisions the Patriots must make is on the future of LeGarrette Blount. The bruising back has been on and off the Patriots' roster for the past three seasons, but could be on his way out as a free agent this offseason. The level of interest shown by other teams could determine whether he ends up back in New England.
Even without Blount, there may be plenty of depth at running back. But in the words of Scott Zolak, where's the beef? Their 2016 depth chart currently consists of Dion Lewis, James White, Brandon Bolden and Tyler Gaffney. These are four talented backs, but something is missing: The Patriots need that first- and second-down workhorse who forces opponents to respect the run.
Overall, there wasn't much to respect about the Patriots' rushing attack this season thanks to an average of 3.7 yards per carry (fourth-lowest average in the NFL) and 87.8 yards per game (third-lowest). Some of that lack of production is on the offensive line, but there are some question marks at running back.
The running game will improve by default with Lewis's return from a torn ACL, and White proved he can back up Lewis as a pass-catching back in a pinch. Bolden is good for a big play here and there when you least expect it. Gaffney has been injured his first two seasons in a Patriots uniform, but the team clearly still sees potential if he can stay healthy.
There are plenty of backs on the Patriots' roster who can contribute something to the offense, but there is still a lack of a quality starting-caliber running back. The Patriots once spent back-to-back draft picks on running back in 2011 with the additions of Shane Vereen and Stevan Ridley. It might be time to consider a similar aggressive approach to the position in 2016.
3. Add depth and starting talent at wide receiver
With Julian Edelman, Danny Amendola and Brandon LaFell on the roster, it might appear the Patriots are all set at wide receiver. Not quite.
Consider this: The Patriots' offense was an entirely different animal with Edelman on the field as opposed to without him. Yes, any offense is going to lose some mojo when one of its best players goes down, but the Patriots need to have a better backup plan next year. After all, Edelman has dealt with injuries throughout his career and missed nine games in the past two years.
Likewise, there are some question marks with Amendola and LaFell. Amendola has a $6.8 million cap hit in 2016, which is higher than both Edelman and tight end Rob Gronkowski. He already restructured his deal last year, and he might have to do it again to avoid being cut to create cap space. Releasing him would save the Patriots at least $4 million and up to $5.4 million in 2016, according to contracts and salary cap website OverTheCap.com.
LaFell, on the other hand, was passed on the depth chart by Keshawn Martin in the AFC Championship Game (LaFell played 33 snaps, Martin played 59). LaFell was a revelation in 2014, but his 2015 season began with a foot injury that kept him on the shelf throughout training camp and the first six games of the season.
There's a chance that one or both of Amendola and LaFell might not be back in 2016, which means the Patriots could be forced to make additions to the depth chart. Either way, it would be wise for the Patriots to begin adding depth to compete for the No. 2 and 3 roles.
Ranking the Patriots' playoff losses in the Brady era
[bdc-gallery id="545368″]