Patriots
Read Tom Brady's handwritten 'thank you' note to Patriots fans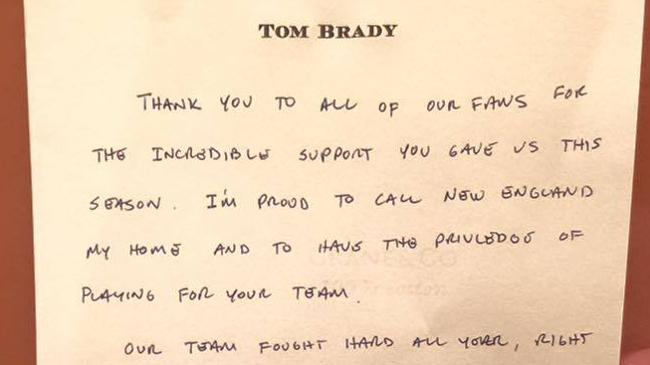 Tom Brady won't be going to the Super Bowl this year, but that doesn't lessen the gratitude the Patriots quarterback felt for the team's fans at the end of the day.
On his Facebook account Wednesday night, Brady posted a picture of a handwritten "thank you'' not to "all of our fans for the incredible support you gave us this season.
[fragment number=0]
[fragment number=1]
"It takes a lot of hard work and commitment to get as far as we did,'' Brady wrote. "Our goal every season is to win the last game, but as I've learned, the road to the next one, is paved by seasons like this one!''
It was the first Facebook post Brady made since Sunday's loss to the Denver Broncos.
"Thanks again,'' he concluded the note. "Yours truly, Tom.''