Patriots
Handwriting analysis reveals Tom Brady to be 'a natural leader' and an 'introvert at heart'
'The high flying t-cross on his capital T indicates that he has visionary goals'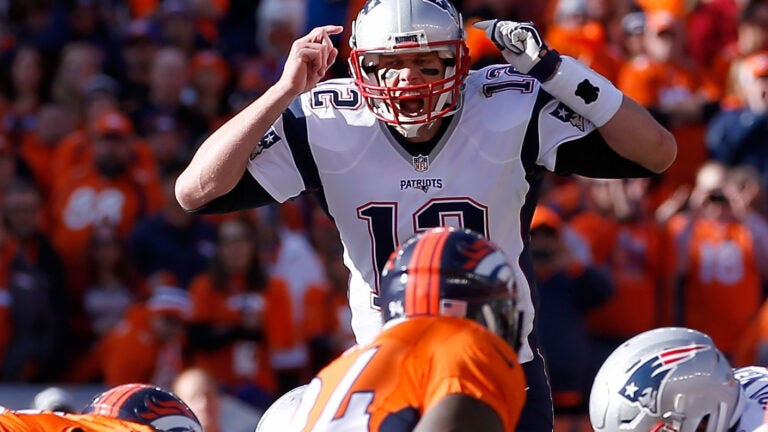 What does Tom Brady's handwriting say about him?
Brady posted a note to Patriots fans on Facebook Wednesday, thanking them for their support during the 2015 season. The note was written in capital letters with large spaces between the words, and took up almost the entire page. It was signed, simply: "Tom.''
[fragment number=0]
Three graphologists — analysts who draw conclusions about writers' personalities from patterns and characteristics in handwriting — examined the letter and offered their conclusions to Boston.com.
— Certified master graphologist Paula A. Sassi:
"Tom Brady's block print style shows that he is an enterprising and realistic type. He has the drive and energy to be a leader and can play hard and work hard. He is action and results oriented and doesn't allow emotions to cloud his judgement or decision making. The wide spaces between his words shows that he may prefer to maintain his personal space and distance from others whether it is socially or just trying to avoid being sacked. He thinks in a constructive fashion and can be quick and sharp in his response as seen in the pointed tops on his "m's''. His printed name indicates a confident and motivated individual. The high flying t-cross on his capital T indicates that he has visionary goals that may or may not be achievable while the slight hook at the top indicates that he can be fixed minded as well as self-protective since this form has an umbrella-like arc to it. A need for control and an independent ego may influence his actions and motivations, but he is generally forthright and unflinching. Overall, his print script reveals an intelligent, well organized, focused and energetic individual. He is a natural leader on the field and off.

"This report has been done at your request and is based solely on factors found in the handwriting. The report is not all-inclusive and may vary with the mood of the writer of the handwritten sample.''
— Certified forensic document examiner Eileen Hurley:
"There are a few traits in Tom's writing, but because it is printed, and all in caps, it's more difficult to detect some traits. I believe that using capitals is due to having been taught that manner of writing while in school.

"Use of the full page, margin to margin, tells us that Tom puts all his effort into whatever his chore or responsibility is. He isn't a person to waste time, but he also isn't impulsive. The words being widely spaced from one another indicates that he values his own personal space and that he thinks before he speaks. The pointed tops of the M indicate that he researches or thinks things over before taking action.

"The lines of writing are also widely spaced, indicating he prefers not to be crowded unexpectedly. He does welcome friends, but would like advance notice.

"This is only a very limited opinion. To analyze a personality properly requires more than capital letters and a note that has been photographed and copied.''
— Certified graphologist Eileen Page:
"Tom is basically an introvert at heart. His celebrity status keeps him in the limelight but he really enjoys his privacy and alone time as shown by his somewhat smaller writing and the wide spaces between the words. His use of capitals in his printed style writing shows his "to the point and straight forward'' and that he holds dear traditional values…whatever those may be for him. He is an independent, analytical, and critical thinker and likes to find out things for himself. His baseline shows him to be grounded and consistent in his approach to life. It seems like he knows what he wants and will comfortably go after it.''
For those wondering whether Brady actually wrote the letter — rather than one of his assistants — Page found a note written by Brady endorsing a Movado watch.
"The writing matches the letter you sent,'' Page said in an email. "And, the first name in his signature also closely matches in both letter.''
Tom Brady Career Timeline
[bdc-gallery id="117672″]