Patriots
Patriots to meet with youngest Gronkowski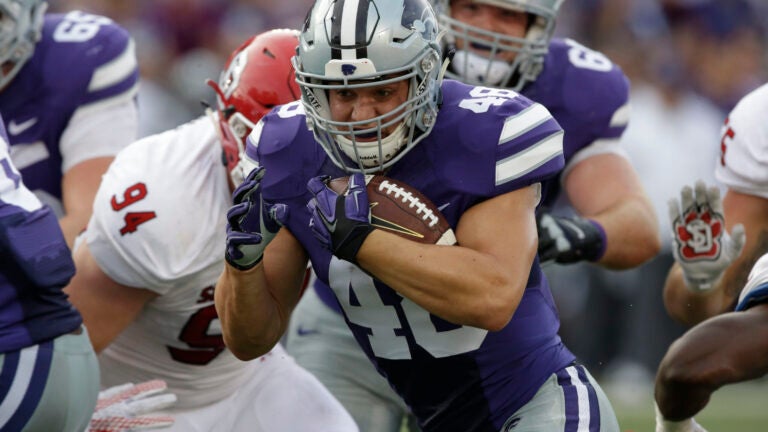 There's bound to be jersey-swapping antics. Maybe even press conference impersonations. But for the time being, there's just a meeting.
Rob Gronkowski's youngest brother, Glenn, a senior fullback at Kansas State, said at the Senior Bowl that he is scheduled to meet with the Patriots on Wednesday.
This isn't the first time the Patriots have had a Gronkowski other than Rob on their roster – Dan Gronkowski spent time with the Patriots in 2011, playing in five games and starting in one, all at the tight end position.
Glenn is regularly a fullback, but has been seeing time at his familial position during Senior Bowl practices – getting involved in the passing game and flaunting some of the Gronkowski receiving genes.
"It's good to get an opportunity to be out here and show that I can do other stuff, show that I can catch balls and run routes and not just block,'' said Gronkowski, via ABC News.
In his three years at Kansas State, the littlest Gronk has 15 receptions for 369 yards and 5 touchdowns, averaging 26.9 yards per reception, an impressive number, albeit based on a pretty small sample size.
Of those 5 touchdowns, 3 were for 50 or more yards (50, 62, and 67).
His role at fullback has been primarily a blocking one – in his Senior season he rushed 11 times for 45 yards and a touchdown – but he's no lightweight. Mel Kiper Jr. currently has him ranked as the second-best fullback in the draft. He's predicted to be taken in the later rounds.
Now the real question – what's his position on Gronk's Party Ship?
Ranking the Patriots' playoff losses in the Tom Brady era
[bdc-gallery id="545368″]