Patriots
Patriots report card: Grading the 2015 season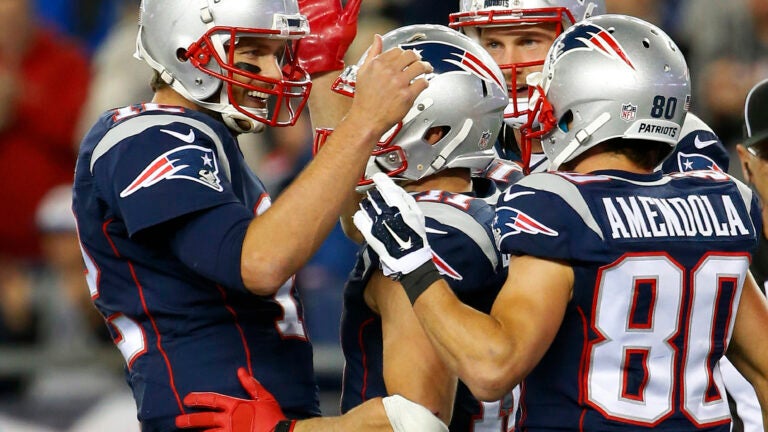 COMMENTARY
The season didn't end the way anyone in New England wanted it to, but that doesn't mean the Patriots have nothing to be proud of and nothing to build on for next year.
Quite the contrary; this is a team that will probably be right back where it was this year once again in 2016, thanks to a lack of big-name in-house free-agents as well as the return of several key injured players.
That being said, there are still areas that need to improve if the Patriots want to regain their Super Bowl glory next year. This is the time of year when the Patriots' decision-makers will be evaluating their own roster to decide what worked and what needs to get better. The Patriots probably have a much more complicated system than letter grades, but we're not trying to be the Patriots; we're just trying to get a feel for which units played well and which units need improvement.
We are basing these grades off the performance in 2015. There is no grading on a curve for injuries here — although those are important caveats that will be noted when applicable. With that out of the way, let's get to the grades.
Quarterback: A-
Say what you will about the many problems that plagued the Patriots offense this year, but the passing game — and the quarterback position in particular — were not among them.
Through eight games, Tom Brady was on pace to throw for 44 touchdowns and just four interceptions on the season. He slowed down considerably in the second half of the season, though, as key offensive players got injured (left tackle Nate Solder, wide receiver Julian Edelman, running back Dion Lewis).
He also did about as well as anyone could expect, given the amount of pressure in his face on such a consistent basis. In the final eight games of the season, Brady was pressured 41.3 percent of the time he dropped back to pass, the fourth-highest average in the league in that stretch, according to Pro Football Focus.
Brady was not only excellent at getting the ball out quickly, but also at escaping the pocket and throwing on the move. He does not have the outstanding downfield accuracy of some other quarterbacks, but he wasn't bad in that respect, with an accuracy percentage of 44.8 putting him at 11th out of 35 qualifying quarterbacks on the season.
Running back: C+
Even when the Patriots were at or near full health in 2015, there was almost no semblance of a running game. In the first eight games of the season, the Patriots ran the ball 191 times for 758 yards (3.97 YPA) and nine rushing touchdowns. The 758 rushing yards were the eighth-lowest in the league in that span, and their average per rush attempt was the 13th-lowest.
James White performed admirably when Dion Lewis went down with a torn ACL, but the Patriots were just missing a spark in the backfield. Of course, things probably aren't going well when your biggest threat out of the backfield is Steven Jackson, who was out of work for nearly a full year before being signed off the street by the Patriots near the end of the regular season.
It also would have helped if the Patriots backs weren't being hit so close to the line of scrimmage every time they carried the ball (more on that later). Put it this way: at times, the running backs did the best they could with what they had.
Wide receiver: B
The 2015 season was another reminder of how valuable Brady's security blanket — whomever it may be — will always be to the Patriots offense. Without Julian Edelman, the Patriots offense went kaput in the final seven games of the regular season. They converted just 32 percent of their third downs without Edelman, compared to 48.7 percent in the first nine games of the season with him.
Before Edelman's foot injury, the Patriots offense was firing on all cylinders. The seven-year veteran was on pace for a career year, already with 61 receptions for 692 yards and seven touchdowns through Week 10.
Danny Amendola was asked to assume a larger role in the offense when Edelman went down, and as a result, he put up better numbers than any he had posted with the Patriots, with 65 receptions for 648 yards and three touchdowns.
Brandon LaFell didn't follow up well on his strong 2014 campaign, whether it was simply a step back or a product of missing most of the offseason program and the beginning of the season on the physically unable to perform list with a foot injury. LaFell had a reputation for dropping passes before his New England days, and that reputation came back with 10 drops on 47 catchable passes, giving him the worst drop rate in the NFL, according to Pro Football Focus.
The Patriots may have discovered a diamond in the rough in Keshawn Martin, who pulled in 24 receptions for 269 yards and two touchdowns in the Z-receiver role when they lost Edelman. Whether it's more depth or more top-end talent, the Patriots will need to add to their depth chart at wide receiver this offseason.
Tight end: A-
If Rob Gronkowski were the only tight end on the Patriots roster, this would be an easy A. The All-Pro tight end was dominant once again in 2015, hauling in 72 receptions and leading all tight ends with 1,176 receiving yards and 11 touchdowns. Gronkowski was also a dominant run blocking tight end, returning to form after a down year in that area in 2014.
Gronkowski's teammates left something to be desired, however; namely, production. Scott Chandler never became as big a piece to the offense as it appeared he might when he and Gronkowski were sharing the field with Brady running goal-line drills this summer at training camp. Chandler played just 33 percent of the snaps and caught 23 passes for 259 yards and four touchdowns with six drops.
Michael Williams found himself used more as a blocking tight end than a true threat as a pass-catcher. He played more frequently than Chandler, with 39.3 percent of the snaps, but was a blocker for 357 of his 475 totals snaps and caught just three passes for 26 yards on the season. He was effective as a blocker, though, and only allowed pressure four times (three hurries, one hit) on 91 snaps in pass protection.
The Patriots might once again be in the market for a backup tight end this offseason.
Offensive line: F
It's really hard to get a good read on some of the positions on this team due to the poor play of the offensive line. The running back position is one of them.
According to Pro Football Focus, LeGarrette Blount averaged 4.26 yards per carry total and 2.44 yards per carry after contact, which means he averaged just 1.82 yards before being hit. Dion Lewis averaged 4.78 yards per carry and 3.27 after contact, so he was gaininig just 1.5 yards per carry prior to being hit.
There's also the aforementioned issue of pressure on Brady disrupting the passing game on a whopping 41.3 percent of his drop-backs in the second half of the season.
Overall, many of the problems with the Patriots offense can be traced back to the offensive line. It all started with the season-ending elbow injury to left tackle Nate Solder, which forced right tackle Sebastian Vollmer to play out of position on the left side and also forced Marcus Cannon into the starting lineup. Mix in two rookie guards and a rookie center learning the ins and outs of the NFL on the fly in the starting offensive line, and the result is the oftentimes discombobulated mess we saw in 2015.
Guard Josh Kline is a bright spot for 2016, if he can rediscover his early-season form. Rookie guards Tre' Jackson and Shaq Mason both had ups and downs, but showed the foundation to become solid starters at the NFL level if they continue to develop. Getting back Solder will help, but the Patriots must also decide on the complexion of the interior of the offensive line.
Defensive line: A-
The Patriots front seven was burdened with major responsibility by way of the team's offseason moves in 2015. With the departure of cornerbacks Darrelle Revis and Brandon Browner, the Patriots were putting it on the line, so to speak, for their men up front to take over games.
That's exactly what they did. Led by defensive end Chandler Jones' career-high 12.5 sacks, the Patriots defense tallied 49 sacks of opposing quarterbacks, the most by a Bill Belichick defense in Patriots history and the second-most in the league in 2015. Defensive end Jabaal Sheard was a revelation, and was one of the NFL's most productive pass-rushing defensive ends this year with 45 hurries, five hits and eight sacks.
At defensive tackle, the Patriots were stocked to the hilt with young talent in Malcom Brown, Akiem Hicks, Dominique Easley and Sealver Siliga. That group produced eight sacks, but also helped contribute to a run defense that yielded less than 100 yards a game to its opponents.
Between the young talent on the edges and in the middle, the Patriots have a talented group to build around for the future. With Chandler Jones, Rob Ninkovich and Jabaal Sheard all up for new contracts in 2017, though, they'll have to start developing new talent and/or signing big contracts soon.
Linebackers: A
Dont'a Hightower and Jamie Collins are a duo of linebackers for the Patriots to build around for the foreseeable future. Anyone could have told you that headed into the 2015 season, and this year shouldn't have changed anyone's opinion on the matter.
Both young linebackers dealt with injuries at different points in the season, and we saw a stark contrast in the Patriots run defense with Hightower on the field as opposed to without him. Hightower was out of the lineup Weeks 6, 13, 14 and 17, and for most of Week 12; in those games, the Patriots gave up 610 rushing yards (122 yards per game) on 143 carries (4.3 yards per carry). With him on the field, the Patriots allowed 968 rushing yard (88 yards per game) on 254 carries (3.8 yards per carry).
Collins made big plays all over the field. He was a little wreckless at times with 15 missed tackles, and wasn't as effective in his coverage roles as he's been in the past, giving up completions on 72.2 percent of the throws into his defense; but he also had 73 tackles and 22 pressures of quarterbacks (11 hurries, three hits, eight sacks), and broke up five passes and had an interception.
The rest of the depth chart, however, needs some sorting out. Jerod Mayo will count $11.4 million against the salary cap in 2016, according to OverTheCap.com. He did not play well coming off the bench, and is now on his third straight year having been placed on injured reserve. Jonathan Freeny fared well in a limited role; he filled in for Hightower and Collins during their injuries, and also played a big part on special teams. There's some depth, as well, with linebackers Jon Bostic and Darius Fleming set to return in 2016.
There might be some questions on the depth chart, but with Hightower and Collins both set to return in 2016, the linebacker position will remain a strength of the team.
Cornerbacks: A-
For all the consternation and prognostications of doom about the secondary headed into the year, this unit actually played very well. The Patriots defense yielded 7.1 yards per pass attempt (13th in the NFL) and just 6.0 net yards per pass play (eighth in the NFL).
Malcolm Butler and Logan Ryan each finished their first full season as a starter allowing less than 60 percent completions into their coverage (Butler allowed 55.2 percent, Ryan allowed 59.6 percent). Butler and Ryan are exactly the kind of versatile cornerbacks who can play a variety of coverages in the Patriots scheme, with the athleticism to man up one-on-one and the football intelligence and instincts to drop into zones.
The questions begin further down the depth chart, where the Patriots called on a mix of defensive backs like Leonard Johnson, Rashaan Melvin, and Justin Coleman with varying degrees of success. It might be a worthwhile investment for the Patriots to look into adding a slot cornerback who can chase receivers over the width of the field and help in run defense.
That being said, they didn't need as much help at the slot position this year because they spent a lot of time in three-safety defenses with either Patrick Chung, Duron Harmon or Devin McCourty in the box or the slot.
Safeties: B+
The safety position has been a strength for the Patriots for the past two seasons, with Devin McCourty and Patrick Chung at the top of the depth chart at free and strong safety, respectively. McCourty resumed his role as the deep safety, with Chung playing a hybrid linebacker/defensive back role and covering tight ends man-to-man.
But third-year safety Duron Harmon found himself a big part of the defensive game plan this year, as well, and made his presence felt in coverage. He played 494 snaps in pass coverage but was only targeted seven times with three receptions, one touchdown, and three interceptions on those throws.
In that respect, this was not McCourty's finest season, as the veteran allowed 26 receptions on 40 targets (65 percent) with four touchdowns, one interception, five pass breakups, and a 107.5 passer rating. Chung, not known for his coverage skills, allowed 43 receptions on 77 targets (55.8 percent) with two touchdowns, eight pass breakups, and a 78.3 passer rating.
The bottom of the depth chart at safety is mostly special teams players, with Tavon Wilson and Nate Ebner playing small roles on defense in addition to their big roles on kickoff and punt coverage.
On the whole this season, the top trio played very well, but there were some lapses in deep coverage. The Patriots defense gave up quite a few big pass plays through the air this year, with 57 passes that gained 20 yards or more on the season.
Special Teams: A
Save your talk about Stephen Gostkowski's missed extra point. The 2015 All-Pro kicker was almost automatic this year, with 33 field goals on 36 attempts including his first 22 straight. The point-after was moved back from the 2-yard line to the 15-yard line, making it a 32-yard kick, and the success rate went down from 99.3 percent in 2014 to 94.1 percent in 2015. Technically, Gostkowski should have missed three extra points this season by the league averages.
His miss came at almost the worst possible time, but there were still 35 other plays that were more harmful to the Patriots chances to win than a missed extra point.
Ryan Allen has developed into one of the better young punters in the league. Despite just 73 punts (18th out of 38 punters), Allen pinned the opponent inside the 20-yard line 31 times (sixth-most). There were also only three touchbacks (10th-fewest), but his net average of 39.9 yards per punt was just 17th in the NFL.
The Patriots continue to get great production on punt returns (10.1 yards per return was eighth in the NFL), but their kickoff return production is abysmal (18.8 yards per return was third-lowest). It might be time to finally invest in a kickoff returner to give the offense better starting field position.
The 2015 Patriots season, game by game
[bdc-gallery id="543795″]