Patriots
A Super debate with a clear-cut answer: Brady needs to go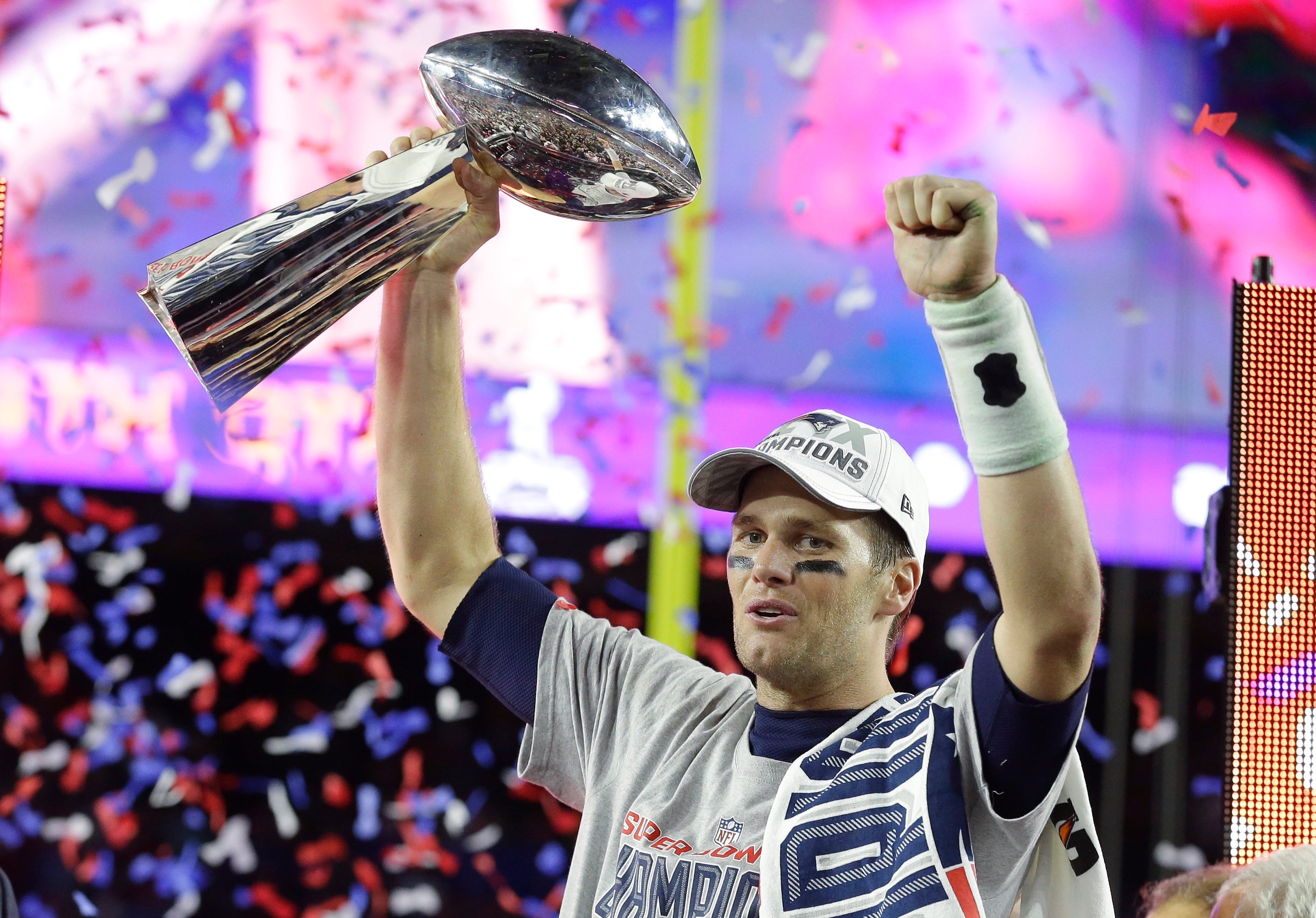 COMMENTARY
Let's see if we can put this situation into some perspective in order to weed out the reactionary nature of our peripheral decision-making process.
So, you're invited to a party. A big one. Let's say for the sake of argument that Larry Bird and Bobby Orr will both also be attending, and are, personally, expecting you to hang out with them.
No-brainer.
But what if the party is being hosted by your ex-girlfriend, the same one who continues to post daily messages on Facebook about how you cheated on her in your waning days as a couple? You have vociferously denied her allegation, but the majority of those attending seem to believe her, while you have to confide in your closest group of friends about your innocence.
Now what?
That's the scenario in which New England Patriots quarterback Tom Brady finds himself.
Brady won't have his "helmet on'' as he hoped he might when Super Bowl 50 between the Denver Broncos and Carolina Panthers gets underway on Sunday in Santa Clara, Calif., but the three-time Super Bowl MVP has been invited to participate in an on-field celebration of all the players who have won the award in the previous 49 Super Bowls. Brady, of course, has three of them, including his most recent in last year's Super Bowl XLIX.
[fragment number=0][fragment number=1]
It's not like Brady had a shrine to NFL commissioner Roger Goodell at the time that letter was sent by the league office back in April, but let's just say whatever already-icy relationship there was deteriorated rather rapidly from that point on.
In the wake of the Wells Report, commissioned by the NFL in order to determine Brady's involvement in the egregious act of deflating footballs, Goodell suspended Brady for four games of the 2015 regular season, a decision Brady appealed all the way to Judge Richard Berman, who wiped his record clean. The NFL has appealed, and in March we get to do this all over again.
But now, Brady has a decision to make; should he stiff Goodell and the NFL by refusing to be a part of their Super Bowl 50 extravaganza, or does he take the high road and recognize his place in football history?
There are plenty of Patriot fans imploring him to do the former.
But he should go.
Never mind that the game will be played in the backyard of his San Mateo upbringing. That would only make itself a factor if he were playing in the game, a dream that died in the AFC title game last weekend in Denver. And while these celebrations of the greats are nothing new (Major League Baseball has trotted out the All-Century Team so many times that seeing George Brett is like running into George Constanza at this point), it is Super Bowl 50, a landmark game that, granted, the NFL has marketed to its fullest, but still a seminal moment that is intended to celebrate the game's past, even in the befouled nature of the league's current structure.
Joe Montana, Steve Young, Terry Bradshaw, Bart Starr, Jerry Rice, Franco Harris, and Roger Staubach are just some of the invited guests, along with, yes, Dexter Jackson and Larry Brown. Brady and boyhood idol Montana are the only players to have won the Super Bowl MVP three times. How would it look if Montana were celebrated for that achievement alone on Sunday?
Brady has reason to not attend, seeing as the NFL won't let down its guard in one of the biggest wastes of time that American professional sports has ever seen. But his not going will do little in the general mission of making the commissioner look bad. Goodell already does that on his own.
But at what point does Brady allow pettiness get in the way of his place on the game's greatest stage of its history? The NFL has to acknowledge that Brady is a significant part of that. Besides, didn't the Patriots already give their collective middle finger to the league when every Pro Bowler chose to stay home instead of flying to Hawaii last week? The point has been made. It will have every opportunity to be made again.
Just not here.
Brady won't look weak by attending. On the contrary, he'll look like the stronger man, willing to eschew the league's allegations in order to be a part of something special with his colleagues. Goodell doesn't win if Brady goes. In fact, Brady wins by recognizing something bigger than his elongated dispute.
After the AFC Championship loss, Brady wasn't even sure if he would watch the Super Bowl, never mind attend it.
"I'm not sure,'' Brady said in a postgame press conference. "So I don't know. Get over these bumps and bruises, that'll be the first thing.''
That's exactly what he should do.
Get over the bumps and bruises that Goodell has tried to land on him over the past year and embrace his role in Super Bowl history.
Contact Eric Wilbur at: [email protected]. Follow him on Twitter: @GlobeEricWilbur and Facebook www.facebook.com/GlobeEricWilbur
The 2015 Patriots season, game by game
[bdc-gallery id="543795″]