Patriots
Poll: Tom Brady is America's favorite (and least favorite) quarterback
And the Patriots are the least favorite team of NFL fans, according to Public Policy Polling's annual poll.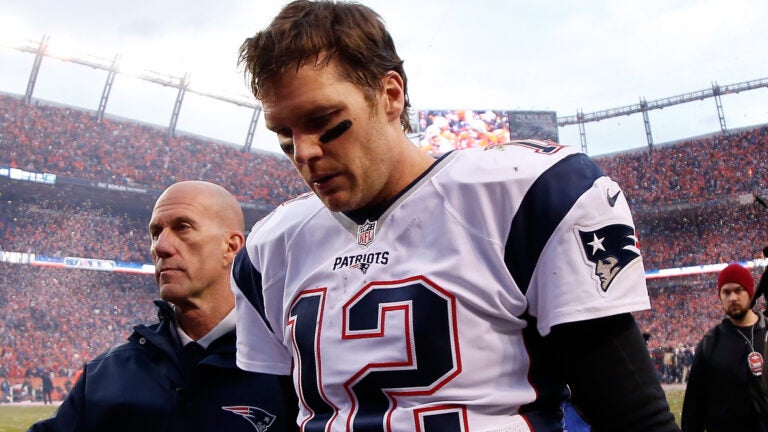 Tom Brady is both the most widely loved and loathed quarterback in the NFL, according to a new national poll.
An annual poll of 410 self-described NFL fans shows 23 percent consider the New England Patriots' quarterback to be their favorite to play the position, besting Peyton Manning (16 percent), Aaron Rodgers (13 percent), and Cam Newton (11 percent). The 2016 survey was conducted from Feb. 2-3 by Public Policy Polling, a national survey service.
While Brady's supporter group was strong, he also had plenty of detractors. Twenty-nine percent of respondents said he is their least favorite quarterback, a higher percentage than any other quarterback. Tim Tebow, who has not played a regular-season NFL snap since 2012, ranked second to Brady at 10 percent.
In 2014, the last time Public Policy Polling quizzed football fans about their favorite quarterbacks, 13 percent indicated Brady was their favorite while 18 percent said he was their least favorite.
In a separate poll question, 46 percent of fans said they had a favorable view of Brady, while 39 percent said they saw the three-time Super Bowl MVP in an unfavorable light. A year ago, 37 percent said they saw him favorably compared to 25 percent who saw him unfavorably.
For comparison's sake, the two quarterbacks set to square off in Sunday's Super Bowl have higher favorability percentages than Brady: 57 percent said they saw the Carolina Panthers' Newton favorably, and 77 percent said the same of Manning, of the Denver Broncos.
Click here for complete poll results.
This year's poll found that the Patriots are the least favorite team of 23 percent of NFL fans, tops in the league. The Dallas Cowboys ranked second, at 20 percent. This marks the first year since the annual polling began in 2011 that the Cowboys were not responding fans' least favorite.
The 2016 poll did not include any questions about the Deflategate controversy. Last year, 41 percent of fans said they believed the Patriots were guilty of cheating by deflating footballs, compared to 27 percent who said they were not guilty.
Other 2016 findings from around the league:
• Fans are evenly split on who they're cheering for in the Super Bowl, with 40 percent support for both the Panthers and the Broncos. But the majority expect a Carolina victory: 56 percent think the Panthers will win, compared to 32 percent for the Broncos.
• 16 percent said troubled Cleveland quarterback Johnny Manziel has a chance to succeed; 45 percent said he will not amount to anything.
• 21 percent consider Baltimore quarterback Joe Flacco elite, compared to 35 percent who say he is not. Ensuring the continuation of a beloved Internet debate, 44 percent say they are not sure.
• 19 percent say they see NFL Commissioner Roger Goodell favorably, compared to 40 percent who see him unfavorably; 28 percent say they approve of Goodell's work as commissioner compared to 42 percent who disapprove.
• 64 percent of responding NFL fans would let their children play football, while 23 percent would not.
• 25 percent of fans believe the Washington Redskins should change their name, compared to 64 percent who say the name should stay. Seventy percent of people aged 18 to 29 believe the team should make a change, while no other age demographic has more than 22 percent in agreement. Among non-white fans, 47 percent want the name changed, while 35 percent do not.