Patriots
Donald Trump says he told Tom Brady not to endorse him
But adds 'he couldn't be nicer'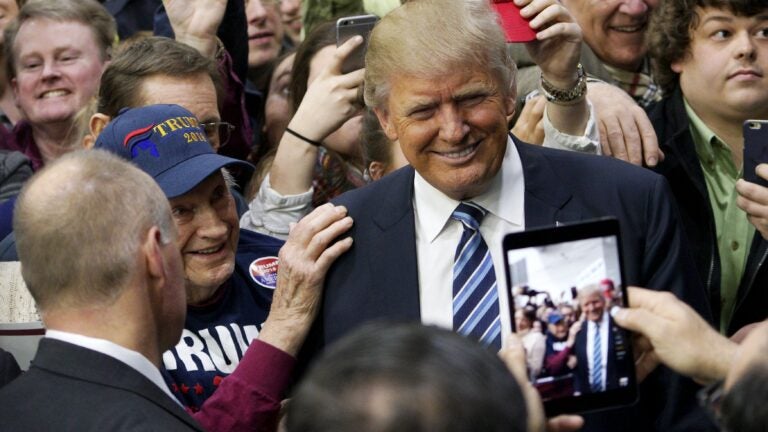 Donald Trump wants his friend Tom Brady to stay out of politics.
The New England Patriots quarterback and Republican presidential candidate have expressed mutual admiration for each other over the years, with Trump often tweeting support for Brady after Patriots victories.
[fragment number=0]
Last summer, the relationship between Trump and Brady was picked up by the media when one of Trump's "Make America Great Again'' hats was spotted in Brady's locker.
"Donald is a good friend of mine,'' Brady told WEEI back in December. "I have known him for a long time.''
On Monday it was Trump's turn on the Boston sports radio station's Dennis & Callahan show, and the current Republican front-runner elaborated on his relationship with Brady.
"What people don't know about Tom, he's obviously a great quarterback, great athlete, but he's a great guy,'' said Trump.
Brady has avoided making an official endorsement of Trump for president (though in September he did say "it would be great'' to have Trump in the White House). When asked for his thoughts on Trump's presidential run, Brady said in December, "Can I just stay out of this debate?''
On Monday, the WEEI hosts asked Trump if he wished Brady could come out and endorse him for president.
"I told him not to,'' Trump told WEEI. "He's got sponsors, he's got all of his different things that he has to do. And I told him not to.
"He couldn't be nicer. There was an article in GQ, he said, 'Trump's the biggest winner, you can't beat Trump' and all that stuff. And I said, 'Don't do that, because you may have a sponsor that doesn't like me.' They may be liberal, they may be something. And I don't want him to get involved in that stuff.''
Tom Brady career timeline
[bdc-gallery id="117672″]