Patriots
Broncos are worthy champs, but the Patriots might have been NFL's best team with a change in circumstances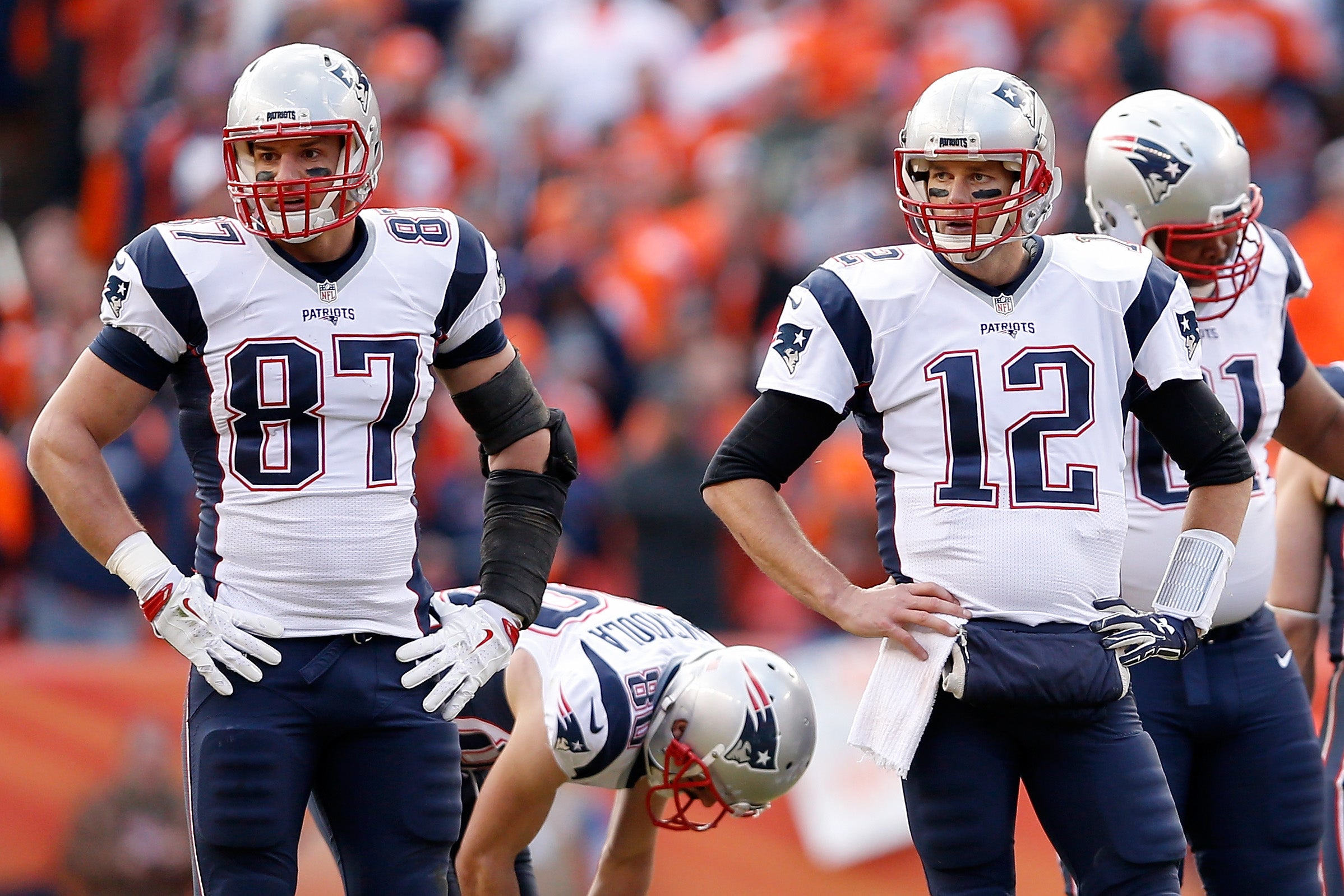 COMMENTARY
The last points have been scored. The standings and statistics are official and permanent. The commemorative publications have been printed, and all of the requisite corporate sponsors have been soullessly shilled for by Peyton Manning.
Yes, the 2015 NFL season is complete, a couple of days into the past tense now after the Broncos' impressive, will-breaking 24-10 victory over the Carolina Panthers in Super Bowl 50. It's an outcome that leaves Patriots fans feeling pretty much how Eli Manning looked.
With all matters settled, perspective becomes clearer, and the New England fan's takeaway from this season becomes as obvious as Bryan Stork's head bob: With a couple of slightly altered plot twists — some of which the Patriots should have authored themselves — the goal of winning a fifth Super Bowl championship and second in a row could have been realized.
And maybe it should have been realized.
This is not to take anything away from the Broncos, who beat the Patriots twice and overcame the performance of one of the least-effective Super Bowl-winning quarterbacks in history — somewhere, Eli Manning is nodding in agreement — to win the franchise's first championship since 1998.
I'm not ready to put that merciless Von Miller-led defense on par with the 1985 Bears or the 2000 Ravens, but it is in the next tier, with the 2014 Seahawks and any Steel Curtain edition of your choosing. They muted Cam Newton and dismantled the most potent scoring offense in the league. Damn right they deserve it. They were awesome.
There's no shame in suggesting the Patriots were the second-best team in the NFL. But there is frustration to be found in the very real possibility that they could have ended the season as the best had they not bollixed up the final Sunday of the regular season, losing to the Dolphins and giving up home-field advantage throughout the AFC playoffs.
For all of the injuries that affected the Patriots this year, the one that may have damaged their Super Bowl chances the most occurred in a game in which they did not participate. We'll never know the honest truth, but the hunch here, based on all of the odd circumstantial evidence, is that the Patriots took the Dolphins lightly in Week 17 because they thought the Steelers would beat Cincinnati in the wild-card round, then go to Denver and prevail in a divisional-round matchup. Such a series of results would have left the Patriots hosting the AFC Championship Game as the highest remaining seed in the conference.
The Steelers almost did win in Denver — how did an injured Ben Roethlisberger throw for 339 yards against that defense, anyway? — and they very well might have done it had Antonio Brown not been knocked silly by a Vontaze Burfict cheap-shot a week earlier in Cinncinati. But they didn't, as the Broncos rallied for a 23-16 win. The hard lesson, it seems, is that counting on another team to aid your best-laid plans is a damn good way to have your plans foiled.
As you may recall, the Patriots lost by two points in Denver in the AFC title game. Or I should say, they were somehow two points from tying a game in which their quarterback had been repeatedly and relentlessly pummeled. Not helping matters, that quarterback's center, Stork, gave the Denver pass rush a tell that it probably didn't need but happily took advantage of anyway. If that game had been played in New England, there's a decent chance the Patriots win, and without too much suspense.
And after watching the Super Bowl and gaining that appropriate context that comes with a season's end, I'm convinced the Patriots' aggressive pass rush (they had just three fewer sacks than the league-leading Broncos in the regular season), versatile linebackers, and smart defensive backs would have tormented Newton in a similar manner. They would have fared better offensively than the Broncos did, too, since historically and in the moment, the Patriots have a superior quarterback.
Instead, we're left to lament a lost opportunity. We savor every one of these years of the Brady-Belichick era, a run of sustained championship contention unlike any the league has ever seen under a single quarterback-coach combo. But we also know that it will end someday — Brady may seem ageless, but Father Time always gets the ball last. Their greatness is infinite in the NFL Films vault, but it is finite on the field; and there's a strange pressure that comes from being so good for so long. It adds urgency to win another Super Bowl (and maybe another beyond that), to add to the list of achievements before Father Time finally punches it in.
Lost opportunities are of course more frustrating when a goal is within reach. This wouldn't rank among the most disappointing endings of this era — the two Super Bowl defeats stand in tandem atop that unwanted podium. The collapse against Peyton's Colts in the '06 season is also a lasting what-if. The divisional-round loss to the Jets — ending a 2010 season in which the Patriots went 14-2 — lingers as a frustration, if only because it's cited as evidence that Rex Ryan can solve Brady on occasion. This season's finish is somewhere in that range. But, hey, those disappointments are going to happen when you're perennially a legitimate contender in a league designed to discourage long-term success by a single franchise.
If there's comfort to be found in this finish, it's that football season never really ends anymore. We're going to be furious in March when the NFL's appeal of Tom Brady's revoked suspension in Deflategate is heard, and we'll be downright enraged when the draft comes around in April and the Patriots, who almost always find a long-term contributor or even a cornerstone in the first round, do not have a selection. If NFL commissioner Roger Goodell were a man of good conscience and valor, he would drop the appeal and return the first-round pick to the Patriots, acknowledging in actions if not words that Deflategate was nothing more substantive than a useful and clever distraction to divert the public's attention from the league's serious issues.
A man of his favorite word, integrity, would subtly end the charade. Goodell can define the word. He can use it in every other sentence he speaks. But unfortunately for the Patriots, he will never embody it.
We will have to deal with all of that noise and aggravation. But there will be good things, encouraging times and transactions, that carry us toward September. Maybe Dante Scarnecchia will return to whip the offensive line into shape. (The pieces are probably already here. I'm not sure Orlando Pace and Jonathan Ogden in their prime were going to slow Miller and Ware this postseason.)
They'll find a new running back, perhaps one with versatile skills and some tread left on the tires, such as the Bears' Matt Forte. There will be new contracts for budding stars — Dont'a Hightower, Jamie Collins and Malcolm Butler should be here for a long time. There's little suspense with pending free agents — Akiem Hicks might be the most interesting of the lot. There's a lot to do, and yet not a lot to do. The core is intact. Brady was as sharp at 38 as he was at 28. Rob Gronkowski is already the greatest tight end in league history. Barring the unforeseen between this February and next, the Patriots will once again be a favorite to secure the Lombardi Trophy next year.
It's a reason for optimism and encouragement, something many franchises don't have from year to year, and yet something the Patriots have had for more than a decade and a half. Sure, endings such as this year's are disappointing. But that's mostly because Patriots fans know the joy of a championship season. As Brady would say, the favorite championship is always the next one. What a blessing it is to be able to think that way for so many years.
Chad Finn can be reached at [email protected]. Follow him on Twitter @GlobeChadFinn.