Patriots
Here's what you missed on Rob Gronkowski's party ship
Much of it is NSFW.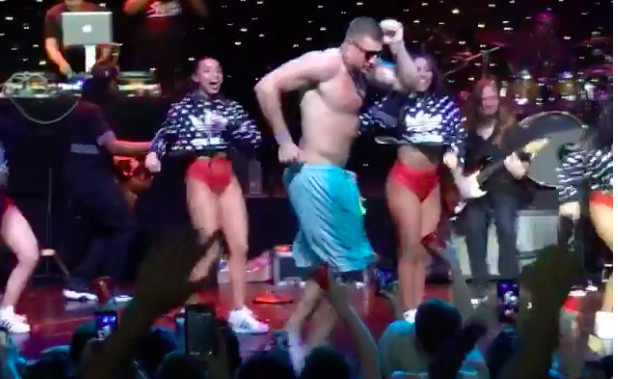 Rob Gronkowski's party ship was a madhouse.
The New England Patriots tight end is hosting 2,500 people on a cruise from Miami to the Bahamas. The three-day journey appears to be an exercise in Gronk-filled debauchery.
On Friday afternoon, Gronk posted to his Facebook: "Let's do this.''
[fragment number=0]
And he entered the Gronk-cruise mindset.
[fragment number=1]
The Gronk brothers and their dad Gordie danced on the stage. And you guessed it, Gronk twerked shirtless.
[fragment number=2]
[fragment number=3][fragment number=4]
Via a video on TMZ.com, DJ Whoo Kid and Waka Flocka were on the cruise. The Gronks also weren't the only ones twerking. The video captured many of the cruisers twerking onstage. The Gronkowksi brothers also performing some faux WWE stunts into a pool.
What else do you expect?
[fragment number=5]
Cambridge-native rapper Sammy Adams made an appearance.
[fragment number=6]
At around 2:30 a.m. on Sunday, LMFAO's Rayfoo was still performing. The festivities continued late into the morning.
[fragment number=7]
A couple, Allison and Jonathan, got engaged on Sunday at Gronk's Q&A.
[fragment number=8]
[fragment number=9]
Boston's Biggest Bros
[bdc-gallery id="463135″]