Patriots
Glenn Gronkowski would love to play with his brother, and it just might happen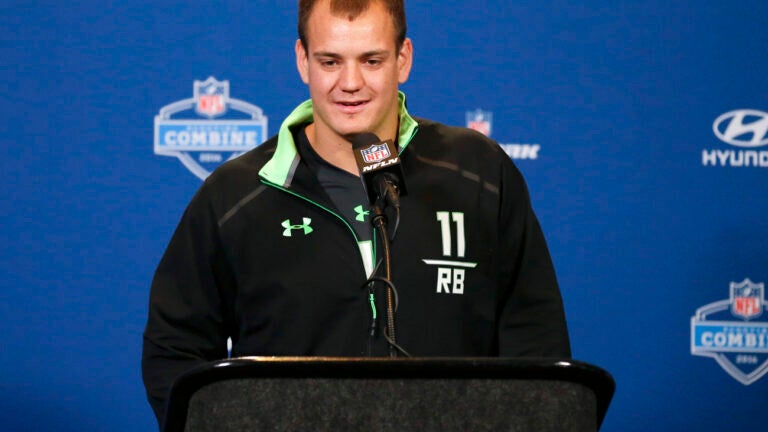 After he finished up his four-year career at Kansas State, Glenn Gronkowski couldn't help but imagine the possibility of playing on the New England Patriots with his older brother, Rob.
"That would be awesome,'' Gronkowski told reporters at the NFL combine this week via WEEI. "It would be a dream come true, obviously. Never got to play with any of them growing up, they all played together, but just the age difference I was never able to do it. It would be awesome.''
Glenn, who is the youngest of the five Gronkowski brothers, primarily played fullback in college, but played some H-back, tight end, and slot receiver at the Senior Bowl this season. Gronkowski understands that if he wants to play for the Patriots and be successful doing so, versatility is going to be key, especially on special teams, which is something head coach Bill Belichick has made evident that he values highly.
"I know I need to do that,'' Gronkowski said. "I think I played pretty well on special teams [in the Senior Bowl] for never doing it before, especially. Definitely want to do that, definitely know I need to do that, so something I want to do.''
Gronkowski also pointed out that he can learn a lot from his four brothers, all of whom found sports success one way or another.
All my brothers, they deserve all the respect they get from everybody,'' Gronkowski said. "Like I said earlier, I've seen all the hard work they've put in firsthand. They definitely deserve everything they got. I love being part of the family and all that, so I can't complain about it.''
Gronkowski projects himself to be a Day 3 draft selection, be says that he's prepared to be a serviceable NFL player in whatever position his future team asks him to play.
"Obviously, I want to come out here and do the best I can in everything. Hopefully make a team, hopefully help the team win and show what I can do and become a player,'' Gronkowski added.
Only time will tell if the Patriots opt to double their Gronks for the upcoming season, but if Glenn Gronkowski can find success in the NFL, the two of them would be a big task to handle. Literally.
Every matchup between Tom Brady and Peyton Manning
[bdc-gallery id="544114″]