Patriots
Deflategate doesn't appear on Roger Goodell's Wikipedia page
And yet it's been on Tom Brady's page for months.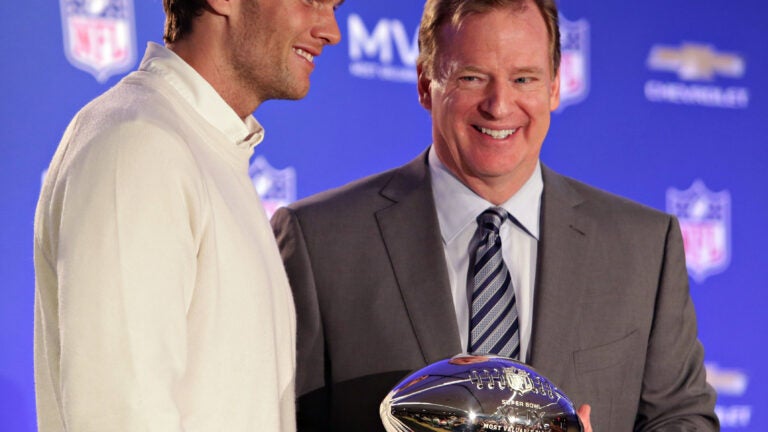 Following the publication of this story, a Deflategate section was added Wednesday morning to Roger Goodell's Wikipedia page.
Roger Goodell has endured scandal after scandal during his 10-year tenure as NFL commissioner, and it seems Wikipedia can't keep up.
Beneath Goodell's "NFL Career'' section on his Wikipedia page, there's a list of controversies which include "Spygate'', the "2012 referee lockout'', "Bountygate'', "player brain damage'', and the "Ray Rice domestic violence incident.''
But there's nothing on the Deflategate scandal, Tom Brady's four-game suspension, or the ensuing lawsuit in U.S. District Court. Over a year removed from the scandal, the words "Deflategate'' and "Brady'' have never appeared on Goodell's page.
Wikipedia crowdsources the editing process, allowing users and volunteers to make changes on its pages to maintain accuracy. Most pages can be edited by anyone at any time. Goodell's page, however, is semi-protected, meaning it can only be edited by at least four-day-old accounts with at least 10 edits, and that anonymous editors cannot change the article. Semi-protection is mandated by Wikipedia "in the event that persistent vandalism has occurred, or is likely to occur, for a particular subject area of an article,'' according to Samantha Lein, a spokesperson for the Wikimedia Foundation.
Brady's page, also semi-protected, features a 680-word section on Deflategate, which was added on May 7, 2015, roughly five months following the AFC Championship Game when the first reports of doctored footballs emerged from WTHR's Bob Kravitz.
There's been one official attempt to get Deflategate onto Goodell's page — by a user with the name Wadeboggs64. Volunteer editors and users can make requests on the Goodell "talk page,'' a forum where Wikipedia editors discuss and suggest changes for each Wikipedia article. Goodell's page is also reviewed by WikiProject National Football League, a group with its own discussion page.
"Can you please edit his page and include the witch hunt commonly known as 'Deflategate' and how despite his best efforts, Tom Brady ultimately eviscerated him?'' the user posted to the Goodell talk page on Sept. 8, 2015, linking to a pair of stories as sources: "The arrogance of Roger Goodell'' and "Hurley: If You're Still Hung Up On Tom Brady Being Guilty, You Are An Idiot''.
Deflategate isn't the only story football fans might think of as significant that hasn't made its way to Goodell's page. Recent scandals involving Adrian Peterson, who accepted a plea deal for child abuse in Nov. 2014, and Greg Hardy, who was embroiled in a domestic abuse charges in Feb. 2015, have not yet appeared on Goodell's page, either.
Similarly, Brady's page has no mention of the Spygate scandal or of Alex Guerrero, Brady's personal guru who was sued twice for fraud before becoming Brady's business parter, though one could argue Deflategate is more notable to Goodell's legacy than these things are to Brady's.
Wikipedia has over 5 million articles, which document the history of the world — and beyond. Volunteers manage and monitor pages on the U.S. Presidential Election, the Israeli-Palestinian conflict, and quantum mechanics.
In the last four months, Brady's page has averaged over 25,000 pageviews per day, while Goodell's has averaged around 2,000.
Timeline of Deflategate Controversy
[bdc-gallery id="106353″]