Patriots
New England Patriots free agency primer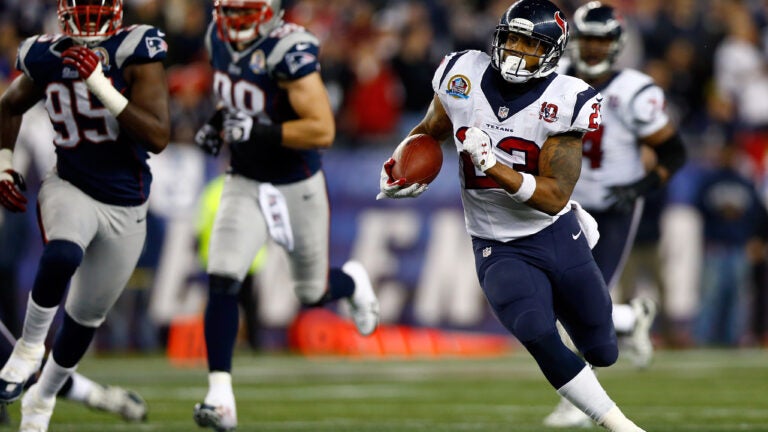 COMMENTARY
Free agency is an anticlimactic time of year for the New England Patriots.
There are always so many high-profile players available, and seldom if ever do they end up in a Patriots uniform. Sure, there are notable exceptions like cornerback Darrelle Revis in 2014 and linebacker Adalius Thomas in 2007, but that's not the usual M.O.
More often, we can expect the Patriots to wait until the second wave of free agency. The Patriots watch as the big-ticket, top-dollar players sign elsewhere, and wait for the market to come to them. Second-wave signings have worked out in the past; it's how the Patriots landed Brandon LaFell in 2014, and Jabaal Sheard in 2015.
But sometimes, when the need is big enough, the Patriots can justify going after one of the prize ponies of the free agent market. Here's a position-by-position look at the Patriots' needs, and which players fit those needs in free agency.
Quarterback
The Patriots might be in play for a third-string quarterback in free agency. Ryan Lindley was an abject disappointment in training camp, after signing with the Patriots during training camp. It would be better for the Patriots to get out in front of the potential issue, rather than wait until the last minute.
The market will include former Patriots starting quarterback Matt Cassel, who could sign for a veteran minimum contract to be the emergency third-stringer behind Jimmy Garoppolo. Cassel has had some success in his career, but he probably won't draw much interest as a starting quarterback.
Running back
This is one position of dire need for the Patriots this offseason. LeGarrette Blount is set to be a free agent, and although the Patriots and Blount have mutual interest in a new deal (per Jeff Howe of The Boston Herald), he could still hit the open market and sign with another team if the Patriots don't act. With Dion Lewis recovering from a torn ACL, that would leave the Patriots with only James White as the "sure thing'' in their backfield.
Fortunately, there are plenty of talented veterans available. The Houston Texans just released running back Arian Foster, who has dealt with some injury concerns of his own throughout his career. Belichick has had high praise for Foster in the past, and he's been productive when healthy. There's also former Chicago Bears running back Matt Forte, who has consistently eclipsed 1,200 yards from scrimmage each year in the NFL. Forte admitted that he would rather play for Super Bowls than big money, and he might have to do that, if he wants to play for the Patriots. New England tends to not spend big on free-agent running backs.
Wide receiver
The Patriots can't seem to go more than two years without a significant shake-up at wide receiver. This year, it's Brandon LaFell whose absence the Patriots will need to address. There are some in-house options; Keshawn Martin briefly flashed potential in 2015, and the Patriots simply won't give up on the Aaron Dobson project.
But if the Patriots want an affordable, experienced wide receiver, there will be plenty of options. The Atlanta Falcons recently released Roddy White, and the New Orleans Saints released Marques Colston. Both are in their mid-30's, and nearing the end of their respective careers, but either could fill the need at LaFell's vacated X-receiver position.
There are also two free-agent wide receivers from the Cincinnati Bengals, in Mohamed Sanu and Marvin Jones. Either one would fit the need on the boundary; both have experience on the outside, and the frame to win one-on-one matchups.
Tight end
Ever since Aaron Hernandez was arrested on murder charges, the Patriots have had a crisis at the backup tight end spot. For a while, Michael Hoomanawanui was uninspiring in his time as Rob Gronkowski's understudy. In 2015, Scott Chandler watched his opportunities slip through his fingers figuratively and literally, dropping six out of 29 catchable passes according to Pro Football Focus. So, the Patriots dropped Chandler, and now they need another backup.
Depending on what they want to invest in the position, the Patriots could target someone like former Cincinnati Bengals first-round pick Jermaine Gresham. The 27-year-old tight end just played out a one-year deal with the Arizona Cardinals at $3.125 million, but was not a big part of the game plan (18 receptions, 223 yards, one touchdown). There's also Chicago Bears tight end Zach Miller; the 6-foot-5, 240-pound tight end has also lined up as a fullback and could be a "Joker'' tight end lining up in a number of spots in the Patriots offense.
Offensive line
There are some interesting storylines on the offensive line headed into 2016, but right now, it looks like the Patriots biggest concerns are depth. Nate Solder's injury exposed their lack of depth at offensive tackle, and the team could use to upgrade their backup spot, currently manned by Marcus Cannon. There are also questions at the interior spots, though, where rookie guards Tre' Jackson and Shaq Mason played a significant portion of the snaps.
With Dante Scarnecchia back in the fold as the offensive line coach after two years away, the Patriots might just want to put the current group in his capable hands — especially since he helped scout Jackson and Mason ahead of the 2015 NFL draft.
But if the Patriots are looking for backup tackles, they would be better off looking for someone who has some versatility. Byron Bell played tackle and guard at different points in his career, and could be a backup to fill in at either spot for the Patriots. He has been a starter throughout his career, but his performances have not earned starting consideration, so he could be looking at a future on the bench.
Defensive line
Up front, the Patriots have one of the best groups Bill Belichick has ever seen in his time as their head coach. Between Dominique Easley and Malcom Brown in the middle, and Chandler Jones, Rob Ninkovich and Jabaal Sheard on the outside, the Patriots have no problems at the top of their roster this coming season. That being said, defensive tackle Sealver Siliga is set to hit the open market this season, and Chandler Jones and Rob Ninkovich will both free agents in 2017.
The Patriots could add former Baltimore Ravens outside linebacker Courtney Upshaw as a free agent, assuming he is willing to be a backup as opposed to a starter. He has never notched more than two sacks in a season, so the Patriots should not expect to get a dynamic play-maker, but he sets the edge very effectively against the run. The former Alabama linebacker would be a better (eventual) replacement for Ninkovich than Jones.
If it's a backup defensive tackle the Patriots want, perhaps New York Jets defensive lineman Leger Douzable would be a fit. Douzable has lined up at defensive end and defensive tackle, and has experience in a Jets defense that has been very multiple in its scheme over the years. His flexbility would make a welcome addition to the depth chart.
Linebacker
With Jerod Mayo retiring, the Patriots have a hole at one of their top spots on the depth chart at linebacker. Behind Jamie Collins and Dont'a Hightower, the Patriots have lots of questions, and not many answers. Jonathan Freeny and Jon Bostic are the only notable backups on the roster.
Perhaps the Patriots could look at a linebacker like DeMeco Ryans, who has played in the middle of both a 3-4 and a 4-3 scheme in his career and could fill a big need in that respect. He isn't playing at the same level he once played, but he might do better in a backup role. The same goes for David Hawthorne, who has also played inside linebacker in both a 3-4 and a 4-3 and who also has not played as well lately. Of course, at that rate, the Patriots might be better off drafting someone they could develop.
Cornerback
Between Malcolm Butler and Logan Ryan, the Patriots are off to a much better start at cornerback than anyone gave them credit for. In their third cornerback spot, however, there are some question marks. Safety Patrick Chung was the third cornerback last year, and although that worked out for the most part, the Patriots would still be wise to add some depth.
The Patriots could target a backup like former San Diego Chargers cornerback Patrick Robinson, who has played on the outside and in the slot in his career. He has been effective no matter where he has played, and allowed a passer rating of just 74 in 2015 and 75.4 in 2014. His versatility and talent would be welcome in New England.
Safety
The Patriots have a pair of free agents at safety in Nate Ebner and Tavon Wilson. Neither Ebner nor Wilson played a significant role on defense, and with Devin McCourty, Patrick Chung and Duron Harmon all under contract for 2016, the Patriots are in no big rush to address the safety position.
There may be some needs for specialists in the mold of Ebner and Wilson, but the Patriots' best bet would be to find those players in the draft, where they might be able to find someone who can also develop into a contributing role at safety.
Every matchup between Tom Brady and Peyton Manning
[bdc-gallery id="544114″]