Patriots
Former BC Eagle B.J. Raji is taking hiatus from NFL [Updated]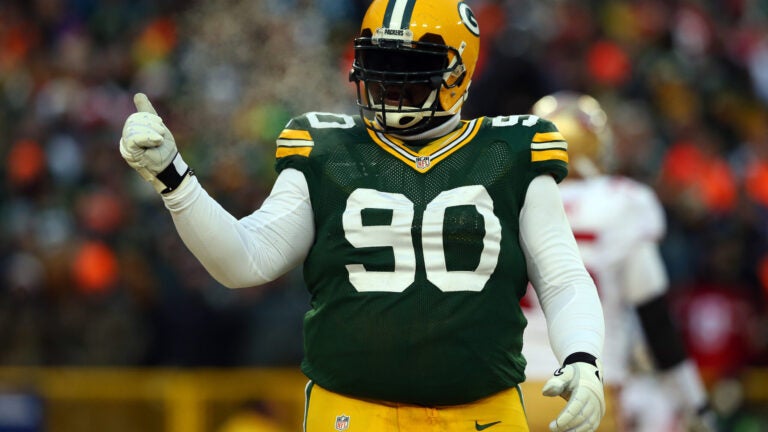 B.J. Raji, the hula-dancing, lead-blocking, State-Farm-advertising nose tackle for the Green Bay Packers, is taking a hiatus from the NFL. He announced his decision to step away in a statement released on Monday.
"I am taking a hiatus from the NFL and will not play during the 2016 NFL season,'' Raji wrote. "This decision was made after hours of conversation with close family members and mentors and considerable self-introspection and is one in which I am absolutely certain. I cannot rule out a return to the NFL in the future, but I will definitely not be playing during the 2016 season.''
Read Raji's complete statement at Packers.com.
[fragment number=0]
Raji played four years at Boston College, before being drafted by the Green Bay Packers with the 9th overall pick in the 2009 NFL draft. In his four seasons with the BC Eagles, he racked up 99 tackles (23 for loss) and 9 sacks, and earned all-ACC honors twice.
Raji received his only Pro Bowl nod in 2011, a year after he earned renown for a decisive pick-6 off Chicago Bears quarterback Caleb Hanie in the NFC Championship on January 23, 2011. Raji broke William "Refrigerator'' Perry's NFL record for being the heaviest NFL player to score a touchdown on the play.
[fragment number=1]
Raji spent time on the offensive side of the ball as well, occasionally playing fullback in goal line sets. Raji nicknamed himself "The Freezer'' because of his role on offense, emulating Perry's nickname. Raji's only career rushing attempt came on November 20, 2011 against the Tampa Bay Buccaneers, where he barreled into the end zone for a one yard score.
Raji played 6 NFL seasons, missing the 2014 season due to a torn biceps. He appeared in 91 career games, notching 151 combined tackles with 11 sacks. He is 29 years old.
New England college mascots
[bdc-gallery id="655041″]