Patriots
NFL Films releases previously unseen footage from Patriots' Super Bowl XLIX ring ceremony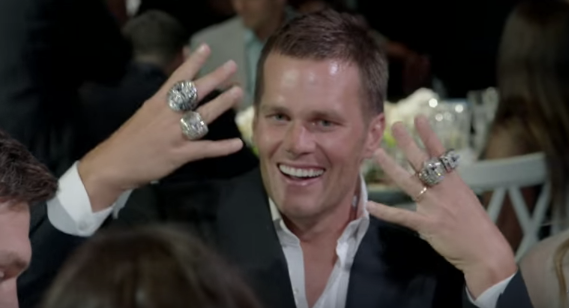 Patriots fans have seen the footage of Tom Brady, Bill Belichick, and other Patriots celebrating on the field after their Super Bowl XLIX victory. But the team's celebrations that followed were less public. And footage of one of those events has emerged.
An NFL Films video, published on March 9, shows previously unseen video from the ring ceremony. During the event, Patriots owner Robert Kraft and his franchise quarterback had a thoughtful exchange.
"We're lucky,'' Kraft said. "I'm lucky to have you in my life.''
The two embraced.
"I feel the same way. I'm a lucky man,'' Brady said. "I love you so much.''
Bill Belichick also addressed the team to talk about the Super Bowl rings.
"What we're about to receive now — these rings are what you've earned,'' Belichick said. "It was a tremendous year. You should be extremely proud of what you did and extremely proud of what this team did. And thank you Mr. Kraft for putting this night together for us. This is awesome. Thank you.''
As a team, Patriots players opened gift boxes and saw their rings for the first time. Their reactions were priceless.
[fragment number=0]
[fragment number=1]
Watch the whole ceremony on the NFL Films YouTube channel.
The 10 best Super Bowl performances in Patriots history
[bdc-gallery id="544712″]