Patriots
Whether with Gronkowski or a free agent, it's not a bad thing for the Patriots to seek a bargain deal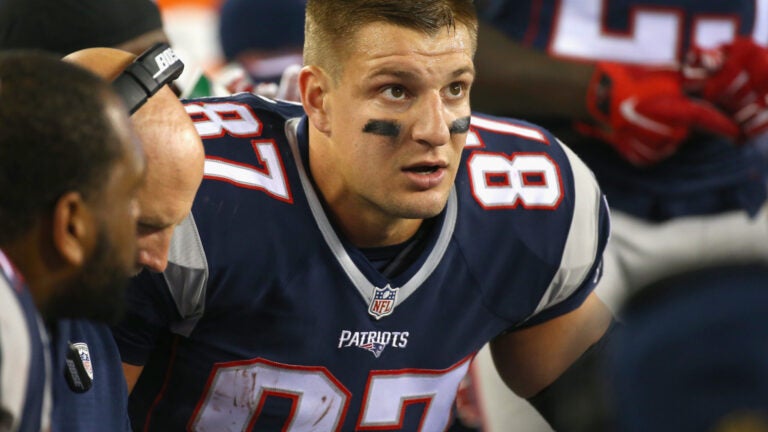 COMMENTARY
Albert Einstein, a dude who would have made a heck of an NFL capologist had he been born a couple of generations later and raised without inspiration, famously defined insanity as doing the same thing over and over and expecting different results.
That considered, I am here to formally announce that Patriots fans – at least a certain impatient segment of them – have driven me certifiably insane.
Every year – or almost every year, save for occasional splurge on an Adalius Thomas – the Patriots play it patient and cool in free agency. While other, often desperate franchises pitch enormous sums of money at big names who are past their prime or young players who are still unproven, Bill Belichick and Nick Caserio will target and sign a half-dozen players you've barely heard of. Four will help the team – hello, Chris "7-11'' Hogan – one won't make it through camp, and another will flop. Many of you will ignore the successes to gripe endlessly about the washout and the flop.
It drives me nuts, but it's my own fault. I never learn. I expect different results. I make the same fundamental – and apparently insane – mistake every year. I figure the Patriots' knack for identifying players of unheralded stature who fit what they want to do has proven so effective over these 15 seasons of extraordinary success that at the very least the franchise should get the benefit of the doubt. This applies to the draft as well. Yet the howls to do something – draft someone Mel Kiper Jr. has told you about, or sign a name free agent who has a valuable football card – continue year after year.
I recognize my media brethren – especially the weirdo cousins on sports radio – push this narrative. They have to. It's tough to fill four hours when the depth of your knowledge of a player is something like, "I think I've heard of him – played for the Bills, right? Wide receiver. Oh, he played lacrosse? THAT FIGURES.''
But fans – especially fans who remember the frequent frustrations of following this franchise before Belichick and Tom Brady arrived – should know better than to be swayed by the "we-need-a-big-name!'' hype. Sure, it would be cool if they signed, oh, Chris Long, or perhaps had signed Baltimore-bound Eric Weddle. They are familiar, and we know they've been good players; more important, signing them would confirm that Belichick believes they're still good players and can help the current cause at a reasonable rate. That's all that should matter. The rest is noise.
There's also an affiliated grievance I suppose is worth addressing given some recent Patriots news: The suggestion that there's something wrong with getting a great player at great value. Sometimes there's a vibe that a bargain is a bad thing, like the franchise is cheap and refuses to pay the going rate for its best players. When, in the aftermath of the news that the Patriots had picked up the $10 million option on his contract through 2019, Rob Gronkowski tweeted this March 7 …
… the immediate and consensus reaction was to presume that he was unhappy with his deal. He hasn't commented on it beyond the tweet, and he punctuated it with ha-ha (he punctuates everything with ha-ha), yet there seemed to be a notion that the Patriots were doing something wrong by getting him at great value. That misses the key point – that they've got Gronk wrapped up through his prime at a reasonable rate, which is exactly what a fan should want.
It also ignores the history of the deal. When the Patriots signed Gronk to a six-year, $53 million deal in June 2012, it was the richest contract ever given to a tight end. It came after a monster season – he had 90 catches for 1,327 yards and 17 touchdowns – but he had also just had surgery on his left ankle, and the Patriots tore up the final two years of his deal.
In its write-up of the deal, the Associated Press called it a "stunning'' decision. Gronk's agent, Drew Rosenhaus, called it "a rare deal'' and thanked Belichick and Robert Kraft. His dad, Gordy, said the family was grateful considering that they didn't even know if Gronk would be able to continue playing football after injuring his back at Arizona and added this when asked if the money would change his son:
"No, Rob is Rob. He still to this day will wear jeans that he had in high school, and shirts that he had in high school,'' he said. "We're not flashy people. And that's Rob all the way. The money, it's nice, don't get me wrong, but it will not change him. Rob will always be Rob the goofball.''
In the time since, we've been told that Gronk lives off his endorsement money and doesn't dip into his football earnings. He was happy when the Patriots rewarded him when they didn't have to, giving him security – and $17.5 million guaranteed – at a time of some uncertainty with his health. It's not that much different than the deal Steph Curry signed with the Warriors when his ankle problems threatened to shortcircuit his career. Curry is currently the 65th highest-paid player in the NBA. He seems OK with that.
We won't know until Gronk addresses it himself, of course, but knowing his history, I suspect the tweet originated when heard how much Dwayne Allen got from the Colts, then went to Google to find out who Dwayne Allen is. Then he went back to playing NBA 2K16 with Chandler Jones, a random Gronk brother, and Redfoo. Maybe that's not how it went down, maybe it's not, but that's how it should have. We should all be so chill.
The 2015 Patriots season, game by game
[bdc-gallery id="543795″]