Patriots
Chris Hogan applies lacrosse background to playing wide receiver in the NFL
'There's a ton of carryover.'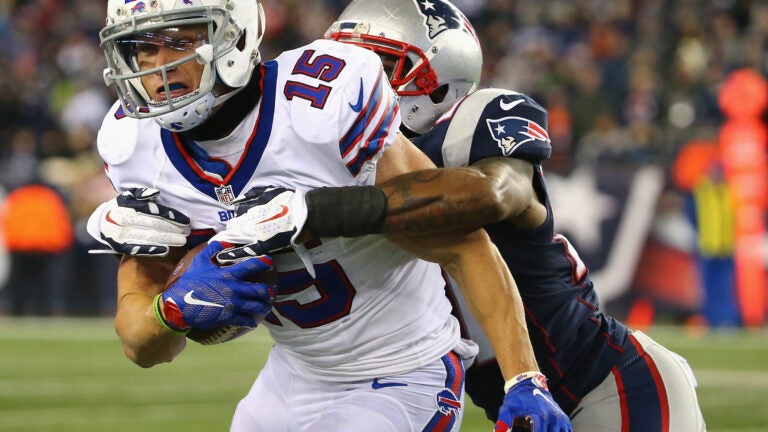 Newly signed Patriots receiver Chris Hogan was Penn State's leading scorer in 2009 — as a midfielder on the lacrosse team.
After playing four years of lacrosse, and no football, at Penn State, Hogan transferred to Monmouth University in New Jersey with hopes of someday joining an NFL team. He said the process of transferring colleges was a pain, but Hogan didn't appear to have difficulty transferring his skill set from one sport to another. His first catch at Monmouth was a touchdown.
"I think there's a ton of carryover with the two sports, lacrosse and football,'' Hogan said on a conference call Monday. "Obviously there's eye-hand coordination and you have to have really great eye-hand coordination in the sport of lacrosse and obviously in my position specifically.''
Hogan went undrafted in the 2011 NFL Draft, and spent time with the San Francisco 49ers, New York Giants, and Miami Dolphins as a practice squad player. He signed with the Bills before the 2013 season, and contributed for three seasons as a pass-catcher and special teams player.
During the 2015 season, the 27-year-old receiver caught 36 receptions for 450 yards and two touchdowns. He also averaged a career-high 12.5 yards per reception.
"I think that there's also carryover to when I have the ball in lacrosse, that field awareness and being able to move in the open field and dodge people,'' said Hogan, who signed a three-year, $12 million deal with the Patriots last week. "You can carry that over and say it's the same aspect as having a football in your hands and having that in the open field.''
Hogan's journey to the NFL has been unique, though there's a chance his quirky background appeals to coach Bill Belichick.
"As far as coach Belichick, yeah, he's a huge lacrosse fan,'' Hogan said. "I'm pretty sure I played against his son at Rutgers my sophomore and junior years. There's always that. We have that lacrosse connection.''
Hogan's likely hoping it's just as easy to connect with Tom Brady.
The 2015 Patriots season, game by game
[bdc-gallery id="543795″]