Patriots
Patriots are well-equipped to handle loss of Chandler Jones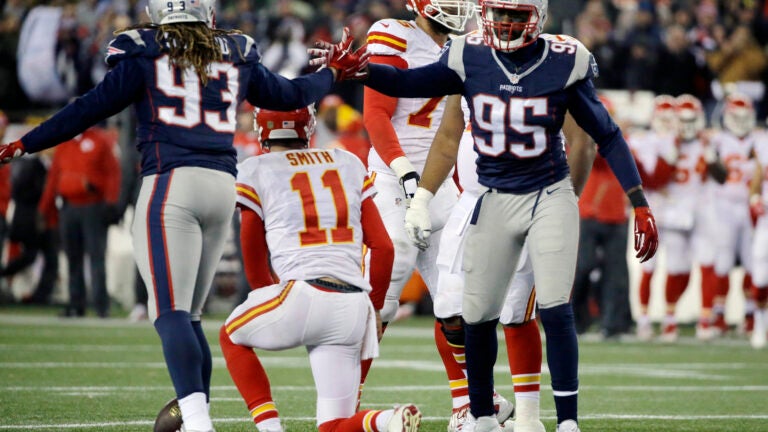 COMMENTARY
You knew this day would come. You just didn't think it would come so soon.
Defensive end Chandler Jones was one of three high-profile Patriots defenders (along with linebackers Jamie Collins and Dont'a Hightower) set to become free agents in 2017. Now, Bill Belichick has somewhat cleared up that impending negotiation logjam by shipping Jones to the Arizona Cardinals in exchange for a second-round draft pick and guard Jonathan Cooper.
If Jones wasn't in the Patriots' long-term plans, this was absolutely the right decision. The team has enough short-term solutions to keep things copacetic with the front seven. The reported agreement with free agent defensive end Chris Long on a one-year deal would further solidify that position group.
The Patriots previously struck pass-rushing gold in 2015 in the form of defensive end Jabaal Sheard, who was the most consistent edge rusher in their fold last season. He finished the season as the league's top pass-rushing 4-3 defensive end, according to Pro Football Focus. He notched 45 hurries, five hits, and eight sacks. His best years may well be ahead of him; he has just one year left on his contract, but he will be 27 when the 2016 season starts, and could be up for an extension as well.
There's also Rob Ninkovich, and although the 32-year-old veteran defensive end is entering the final year of his contract, he continues to be a valuable and stable presence on the end of the line. He has tallied a minimum of 6.5 sacks in each of the past five seasons. But Father Time is undefeated, and eventually, the Patriots are going to have to find a long-term replacement for Ninkovich.
The process of developing depth at defensive end began in earnest in 2015, when the Patriots drafted several hybrid pass-rushers in Oklahoma's Geneo Grissom, Arkansas' Trey Flowers, and Alabama's Xzavier Dickson. Grissom played a versatile role as a rookie, lining up on the edge and in the middle of the defensive line. Flowers showed a world of potential in the preseason, but he was inactive for most of the regular season.
Even defensive tackle Dominique Easley has shown an ability to play the defensive end spot in the past. He was at his best in 2015 when he lined up in the middle, but he can always move outside in a pinch, or rotate to the edge if the matchup is better.
By trading Jones, the Patriots not only freed up $7.79 million in salary cap room, according to OverTheCap.com, but they've also added another second-round pick immediately after their first pick of the 2016 draft. They now pick back-to-back at 60th and 61st overall. It's not ideal — it never is when you don't have a first-round pick — but with four picks in the first 100, the Patriots could very well trade into the first round if they wish.
The Patriots are already set at the top of the depth chart, even without additional moves. If Long proves to be a valuable pickup in free agency, one or two young players step up as a contingency option, or if the Patriots add another backup through the draft, they could emerge from this trade without much of a loss in production from the front seven and with a potentially big gain on the offensive line and somewhere else.
15 biggest draft steals in NFL history
[bdc-gallery id="139001″]