Patriots
Patriots made it almost impossible for Bills to retain Chris Hogan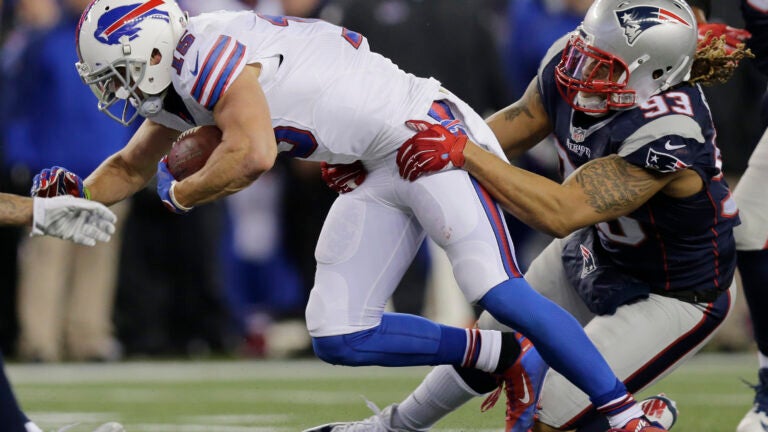 The Patriots gave wideout Chris Hogan an offer the Bills had to refuse.
New England signed an offer sheet on Bills restricted free agent Hogan for a three-year, $12 million deal.
And while the Bills were allowed the opportunity to match the Patriots' offer due to his restricted status, New England's deal was structured in a way that made it almost impossible for Buffalo to match.
The Patriots' deal included a first-year salary-cap hit of $5.5 million, and the Bills had only $4.5 million in cap space for the upcoming season. Had Buffalo wanted to match the offer, the Bills would have needed to create cap space for the receiver. And while that was possible, it would likely leave the team with minimal cap space to make additional moves this offseason. Instead, the Bills elected to let Hogan go to their division rival, and increase their cap space to around $5.6 million.
Otherwise, the Patriots deal for Hogan wasn't overwhelming when compared to fellow free agent Mohamed Sanu's agreement with the Falcons — Sanu's 2015 production was essentially equal to Hogan's, but Sanu recieved a five-year, $32.5 million deal.
The Patriots would typically give the Bills a draft pick in the same round Hogan was drafted, again due to Hogan's restricted status. But the wideout went undrafted in the 2011 draft, and therefore the Bills did not recieve any draft pick compensation from the Patriots.
As noted by ESPN's Mike Reiss, Bill Belichick missed out on wide reciever Emmanuel Sanders when he was Steelers' restricted free agent in 2013. Belichick is not the kind of man who likes to be fooled twice.
Bill Belichick's not mad; this is just his RBF
[bdc-gallery id="116024″]