Patriots
5 things Patriots fans should know about Jonathan Cooper
What you need to know about the Patriots new guard.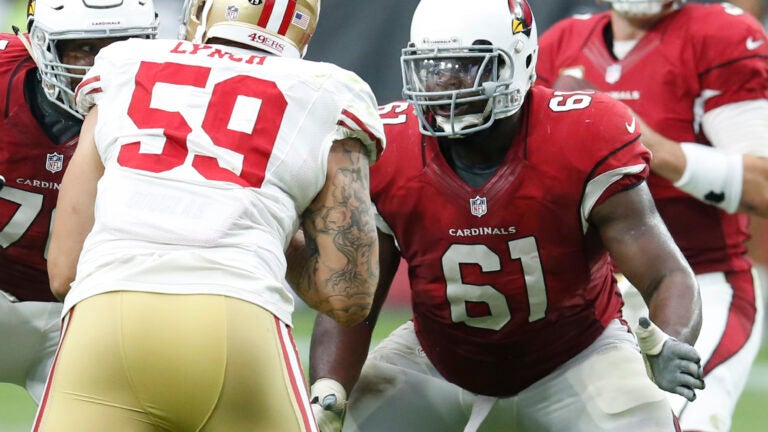 A fresh start may be just what Jonathan Cooper needs.
The Patriots acquired the 26-year-old guard in a trade with the Arizona Cardinals on Tuesday. Touted for his athleticism as an elite prospect coming out of college, Cooper has struggled to stay on the field in his first three NFL seasons. With help from Patriots offensive line coach Dante Scarnecchia, perhaps he can realize his potential in New England.
Here are five things you should know about the Patriots newly acquired guard.
1. College: Cooper played for North Carolina from 2008 through 2012. He was a first-team All-American and first-team All-ACC selection in 2012. That season, he helped block for the conference's leading rusher, Tar Heels teammate Gio Bernard. Cooper was also named second-team All-ACC in 2010 and 2011.
2. Draft: The Cardinals selected Cooper seventh overall in the 2013 NFL Draft, making him the first guard taken in the top eight of the draft since the Houston Oilers selected Mike Munchak eighth overall in 1982. Among offensive linemen at the combine that year, Cooper ranked in the top two for bench press and top 10 for the 40-yard dash and broad jump.
3. Patriots' Interest: As noted by ESPN's Mike Reiss, the Patriots were high on Cooper ahead of the 2013 draft. The team's initial assessment of him was made when Scarnecchia was still with the team. He has rejoined the Patriots this offseason after spending two seasons in retirement.
At the same time, Patriots director of player personnel Nick Caserio once mentioned Cooper as having one of the highest grades on the team's draft board in 2013, so it's not a stretch to say that the club views him as a potential impact player and is banking on a change of scenery bringing out the best in him.
4. Injury history:Cooper broke his leg during preseason in his rookie year, and the injury may have effected him in the following seasons. He started at guard during the 2015 season, but suffered a knee injury. He eventually lost his starting job to Ted Larsen, who the Patriots waived as a rookie in 2010.
5. Contract: Cooper is entering the final year of a four-year, $14.5-million deal he signed as a rookie. His contract has a $2.3 million cap-hit for 2016.
[fragment number=0]
The Patriots have until May 3 to exercise a fifth-year option for 2017 that would match the transition tender for offensive linemen in 2016 ($11.902 million), according to ProFootballTalk.
Best sports bars to watch Patriots games
[bdc-gallery id="109509″]