Patriots
Bill Belichick isn't in a jolly mood and we're supposed to be surprised?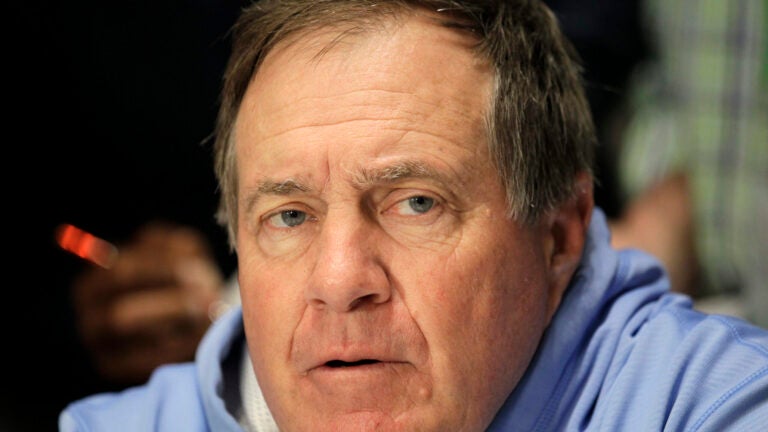 COMMENTARY
What did you expect anyway?
The National Football League's pretension is no sweeping revelation to anyone paying even a whiff of attention, something that is particularly true during its offseason,` when there's the lack of on-field action to distract us from the stupidity that envelops this all-powerful American entity.
So, but of course Bill Belichick was destined to lead the headlines no matter how he greeted media members and others at the coaches breakfast Tuesday morning at the NFL owners meetings in Boca Raton, Fla.
The man failed to disappoint.
After arriving 15-20 minutes late for whatever efficient football meeting the powers that be figure can come from a Florida hotel in late March, the New England Patriots coach was at his ornery best, delivering his trademarked canned answers to pointless queries, likely relishing in the opportunity deep from within, where Belichick must feel the slithering uncomfortableness of a reporter like an ethereal delight.
By now you've seen the footage of Belichick shoving microphones and recorders out of his vicinity upon his arrival at the table Tuesday, as if he were clearing a spot to put his head down on the table in the form of a second-grade timeout. It began with, shock of all shocks, after an NFL Network producer wrangled a microphone in front of him, only to find it immediately shoved to the center of the table, followed by every other recorder within a five-inch radius of his elbows.
Even considering Belichick's standards of crudity, it was a development few could have imagined, and it served as a fitting setting for the lack of benevolence yet to come.
Belichick answered more than 105 questions, 23 with "I don't know," according to Comcast's Tom Curran, who added that Belichick just made a noise in response to one question. He also only made a face after another.
One hundred and five questions. It was March 22. There are 169 days until the beginning of the 2016 season.
Nothing should carry the importance worth 105 questions.
"Part of the exciting week of the owners' meetings," Belichick said with a clear inference on the absurdity of it all.
Beyond him saying the team was happy to add the likes of Martellus Bennett ("We're happy to add all the players that we've added to our team. When we're out there, we'll see how it goes."), his recent hang with Kid Rock ("Bobby's a great guy.") and, maybe the biggest shocker of them all, his continued support for quarterback Tom Brady ("He's my quarterback."), just what in the hell was worth the other 102 questions to fall upon his deaf ears? At the very least, to how many of those 102 posits did the inquisitors actually, foolishly believe they were going to get a worthy answer?
Please. Belichick's appearance on Tuesday is being treated in various national circles as the height of arrogance from the New England Patriots, a team clearly in the crosshairs of the league that still has the team pegged for the intricacies of Deflategate, a soap opera that has cost the Patriots $1 million, a pair of draft picks, and even the lingering possibility that they lose Brady for four weeks in the wake of the league's ongoing appeal to reactivate the suspension it tried to hand down last summer.
So, let's get this straight; No first-round draft pick, but I'm supposed to sit here and make nice about the league with what looks to be a gaggle of NFL public relations folks cloaked as reporters? Right. See you in September when we kick your team's tail.
Belichick walked out of commissioner Roger Goodell's speech in a banquet room on Sunday, nor did he show up for the annual coaches photo taken on Monday. He was one of three coaches missing, yet he'll be the only one that maintains any notoriety over the fact.
The suggestion that Patriots fans should be embarrassed over what their head coach represents at these owners meetings is, however, a dead end. For all its popularity, the NFL is a blubbering mess, a balloon ready to burst, led by a clueless dictator who has wrangled all the power thanks to the mere fact that the general public likes to watch the game in their living room on Sunday afternoon. Imagine, if only Paul Tagliabue had the benefit of HD how long he might have remained commissioner.
Goodell is still in power because of the billions of dollars that the NFL generates for its 31 owners, a job that a koala bear with a bandana strapped over its eyes could accomplish on an annual basis. There's no presence to Goodell, no sense of authority or ingenuity that will develop the sport and bring it to new heights of importance. Nope. He's just there, an aloof falsehood of emphasis who stands for nothing, a matter he's proven time and again with his unfaithful convictions on the league's true issues, not to mention the continuation of his empty words, disguised as something that you should even give the slightest damn about.
Belichick wants to act like some snot-nosed kid whose parents picked him up a day too early from Oxford Academy? Good.
He's not looking for the Rex Ryan Soundbite Award, even if that's about all the annual owners' meetings are good for from a coaching perspective. The team didn't propose any rule changes for the league to shoot down this time around, so owner Bob Kraft and Belichick were pretty much in Florida just for their gregarious presences. Oh, what fun.
I mean, just how important is it to discover how Belichick thinks Bennett will fit in?
"I've answered that question five times," he said.
Well, you didn't really…
But in any case, who cares?
Don't act like you expected anything different. But what Belichick did on Tuesday was even beyond his normal, grumpy self.
If you didn't get the message, he made it pretty clear that the NFL is going to get his take on the mess it's created for his team before everything is said and done.
Ten facts about Fenway Park
[bdc-gallery id="116335″]