Patriots
Bill Belichick swats microphones, shows love for Kid Rock in press conference
The offseason has done little to dull Bill Belichick's distinct press conference style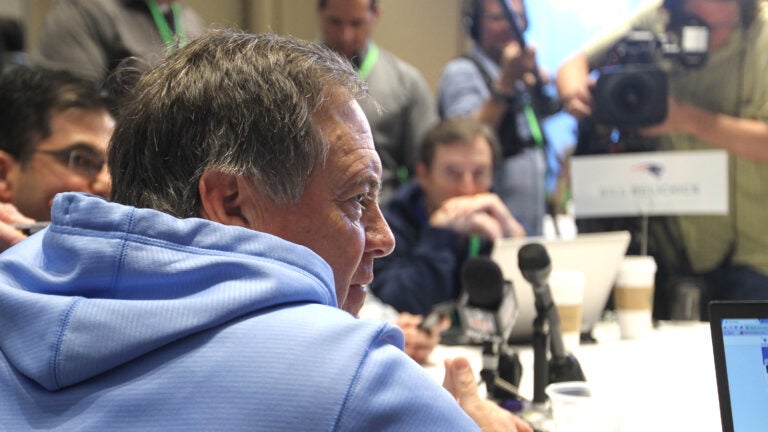 Bill Belichick, dressed noticeably brighter than usual in a Hopkins Lacrosse hoodie, jumped right into midseason press conference form Tuesday at the NFL owners meeting in Boca Raton, Florida.
Belichick was quick to take a swing at the media. Or their equipment, rather.
Bill Belichick don't like no stinkin' microphones. Too funny #nfl pic.twitter.com/j3lJOFArUc

— Jordan Raanan (@JordanRaanan) March 22, 2016
With the microphones safely an arms-length away, the Pats head coach kicked off his comments with some words in regard to Jerod Mayo and his retirement, stating that the former All-Pro was a "pleasure to coach."
Moving on in the personnel department, Coach Belichick was asked about the acquistion of wide receiver Chris Hogan. Hogan, who was signed away from the Buffalo Bills last week, has an interesting collegiate past, having playing for Penn State on a lacrosse scholarship (alongside Belichick's son), then transitioning to football for one year at Monmouth. Belichick's answer was brief.
Belichick asked a long question about Chris Hogan's lacrosse background and how it translates to football.

"I don't know."

— Ben Volin (@BenVolin) March 22, 2016
Answers to questions about offseason moves remained similarly terse across the board. When asked about tight end Martellus Bennett's past issues with the Chicago Bears, whether Shea McClellin's college game tape played into signing him, and whether or not Chandler Jones' synthetic marijuana incident played into the decision to trade him to the Cardinals, Belichick responded in this order: "Go ask the Bears," "I don't know. Everything's a factor," and "He was a good player for us."
Short and not so sweet. The opening lines of the Bill Belichick media guide.
As questions shifted away to the busy few weeks Bill Belichick the general manager had, things moved on to less tangible topics like the intersection of family life and staff promotions, and Kid Rock.
The family/staff question focused on the promotion of Steve Belichick, Bill's oldest son, to the position of Safeties coach. Steve spent the past four season as an assistant with unspecified responsibilities, and Bill was asked if he was proud that he could promote his son. Bill replied "I'm proud of all my kids."
In what turned out to be one of the rare spates of enthusiasm to be found in a Belichick-media interaction, the coach weighed in on his time spent with Kid Rock.
"Bobby's a great guy." – Bill Belichick on Kid (Bob Ritchie) Rock.

— Mark Dondero (@MarkDondero) March 22, 2016
Belichick wrapped up the press conference on a more sentimental note, sending support to Dave Pietramala, the head coach of Johns Hopkins men's lacrosse team, who is currently recovering from a lower back infection.
Belichick closed his opening statement today with, "Finally, a shoutout to coach (Dave) Pietramala and hope that he's feeling better."

— Jeff Howe (@jeffphowe) March 22, 2016
With less than a month until the start of offseason workout programs,  Belichick is already flexing his press conference muscles.
[bdc-gallery id="139049″]