Patriots
5 things Patriots fans should know about Chris Long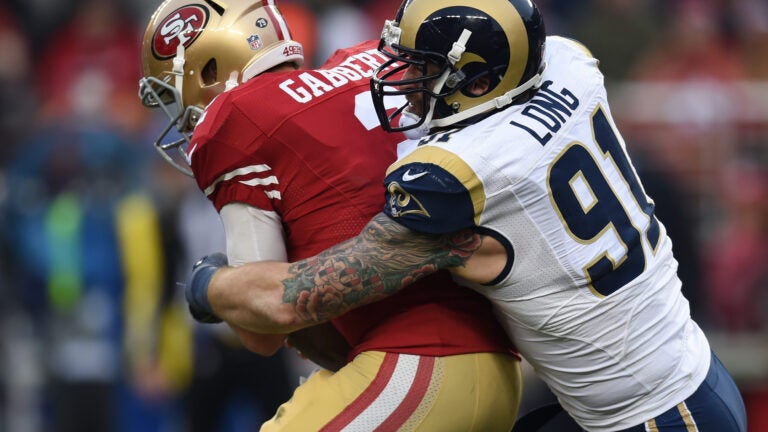 Chris Long let everyone know that he is excited about coming to New England. Patriots fans can look to Long's NFL resume, family pedigree and even his Twitter timeline to find reasons of their own to be excited about his arrival.
Just hours after trading Chandler Jones to the Arizona Cardinals earlier this month, the Patriots signed the 31-year-old defensive end to a one-year deal. The former St. Louis Rams standout is listed at 6-foot-3 and 268 pounds. Not long after signing, Long got Jones' blessing to wear No. 95 with the Patriots. It remains to be seen if the similarities on the field in 2016 go beyond a uniform number.
Here are five things that Patriots fans should know about Long.
Football Family: His father is Hall of Fame defensive end

 

Howie Long, who had eight Pro Bowl seasons with the Raiders. Howie is currently an NFL analyst for Fox Sports. Howie Long grew up in Charlestown, and seems happy about his son's new team:
"It's taken a lot longer than maybe I would have thought, but a Long in a Patriots uniform would look pretty good," Howie Long said, via ESPN.
The Draft: Chris was selected second overall in the 2008 NFL Draft. At the University of Virginia, he was voted an All-American and the ACC Defensive Player of the Year in 2007.
Injuries vs. Productivity: Long had 41.5 sacks during a four-season span from 2010 to 2013. During his first six seasons, he played in all 96 regular-season contests for the Rams. With injuries causing him to miss 14 total games in 2014 and 2015, Long has accumulated only 4.0 sacks in the last two seasons. He suffered an ankle injury in 2014, and a knee injury in 2015.
Contract: Long's one-year deal is worth $2.375 million, according to The Boston Globe's Ben Volin. As it's a one-year deal, the salary cap space committed to Long frees up again at the end of 2016 season. That flexibility should be important to the Patriots in 2017 when stars like Dont'a Hightower, Jamie Collins, Malcolm Butler, Rob Ninkovich, and Logan Ryan will be looking to re-sign.
Twitter: Long's tweets are fire.
Most resilient, gritty snow pile in the mid Atlantic. Month since bliz, it's 73 deg. No quit. Amendola of snow piles pic.twitter.com/5Uq8fKnpbX

— Chris Long (@JOEL9ONE) March 24, 2016
Here's his reaction to his Syracuse's upset of Virginia in the NCAA Tournament. As mentioned, Long attended Virginia.
Bye, Twitter. pic.twitter.com/kZFxzDjnB4

— Chris Long (@JOEL9ONE) March 28, 2016
The Patriots 2015 season, week by week
[bdc-gallery id="543795″]