Patriots
Terrance Knighton chose Red Sox over Yankees, loves the Celtics
"Pot Roast" is a huge Boston sports fan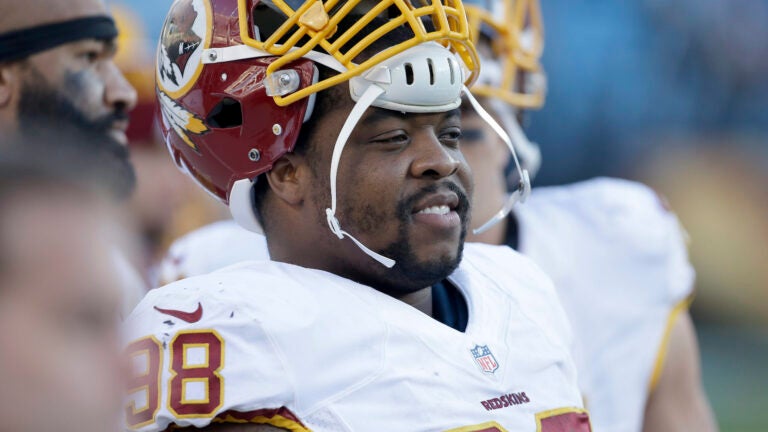 Connecticut is a state divided. Sports fans have the option to root for Boston or New York.
Connecticut-native Terrance Knighton, who joined the Patriots during the 2016 offseason, revealed his rooting interest on a conference call Wednesday.
"I'm very excited about the Celtics," Knighton said. "I think when you're born in Connecticut I think at birth you have a choice – either Yankees or Red Sox – and I chose to go with Boston. I'm a big Boston Celtics fan, Red Sox, Bruins, obviously Patriot fan growing up. I'm really excited about the Celtics right now, the playoff push. Hopefully when I get in town I can catch a few games. I'm very excited about it."
Knighton, whose Twitter handle is @MisterRoast98 (a reference to his nickname "Pot Roast"), tweets often about Boston sports.
Don't let up Celtics. Momentum baby

— Terrance Knighton (@MisterRoast98) April 6, 2016
If @Isaiah_Thomas not an all NBA player this year I'm going to be ????

— Terrance Knighton (@MisterRoast98) April 7, 2016
In high school and college, Knighton cheered for the Patriots' Super Bowl teams, including players like Willie McGinest, Tedy Bruschi, Rodney Harrison, and of course Vince Wilfork.
"The guys that were great leaders on and off the field and were role models for me growing up and guys that I modeled myself after on the field like a Vince Wilfork," Knighton said. "Obviously, big shoes to fill and me being a big guy and playing nose tackle, people will look for me to be like a Wilfork replacement, but I'm not thinking about that. I'm just going to come in, and work hard every day, and just try to create my own niche in the organization."
The defensive lineman may be a big Patriots fan, but he also had a few excellent games against New England, particularly in the 2013 playoffs when he sacked Tom Brady. After beating the Patriots, Knighton and the Denver Broncos marched onto a Super Bowl appearance.
During 2015 season with the Redskins, Knighton recorded 29 tackles and 1.5 sacks.
Every matchup between Tom Brady and Peyton Manning
[bdc-gallery id="544114″]