Patriots
Terrance Knighton says he models himself after Vince Wilfork
Knighton, a Boston sports fan, watched a lot of Vince Wilfork.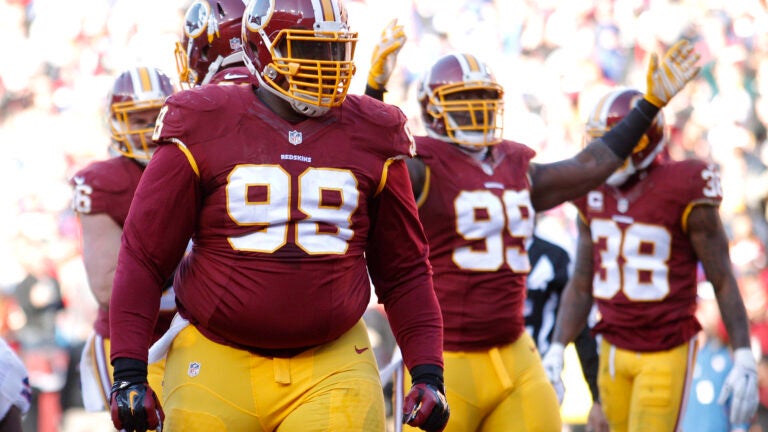 A Patriots fan in high school and college, Terrance Knighton looked up to New England's best defensive players.
He recalled watching the Patriots' Super Bowl teams from the early 2000s on a conference call Wednesday.
"Guys that were great leaders on and off the field and were role models for me growing up and guys that I modeled myself after on the field like a Vince Wilfork," Knighton said. "Obviously, big shoes to fill and me being a big guy and playing nose tackle, people will look for me to be like a Wilfork replacement, but I'm not thinking about that. I'm just going to come in, and work hard every day, and just try to create my own niche in the organization."
The newly signed defensive tackle joins a crew of defensive tackles which includes Ishmaa'ily Kitchen, Alan Branch, and former Patriots first round picks Dominique Easley and Malcolm Brown. There's ample opportunity for snaps at the position, however, as Akiem Hicks and Sealver Siliga departed in free agency.
Still, Knighton's decision to sign a one-year, $2 million deal with the Patriots wasn't an easy one. He was reportedly considering an offer from the Redskins, too.
"Speaking with a few ex-players, I had a long talk with Vince Wilfork obviously before signing, and he was telling me that it's a grind but at the end of the day it's football," Knighton said. "It's a good environment to be around, it's a good building to be in, and he had nothing but good things to say about the organization. Like I said, I'm just excited, and I'm just looking forward to getting in the building, and learning as much football as I can and being around the guys."
Knighton may not match Wilfork's production, but he stands larger than Wilfork. According to ESPN.com, Knighton is 6-foot-3 and 354 pounds. Wilfork is 6-foot-2, 325. Though, Knighton noted he's slimming down for his role with the Patriots.
"Last year I was obviously heavier than I am right now," Knighton said. "I'm in a lot better shape than I was last year. Contractually, I have things, weights that I need to hit. Whatever the coaches want me to play at then that's what I'll be at. I've worked really hard this offseason and I'll continue to work throughout the offseason program and get acclimated to the new strength coaches and the nutritionists and the way things are done in Foxborough."
Patriots first-round draft picks under Bill Belichick
[bdc-gallery id="140608″]