Patriots
5 needs the Patriots should fill in the 2016 NFL draft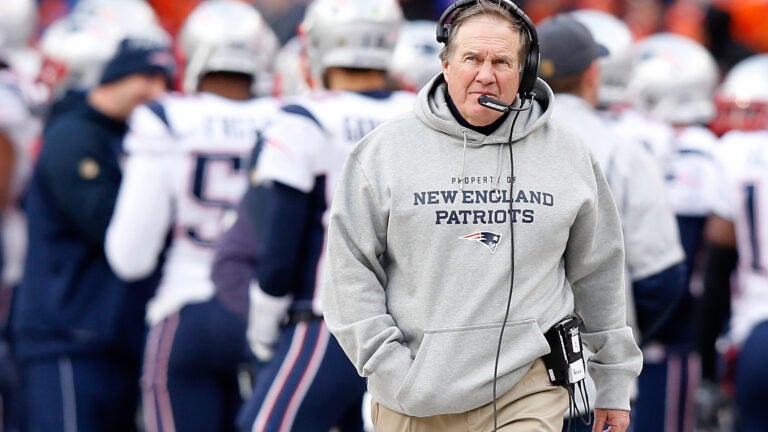 COMMENTARY
The loss of a first-round draft pick still stings for many Patriots fans, but this might actually be as good a year as any for the team to overcome such a hindrance. Entering the 2016 NFL draft, most of the Patriots' biggest needs are not at the top of the depth charts, but in the middle.
In a perfect world, the Patriots' 2016 draft choices won't end up being career backups. Ideally, they'll earn their way into starting roles, either early on in their careers or a couple years down the line. But if the Patriots come away from April's draft with a handful of solid backups, the draft can still help their effort to win Super Bowl LI, even without a selection in the first round.
Here's a look at some of the Patriots' biggest needs headed into the 2016 draft.
Wide Receiver
Even after signing Chris Hogan and Nate Washington as free agents, the Patriots could use another wide receiver or two in the draft. Hogan has shown potential, but has never been more than a complementary receiver. It remains to be seen if he can be effective in a featured role.
We know that Julian Edelman is a vital component to the Patriots' passing game. After seeing the offense struggle when he was injured last year, the Patriots need a better backup plan in case of an Edelman injury.
In the slot, the Patriots still have Danny Amendola's quickness and tough play-making ability; but his future with the team may be uncertain, according to a ProFootballTalk report.
Cornerback
Despite all the turnover at the cornerback position last offseason, Malcolm Butler and Logan Ryan were not entirely out of their element as starters. But there's still a need for a reliable third cornerback in the mix.
Last year, the Patriots' top five defensive backs (in terms of their snap counts) were Butler and Ryan along with safeties Patrick Chung, Devin McCourty, and Duron Harmon. In the Patriots' nickel packages, Chung was often in the slot covering wide receivers and tight ends. He performed well in that role, having one of his best seasons ever in coverage (43-of-77, 55.8 percent, 388 yards, two touchdowns, eight pass breakups, 78.3 passer rating according to Pro Football Focus).
The Patriots were forced into that situation due to a lack of talented depth at cornerback. It worked out, but they should try adding more options for next year.
Offensive Tackle
Assuming Nate Solder and Sebastian Vollmer stay healthy, the Patriots are set at offensive tackle for 2016. It's in 2017 (Vollmer's contract runs up) or in the event of an injury (such as the slew of injuries last season) when there will be some concern.
Right now, the Patriots' top backup at tackle is Marcus Cannon. The five-year NFL veteran was forced into action last year due to injuries. According to Pro Football Focus, Cannon earned a grade of 61.8 in the running game (right around the middle of the pack among tackles) and just 32.8 in pass protection (10 from the bottom).
This is one position where the Patriots will need to be thinking long-term. Will their targeted prospects develop into starters?
Running Back
Even if LeGarrette Blount is back with the Patriots in 2016, as seems to be a strong possibility judging by his Snapchat account, the Patriots could still justify adding another running back this offseason. After all, we still don't know how Blount — or Dion Lewis, for that matter — will recover from injuries (Blount's hip, Lewis' knee) suffered last season.
James White did an admirable job of stepping in for Lewis in the second half of last season, and he might have to do it again if Lewis isn't ready to go right away. The Patriots have added free-agent running back Donald Brown, but there's still room for one more between-the-tackles back.
With offensive line coach Dante Scarnecchia back in the fold, the running game has a chance to improve. Adding more depth would likely help.
Linebacker
There are several reasons to pursue a linebacker this offseason. For starters, Jerod Mayo's retirement leaves a void in that first-off-the-bench role. There's also the impending free-agent status of linebackers Dont'a Hightower and Jamie Collins to consider, even if the Chandler Jones trade has fans expecting the Patriots to re-sign both.
A look at the depth chart doesn't exactly inspire confidence: Jonathan Freeny, Jon Bostic and Shea McClellin are the ones most likely to compete for Mayo's playing time. Adding a young player to the mix would not only increase the competition for a backup spot now, but it would also jump start the development of a future starter in the event that the Patriots lose either Hightower or Collins to free agency next year.
Ranking the Patriots' playoff losses in the Brady era
[bdc-gallery id="632876″]