Patriots
Bill Belichick says Tom Brady is 'greatest quarterback of all time'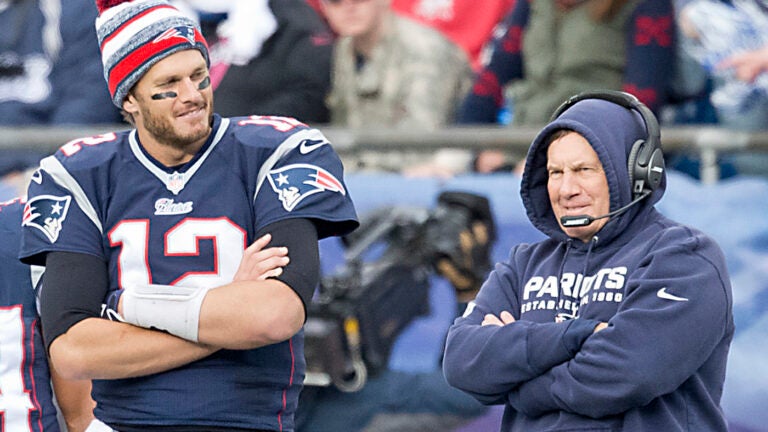 New England Patriots coach Bill Belichick called Tom Brady the "greatest quarterback of all time" on Thursday at the 2016 Salesforce World Tour, according to ESPN.com.
"He's been just a tremendous leader and tremendous player for our organization," Belichick said
Belichick and Brady have filled up the Patriots' trophy case together. They have won four Super Bowls, and have finished atop the AFC East 12 of the last 13 years. Brady has three Super Bowl MVP awards and two NFL MVP trophies.
In addition to crediting his quarterback, Belichick cited an "outlier" approach as a key to Patriots' long-term success.
"One of the things we've tried to do is be a little bit of an outlier in some respects," Belichick said, via NESN. "When I came to the Patriots in 2000 as the head coach, we played a 3-4 defense, and we only had two teams in the NFL, us and the Pittsburgh Steelers, who played a 3-4. We had quite a bit of success, won three Super Bowls in four years, and by 2005, half the league was playing a 3-4 defense. So when I came here trying to find a nose tackle like Ted Washington, it was easy because no one else wanted him. Five years later, if we were looking for a nose tackle, there were probably five other teams in the draft ahead of us."
But scheme only goes so far.
"It all comes back to the players," Belichick said Thursday. "We have great players. You don't win without great players in the National Football League. We're very fortunate to have a great group of people that work hard, that commit themselves to the team and that are tireless workers."
Belichick yourself before you wreck yourself
[bdc-gallery id="143956″]