Patriots
Bill Belichick spotted at workout for Navy's Keenan Reynolds
The Patriots have reportedly been talking with the Naval Academy's versatile QB for several weeks now.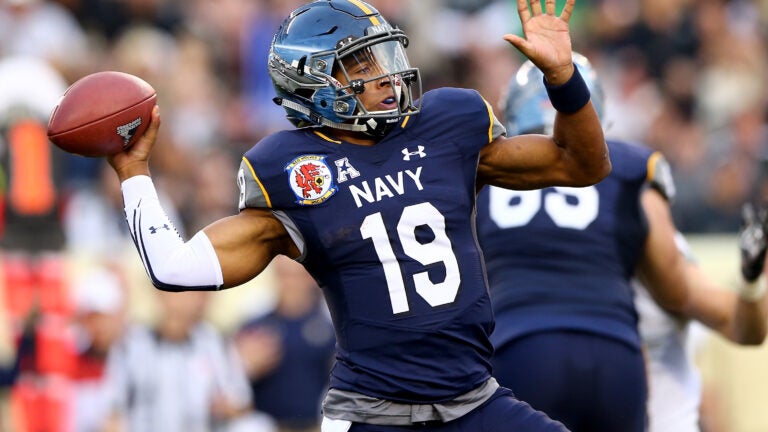 From the field to the library, Bill Belichick's name has left its impression on the U.S. Naval Academy. And with the NFL draft rapidly approaching, Navy QB Keenan Reynolds looks to make his own impression on the Patriots head coach.
On Thursday, Belichick was spotted suit-clad on the Navy campus, where Reynolds was going through a private workout with Patriots offensive coordinator Josh McDaniels. Reynolds said that the chance to play for the Patriots has crossed his mind, via the Boston Herald
"I've definitely thought about it, my friends have said things to me about it. To get that phone call would be — I'd be speechless, honestly. I probably wouldn't know what to say."
In the history of the NFL draft, only 18 Navy Midshipmen have been taken. Three have been drafted by the Patriots, with the most recent selection coming with last year's fifth round pick, long-snapper Joe Cardona.
This visit comes as further expression of interest in Reynolds, who met with Belichick in February when the head coach was presenting an award on his father's behalf in Annapolis. In the following weeks, Reynolds would also meet with tight ends coach Mike Daboll, as well as special teams assistant Ray Ventrone.
Bill Belichick's connection to the Naval Academy reaches back to the 1950's, when his father Steve began his 34-year career as a scout and assistant for Navy. During the Bill Belichick era, four Navy players have made it to the Patriots roster.
Reynolds holds the NCAA record for career rushing touchdowns (88), as well as the record for career rushing yards by an FBS QB (4,559). He finished 5th in Heisman voting last season.
His passing number were nothing special (31 TD's, 8 INT's, 4,001 yards), but Navy's triple option offense relied very lightly on an aerial attack in Reynolds' four seasons. He's projected as a mid-to-late round pick.
Reynolds, who looks to transition to either running back or wide receiver at the pro level, has drawn comparisons to Julian Edelman due to his size, versatility, and college position of quarterback.  According to NFL.com, Reynolds is listed at 5-11, 205 lbs, while Edelman was listed at 5-11 195 lbs. Both weren't invited to their year's NFL combine.
The 2015 Patriots season, game-by-game
[bdc-gallery id="543795″]