Patriots
Greatest Patriots draft picks ever, by round
You definitely know at least one of them.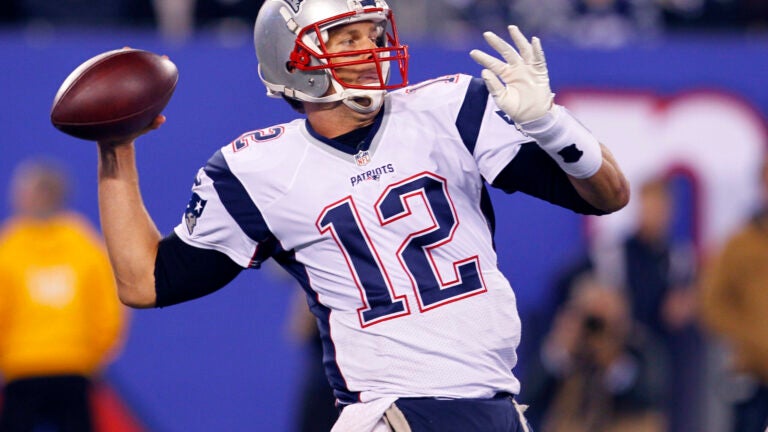 COMMENTARY
No team gets it right every year, in every round of the NFL Draft. But throughout their history, the New England Patriots have had some seriously great picks, including at least one all-time great pick in each round.
Here's a look back at the best picks ever by the Patriots in each round.
Round 1 — John Hannah, 1973
There have been a lot of great Patriots first-round picks: Mike Haynes, another Hall of Famer, could have also been the choice. Drew Bledsoe, Ty Law, Richard Seymour, Vince Wilfork, Logan Mankins, Willie McGinest, and Jerod Mayo also deserve mentions. But there was only ever one choice that made sense.
On this list you'll see a lot of great players, but only a few became the standard-bearer at their position. John Hannah was one of those players. His athleticism to get out in front of a play and block downfield, coupled with his piss-and-vinegar mean streak, came to define what it meant to be a left guard.
In 1978, Hannah helped pave the way for the first and only offense to ever rack up 3,000 rushing yards in a season. In a two-year span from 1977-78, the Patriots racked up 6,113 rushing yards. He helped eight backs rush for at least 800 yards in a season, three of whom also rushed for at least 1,000 yards.
"The Best Offensive Lineman of All Time" was not just an eye-catching headline — and notice that there's no question mark at the end of it; it was a statement of fact, and one that might still hold true.
Round 2 — Rob Gronkowski, 2010
Call it recency bias if you want, but Rob Gronkowski gets the nod here over Hall-of-Fame linebacker Andre Tippett.
In his injury-plagued six-year career, Gronkowski has already entered the discussion of the greatest of all-time at his position. Imagine where he would be in that discussion if he had stayed healthy from 2011-2013 — he might be the consensus best tight end ever.
Gronkowski is currently second all-time among tight ends in touchdowns with 65, and he is just 26 years old and has played just six years in the NFL. If he plays another six years, and puts up the same numbers he's posted thus far, he will have 130 receiving touchdowns in a 12-year span. The all-time tight end touchdown record is 111, by Tony Gonzalez, over a 17-year span from 1997-2013.
Reading that famed Sports Illustrated article on Hannah, the words come off as something one might say about Gronowski. "Is it sacrilege to pick a current performer as the greatest who ever lived, in anything? … Should we wait until he's retired and enshrined and halfway forgotten? … 'Back off a little, give it some historical perspective. Let John Make the Hall of Fame first." Gronkowski might already be the best tight end in NFL history, but if he keeps going at this rate, by the end of his career, there will be no doubt.
Round 3 — Curtis Martin, 1995
This one might not make me a popular man in New England, but not because of who I chose, but who I didn't choose: Tedy Bruschi. In the end, that decision came down to the fact that although Bruschi was the better Patriot, as part of a defense that delivered three Super Bowl victories to Foxborough, Curtis Martin was the better player overall.
Some fans still hold animosity over Martin, who spent most of his Hall-of-Fame career scoring touchdowns for the New York Jets. Consider this: in three years with the Patriots, Martin racked up 3,799 rushing yards and 32 rushing touchdowns, which rank fourth and fifth in team history, respectively. If he had stayed on those paces for two more years with the Patriots, he would have held every team rushing record by a landslide.
Martin's historic run of 10 straight seasons with 1,000 rushing yards or more is tied with Barry Sanders for the second-longest such streak in NFL history, right behind Emmitt Smith's 11-year run of 1,000-yard seasons. That's some decent company.
Round 4 — Stephen Gostkowski, 2006
The Patriots needed a replacement for one of the most consistent kickers in team history, and they ended up with one of the most consistent kickers in team history.
Stephen Gostkowski had the thankless task of following up a folk hero in Adam Vinatieri, but he has been equal to that task with accurate kicks from all over the field.
Over the past three seasons, Gostkowski has posted a ridiculous 93 percent field goal conversion rate, with only one miss inside of 40 yards. He also had a streak of 523 straight successful point-after touchdown conversions, the longest such streak in NFL history.
The Patriots have had two of the NFL's most reliable kickers over the past 20 years, and Gostkowski deserves his place on this list.
Round 5 — Ben Coates, 1991
Once again, the fifth round faces us with a choice between the bigger folk hero in New England and the better overall player. In a decision between quarterback Steve Grogan and tight end Ben Coates, the edge went to the better player.
Coates earned All Pro nods over Broncos tight end Shannon Sharpe in 1994 and 1995. Those two years, Coates posted 180 receptions, 2089 yards and 13 touchdowns. In fact, Coates and Sharpe were the only two Pro Bowl and All-Pro tight ends from 1993-1998.
The Patriots tight end was one of Drew Bledsoe's favorite targets in the passing game, and in the red zone in particular, with six or more touchdowns in six of his nine seasons in New England.
Coates may never get into the Hall of Fame, and he may never be recognized as one of the best of all-time at his position, but he was a big part of the Patriots' success in the mid-'90s.
Round 6 — Tom Brady, 2000
How could it be anyone else? The four-time Super Bowl champion, three-time Super Bowl MVP, two-time NFL MVP, record-setting, future Hall-of-Fame and possibly best-of-all-time quarterback is without rival among Patriots draft picks of any round.
Unlike John Hannah and Rob Gronkowski, Tom Brady didn't change the way we thought about the quarterback position; he did, however, master the way it was played and take it to another level. Brady's short-area accuracy makes it possible to run a style of offense that is very difficult to run: one that relies on long drives executed to perfection, rather than depending on long strikes through the air to travel a bulk of the distance. His understanding of defenses, and his intense preparation, allows him to adjust and audible into a play that will work against what he sees. Put those two together, and you have a nightmare situation for defenses.
There are those who say the Patriots are geniuses for drafting Brady in the sixth round. There are those who say they were insanely lucky that the rest of the NFL took a pass on him in the first five rounds. If the Patriots knew what they were getting with Brady in 2000, they wouldn't have waited so long to take him.
Regardless, they're glad they did.
Round 7 — Julian Edelman, 2009
Some die-hard Patriots historians might try to make the case for Tom Neville or Brent Williams, but Julian Edelman has had the biggest — and perhaps the most surprising — impact out of all of them.
The diminutive wide receiver was drafted as a quarterback out of Kent State, where he was a dual threat as a runner and a passer. In Edelman's pre-draft workouts, he ran the three-cone drill in 6.62 seconds and he ran the 40-yard dash in 4.52 seconds. The Patriots saw in him the potential to convert to wide receiver. He had the athleticism, and coupled with the knowledge of defenses and how to run routes, Edelman slowly but surely developed into the player they envisioned.
That combination of quickness and acceleration earned him the nickname of "Squirrel" as he tore through defenses on punt returns, with an average of 12 yards per return which currently ranks seventh all-time. He has also used those skills to put up some dominant numbers as a pass-catcher over the past three years, with 258 catches for 2,720 yards and 17 touchdowns in 39 games (out of 48).
Edelman may never go down as an all-time great wide receiver, but with his performance in Super Bowl 49, including the eventual game-winning touchdown catch, he's already on his way to becoming an all-time great Patriot.
Biggest NFL Draft Steals
[bdc-gallery id="139001″]