Patriots
5 things Patriots fans should know about Martellus Bennett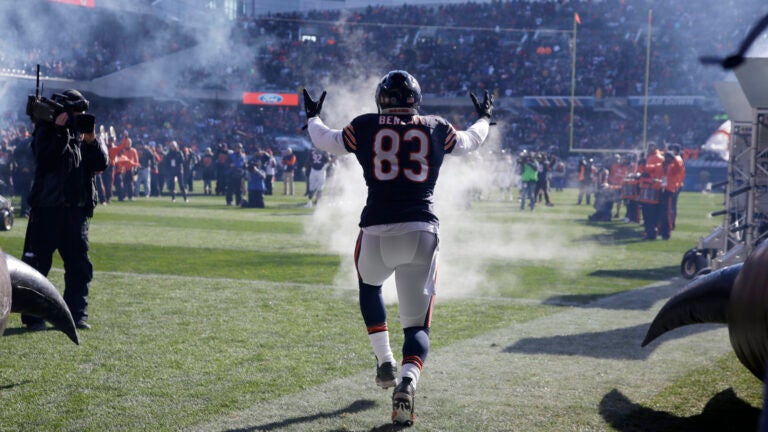 Martellus Bennett showed the Patriots his incredible talent in 2014 when he made a diving grab in the end zone for a touchdown at Gillette Stadium. But Bennett joins the Patriots with baggage.
The Bears traded Bennett after he grew discontented with his limited role on offense. He has a history of disagreeable behavior, and the Patriots will be Bennett's fourth team in his eight-year career.
Still, New England inherits Bennett in the final year of his contract, and he should be highly motivated to prove to the Patriots — and the other 31 NFL teams — that he deserves a big deal in 2017 free agency. The Patriots appear to have taken a risk on the 29-year-old with hopes that he and Rob Gronkowski can combine to be the most talented and productive tight-end tandem in the league.
Here are five things to know about Bennett.
Prolific career: Bennett has 348 catches for 3,586 yards and 23 touchdowns in his career. In 2014, Bennett had the third most receiving yards among tight ends behind Greg Olsen and Gronkowski.
Fearsome tandem: When Bills coach Rex Ryan was asked how he would defend Gronk and Bennett, Ryan said: "I have no idea. I just think it's unusual to have two guys that are like 6-[foot]-7 and can run, catch, block. So, yeah, it's going to be a major challenge. There's no doubt about that. It's scary when you look at them. Those are two huge guys. How we're going to defend them, I don't know."
Character concerns: NFL Media's Albert Breer, who covered Bennett while he was on the Cowboys, says the tight end is "high-maintenance." The Bears suspended Bennett indefinitely for slamming teammate Kyle Fuller to the ground during practice in 2014. Bennett's presence in the Patriots' locker room will be worth monitoring.
Social media: The tight end's Twitter account is @MartysaurusRex. His Instagram account is @martellusb.
Family: His daughter, Jett, who made a cameo in Bennett's viral Instagram post on April 3, is adorable.
https://www.instagram.com/p/BC8kL77vcna/?taken-by=martellusb