Patriots
Why Nate Washington thinks he can mesh with Tom Brady
The 10-year veteran has worked with a long list of quarterbacks.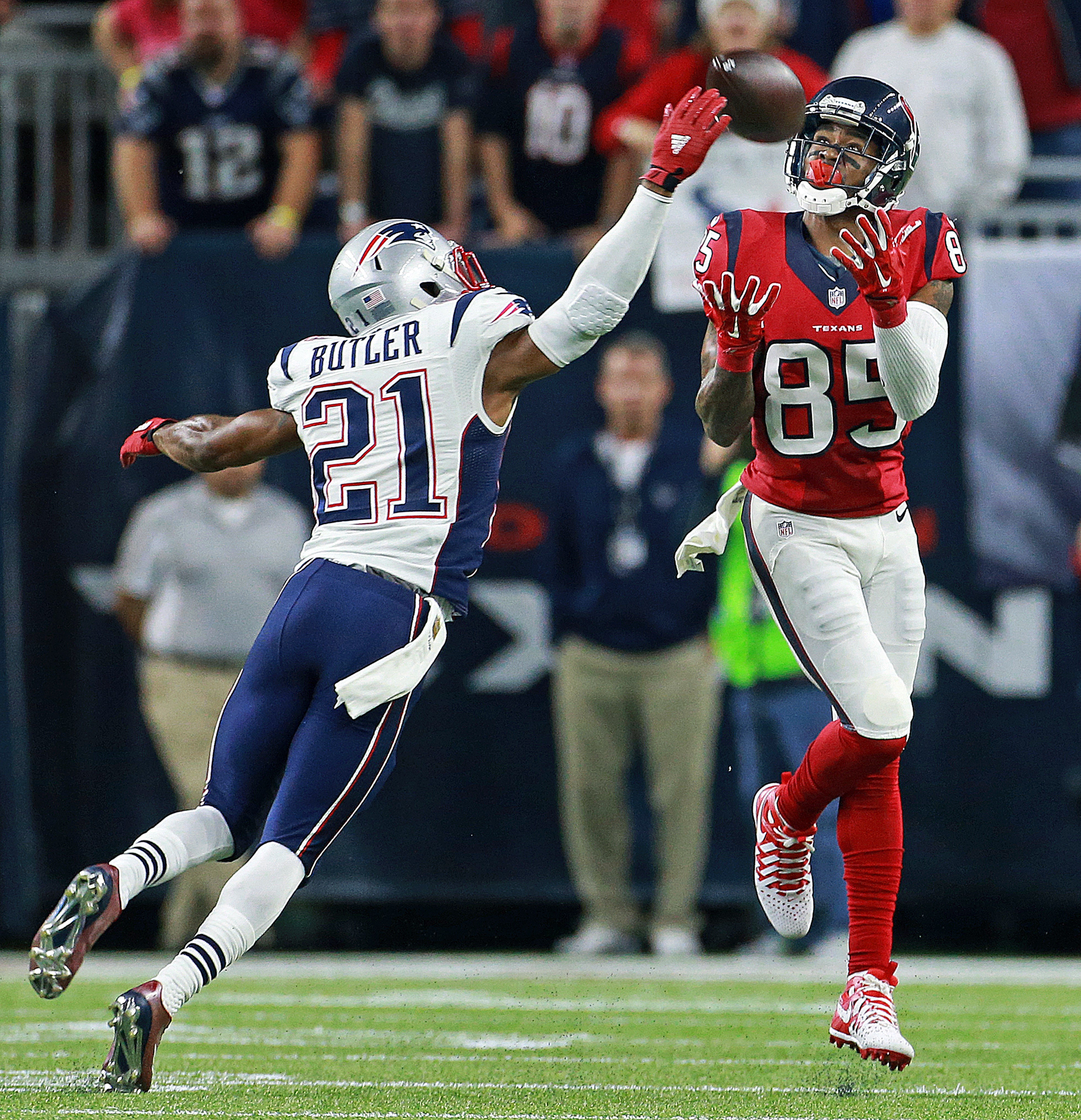 Nate Washington has worked with 14 starting quarterbacks during his career with the Steelers, Titans, and Texans. Julian Edelman has worked with one. And while Edelman and Tom Brady are often in sync on the football field, Washington sees merit in his proven ability to work with a litany of signal-callers.
"Surprisingly, I think that's helped me tremendously that I've gone through that trial," Washington said Tuesday on a conference call. "The thing that it's done for me is people tend to talk about continuity between a quarterback and a receiver so much, knowing a guy and knowing him. But there's also a requirement to do your job, and be in the place that you're supposed to be in the time that you're supposed to be there. And with so many changing faces of the guy behind the center in the quarterback, for me, it's given me an opportunity to make sure that I was doing my part."
Washington has caught passes from veterans like Matt Hasselbeck and rookies like Jake Locker. He's worked with mobile quarterbacks like Vince Young and pocket-passers like Ben Roethlisberger.
"It wasn't about 'I knew that this quarterback knows me so I'm going to cut this route off short,' " Washington said. "No, this is I've been given a certain depth, I've been given a certain understanding about this route so as long as I do my part then it's his job to get that ball to me and it worked out in that way, so its forced me to perfect myself in order to help the man behind the center."
Washington categorized his relationship with Brady as one of "a mutual respect," and noted his interactions with the Patriots quarterback were limited to conversations on the field after games.
The 32-year-old wideout worked with a number of former Patriots during his 2015 season with the Houston Texans. Head coach Bill O'Brien was the Patriots offensive coordinator in 2011, and quarterbacks Brain Hoyer and Ryan Mallett both served as backups to Brady.
But Washington dismissed questions about whether the crossover between the Texans and Patriots offenses might make his transition easier.
"I don't really know anything about the structure of what's going on in New England as far as how we run things because I haven't had the opportunity to be within the system and be within the day-to-day process," Washington said. "Bill O'Brien was a great coach. He was a great mentor of mine and he understood that I was a hard worker and I think that's just definitely the thing that you can take from this organization in New England – that it's just a hardworking group of guys. I'm looking to carry that over and just have an opportunity to play football. That's the main thing that I'm looking forward to and that had a lot of decision on why I signed."
Washington had 47 receptions for 658 yards and four touchdowns during the 2015 season. He has 458 catches for 6,954 yards and 44 touchdowns on his career.
He'll join a crowded group of Patriots wideouts, including Edelman, Danny Amendola, Aaron Dobson, Chris Hogan, Keshawn Martin, Matthew Slater, DeAndre Carter, and Chris Harper.