Patriots
New Patriots explain what it's like playing against New England
Nate Washington, Terrance Knighton, and Shea McClellin share their experiences playing the Patriots.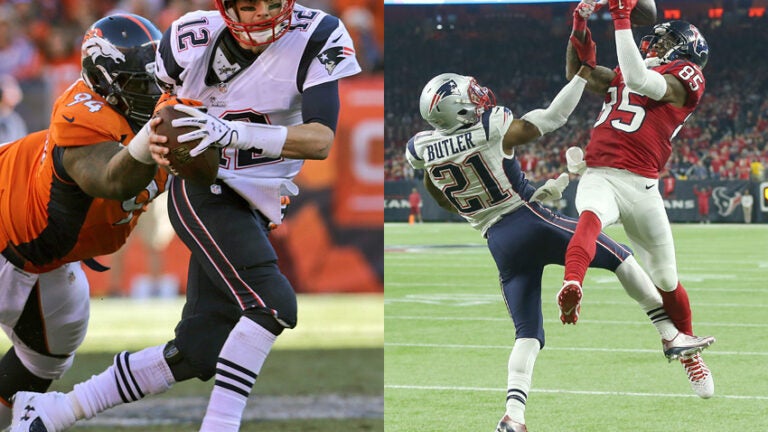 Many of the Patriots' free agent acquisitions have played — and played well — against the Patriots. Following their signings with New England, free agent additions Nate Washington, Terrance Knighton, and Shea McClellin discussed what it was like playing in and preparing for a game against the Patriots.
Linebacker Shea McClellin: "It's definitely hard to prepare for the Patriots. You never know what they're going to do. Looking at it from the defensive side of the ball, they could come out with lots of different personnel, all that kind of things. They could come out in anything really. They have so many weapons and of course they have Tom Brady, one of the best quarterbacks, if not the best in the NFL so it's definitely tough.
"Anytime you play an away game it's going to be a tough atmosphere but it definitely seems like the fans were well into everything. I heard they have great fans out there so we'll see."
Wide receiver Nate Washington: "Well, anytime I've had the Patriots on my schedule I knew it was going to be a tough week for the simple fact that every single team is going to be hardworking and very challenging. They were going to do their homework on the team that they were facing and understand how they were going to go about beating them and it was a difficult time because when you're preparing against a team like that you kind of have to go and look at your flaws.
"So when I would ever play against New England I knew right then and there that I was going to have to be willing to work a full 60 minute game, I was going to have to be very intelligent on my opponent that I was facing, and I was going to have my work cut out for me. It was a varied situation every single time but I knew that I was going to have to bring my lunch pail to work because that team was definitely going to be a hard working group of guys."
Defensive tackle Terrance Knighton: "Consistency. Obviously, a team that has a history of being a contender every year. … Speaking with a few ex-players, I had a long talk with Vince Wilfork obviously before signing, and he was telling me that it's a grind but at the end of the day it's football. It's a good environment to be around, it's a good building to be in, and he had nothing but good things to say about the organization. Like I said, I'm just excited and I'm just looking forward to getting in the building and learning as much football as I can and being around the guys.
"Being on the other side of the ball, the other side of the field, just watching them they try to take away your best players and things like that. They just do a good job of playing team ball."
The 10 best Super Bowl performances in Patriots history
[bdc-gallery id="544712″]