Patriots
Patriots will roll through 2016 NFL schedule with suspended anxiety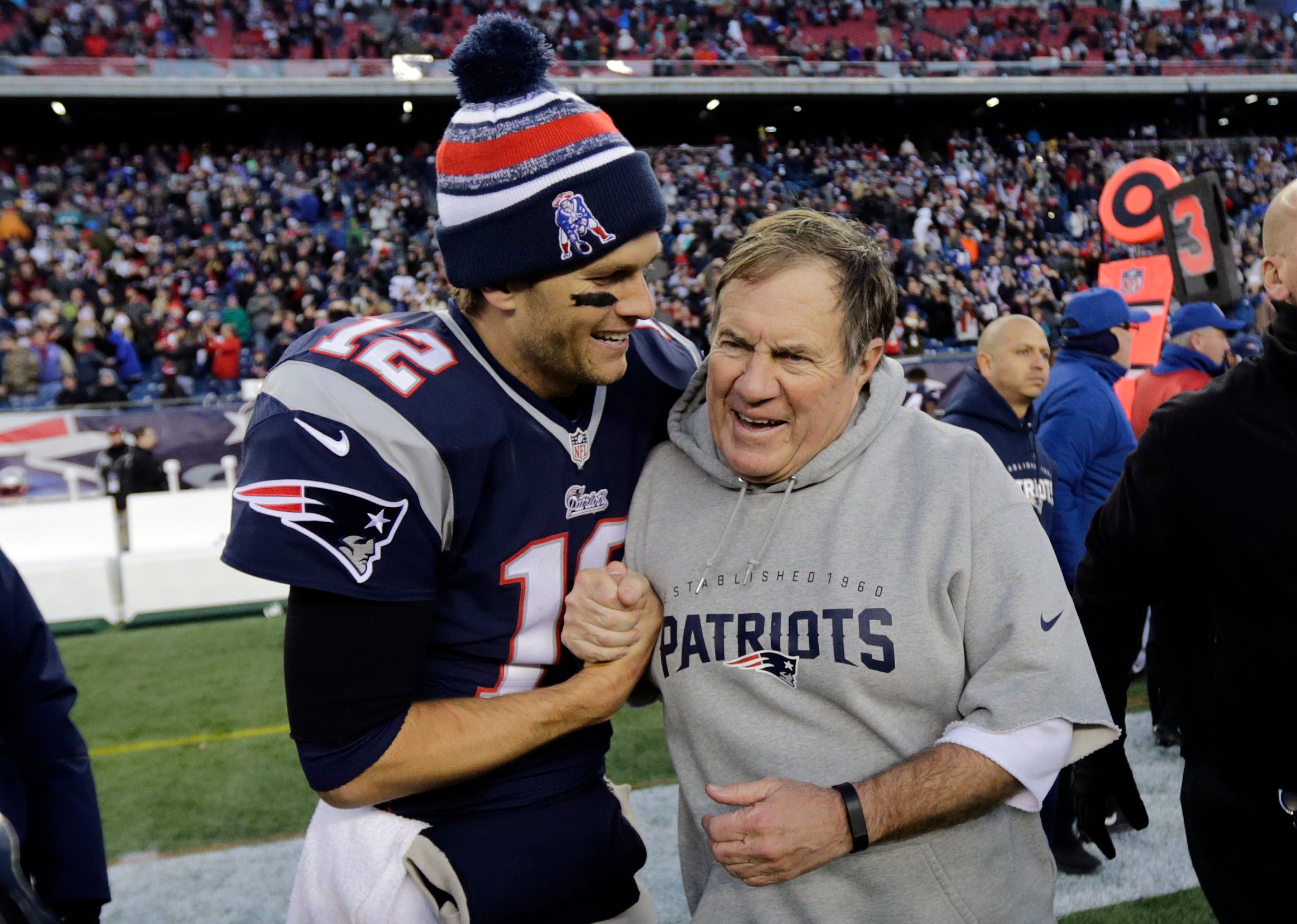 COMMENTARY
Let's just play along and assume that New England Patriots quarterback Tom Brady will indeed miss the first four games of the 2016 for whatever it is that NFL commissioner Roger Goodell thinks he did.
The Patriots are still going to win 13 games.
New England had already been assigned the ninth-hardest schedule in the league, with opponents having gone 134-122, a .523 winning percentage, in 2015. So it would be easy to figure that any Deflategate punishment for Brady might dip the Patriots into the 10-6, 11-5 record territory, which is like mere wild card play to head coach Bill Belichick.
Now, with the schedule officially announced, it's easier to picture the mostly-rampant way that these Patriots, re-built with a new defense and a re-tooled offensive line, will pursue another NFL postseason.
Here's how we see the season playing out:
Week 1: Sunday, Sept. 11, at Arizona Cardinals, 8:30 p.m.
Bruce Ariens coaches his team to a season-opening win over a Patriots team that could be sans Brady. Only if he has time after his "Fathers for Football" rally that morning though.
Loss.
Week 2: Sunday, Sept. 18, vs. Miami Dolphins, 1 p.m.
The last time the Patriots lost a home-opener was 2012 against the Arizona Cardinals. Fluke.
Win.
Week 3: Thursday, Sept. 22, vs. Houston Texans 8:25 p.m.
Here's where the Patriots will start itching about the loss of their quarterback. Bill O'Brien is back in town, and bringing Brock Osweiler (270 yards and a touchdown in a win over the Patriots last season) along for the upset attempt. If there's a game on the early schedule that's going to try and convince the Texans they made the right call in giving the guy $72 million, this is it. A 1-2 start? Will we blame offensive line or the lack of a deep threat?
Loss.
Week 4: Sunday, Oct. 2, vs. Buffalo Bills, 1 p.m.
Brady. Jimmy Garoppolo. Steve Belichick. Whatever.
Win.
Week 5: Sunday, Oct. 9, at Cleveland Browns, 1 p.m.
If this is Brady's first game back for the 2016 season and he has some wounds to lick, um…how would you like to be the pathetic Cleveland Browns?
Win.
Week 6: Sunday, Oct. 16, vs. Cincinnati Bengals, 1 p.m.
The Bengals are 0-6 in Foxborough over the past three decades.
Win.
Week 7: Sunday, Oct. 23, at Pittsburgh Steelers, 4:25 p.m.
Martavis Bryant is done for the season, but the Steelers will plug somebody in as a wide receiver to complement Antonio Brown. Patriots have a lot of guff to air out in Pittsburgh for the way the Steelers let Peyton Manning beat them in the playoffs and deny New England its home-field advantage in the AFC Championship game.
Win.
Week 8: Sunday, Oct. 30, at Buffalo Bills, 1 p.m.
Come to Ralph Wilson Stadium dressed as your favorite Ryan.
Win.
Week 9: BYE
Brady will somehow still throw three touchdown passes.
Week 10: Sunday, Nov. 13, vs. Seattle Seahawks, 8:30 p.m.
This should be a fun Super Bowl rematch, set in prime time. Thomas Rawls may get every call from the line of scrimmage if Pete Carroll is too afraid to have Russell Wilson throw the ball again.
Win.
Week 11: Sunday, Nov. 20, at San Francisco 49ers, 4:25 p.m.
This will be Brady's first-start in the backyard of his San Mateo upbringing. Should have been in February. He'll remember.
Win.
Week 12: Sunday, Nov. 27, at New York Jets, 8:30 p.m.
Oh, right. The Jets. The Patriots won't meet their rivals until 12 weeks into the regular season, which means it's either time for a letdown, to that the Jets are destined to have fallen apart by then. We'll bet on the latter.
Win.
Week 13: Sunday, Dec. 4, vs. Los Angeles Rams, 1 p.m.
Did you see the draft picks trade the Rams made with the Tennessee Titans? Nobody that stupid is going to beat the Patriots.
Win.
Week 14: Monday, Dec. 12, vs. Baltimore Ravens, 8:30 p.m.
This one has shortcoming written all over it. It will be the Ravens' first visit to Foxborough since the Patriots beat them in the 2014 playoffs, utilizing enough differing procedures that John Harbaugh's headset blew a fuse. Well, with ESPN journalist Ray Lewis on set, the Ravens will take the bright lights of Monday Night Football to enact their revenge on New England. They will improve their record to 5-8.
Loss.
Week 15: Sunday, Dec. 18, at Denver Broncos, 4:25 p.m.
Prediction: I don't think the Broncos are going to sign Johnny Manziel.
Win.
Week 16: Saturday, Dec. 24, vs. Jets, 1 p.m.
Will this game be to clinch the AFC East or home-field?
Win.
Week 17: Sunday, Jan. 1, at Dolphins, 1 p.m.
Ah, yes, we remember last year's season-finale against the Dolphins, a disastrous affair that ended up costing the Patriots in their home advantage rights a few weeks later. Belichick will approach this game in much the same way. But against the Dolphins…it won't matter.
Win.
Record: 13-3.
Just for the record, I know a good taco place in Houston. I'll take you there in February.
Biggest NFL draft steals
[bdc-gallery id="139001″]