Patriots
Here's what the Patriots' perfect draft would look like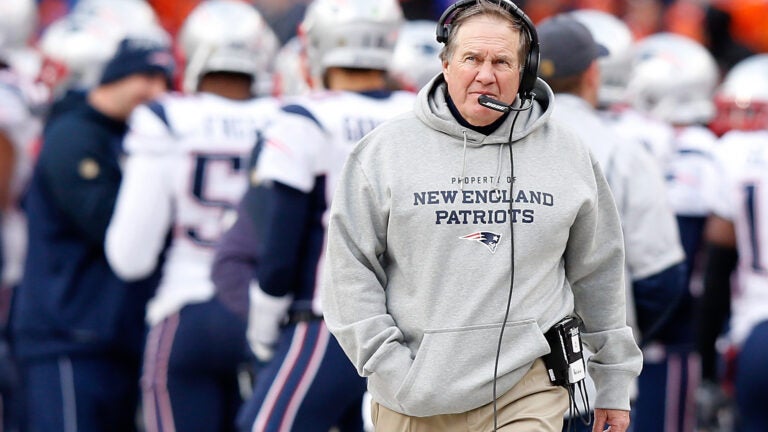 COMMENTARY
Draft season isn't as exciting this year in New England. That's because the Patriots lack a first-round pick.
But just because the Patriots don't have one of the first 32 picks of the 2016 NFL draft, doesn't mean they can't still come away with a helpful haul of talented prospects. And with four picks in the top 100 of the draft, and 11 picks overall, it's "more probable than not" that the Patriots will find what they need: depth.
Even after their offseason moves, the Patriots still have needs at running back, defensive tackle, linebacker, offensive tackle, wide receiver, and cornerback. Those needs are mostly down the depth chart in backup spots, with debatable exceptions at running back, defensive tackle, and wide receiver.
With that in mind, the Patriots might be better off moving down the board to acquire more picks, rather than moving up the board to grab a particular prospect. The Patriots draft an average of nine players per season under head coach Bill Belichick, but they've gone over 10 picks in three of their past seven drafts, so anything is possible.
Let's assume, for a minute, that the Patriots stand pat (no pun intended) with their 11 picks. With some help from FanSpeak.com's mock draft simulator, let's see what a Patriots mock draft could look like.
Round 2, Pick 60: Jason Spriggs, OT, Indiana
I went with the best player available on my board — not necessarily the biggest need — with the first pick. With Sebastian Vollmer entering the last year of his contract in 2016, the offensive tackle position will be a much bigger need in 12 months than it is today. Might as well get an early start on developing a new potential starter.
Indiana offensive tackle Jason Spriggs has the requisite lanky build of a Patriots tackle, at 6-foot-6 and 301 pounds with arms measuring longer than 34 inches. But according to NFL.com's Lance Zierlein, he needs to improve his play strength. His physical upside (top-five finishes at the combine in every workout except the three-cone drill) makes him an intriguing prospect for development under offensive line coach Dante Scarnecchia.
With his combination of size and athleticism, CBS Sports' Dane Brugler and Rob Rang compared him to Patriots left tackle Nate Solder. Perhaps Spriggs could develop for a year in a backup role before stepping up as a starter, just as Solder did for the Patriots in 2011.
Round 2, Pick 61: Tyler Boyd, WR, Pittsburgh
Yes, the Patriots have added several pass-catchers this offseason. But have they answered any questions, really? Chris Hogan has never caught more than 41 passes and four touchdowns in a season. Nate Washington is 32 and will be 33 by the time the 2016 season kicks off. I'm not discounting the possibility that both could be successful, but the Patriots shouldn't assume anything.
A wide receiver like Pittsburgh's Tyler Boyd could be the long-term boundary presence the Patriots will need. He's not a track star, but at 6-foot-1 and 197 pounds, he has the size to win one-on-one matchups, and he is described by Zierlein as possessing "outstanding body control" and an ability to "create a window through route polish."
Patriots receivers are measured less on their vertical speed than their lateral quickness, and sure enough, Boyd ran a quick 6.9-second three-cone drill, one of the 10 fastest times among wide receivers at the scouting combine. A majority of his routes at Pittsburgh were within 10 yards of the line of scrimmage, so he's used to putting his quickness on display.
Round 3, Pick 91: Adolphus Washington, DT, Ohio State
With the release of first-round defensive tackle Dominique Easley, the Patriots could be in the market for a starting-caliber defensive tackle in the draft. They may not find a prospect in the third round who can come in and start immediately, but they could find a young player to develop. Ohio State defensive tackle Adolphus Washington isn't quite as quick off the snap as Easley, but what he loses in burst, he makes up for with with strength to hold his ground at the point of attack.
The 6-foot-3, 301-pound big man has the kind of versatile skill set the Patriots love in their defensive linemen, including the ability to move around to multiple spots on the front and play multiple techniques. Where he might need some fine tuning is in his football instincts and anticipation, according to CBS Sports' Dane Brugler.
There are also questions about his off-field decision making following a December 2015 arrest for solicitation, but perhaps Urban Meyer could provide some insight as to whether or not he is a worthy investment in the third round.
Round 3, Pick 96: Alex Collins, RB, Arkansas
Even with LeGarrette Blount, Dion Lewis, James White, Brandon Bolden, and others in their backfield, the Patriots still have questions at running back. The starting role could be up for grabs, and if the Patriots want to add a talented between-the-tackles runner, Alex Collins could be a fit.
The Arkansas running back stands 5-foot-10 and weighs 217 pounds, and he is known for his tenacious mentality as a runner. Zierlein compares him to New York Jets running back Chris Ivory for his combination of quickness and toughness.
Belichick will admire his consistency, with more than 1,000 rushing yards and 5.4 yards per carry in each of his three seasons with the Razorbacks. Belichick will not admire his lack of versatility (27 career receptions) or his shaky ball security (17 career fumbles, nine lost). The Patriots have enough pass-catching backs to compensate, but if they draft Collins, his history of fumblitis will cause consternation in New England any time he touches the ball — especially if his college trends carry over to the NFL.
Round 6, Pick 196: K.J. Dillon, S, West Virginia
For all we know, the Patriots are targeting K.J. Dillon as a second-round pick. It would make sense; a late-round prospect who's off everyone's radar but is a fit for what the Patriots need on defense.
West Virginia safety Dillon has the versatile skill set to fit at either free safety or strong safety. Zierlein notes that Dillon has the ball skills for man coverage and the awareness to play deep safety. At 6-feet tall and 210 pounds, he has enough size to help in the running game as well, though he needs to improve his fundamentals (missed and broken tackles have been a problem).
Most importantly for back-end roster players, Dillon has the ability to contribute on special teams while carving out his role and/or waiting for opportunities on defense. He might not be ready for a big role right away, but the Patriots don't need him for that. Contributions off the bench will be more than enough as Dillon acclimates to the NFL.
Round 6, Pick 204: Ben Braunecker, TE, Harvard
This is a repeat pick from my previous Patriots mock draft, but Ben Braunecker fits the team's new two-tight end offense. The Patriots should be looking to create a deep competition for backup spots at tight end, which should include a wide range of skills: from traditional two-way tight ends like Martellus Bennett and Rob Gronkowski, who both excel as blockers, to bigger blocking tight ends, to smaller but more agile tight ends like Braunecker who excel as pass-catchers.
Braunecker could fit into an Aaron Hernandez-type role where he moves around the offense, creating favorable matchups in the passing game. He is regarded by Jamie Newberg of CBS Sports as possessing the moves and football intelligence to create separation as a receiver and to find soft spots in a defense.
At 6-foot-3 and 250 pounds, the Harvard tight end is not a workhorse that will plow over defenders as a blocker; also, coming from the Ivy League, it's fair to wonder how smoothly he will transition to the NFL's level of strength and physicality. That being said, he already has sound fundamentals as a blocker, and with a little time in a professional strength-and-conditioning program, he could add the necessary bulk to be more than just a serviceable blocker.
Round 6, Pick 208: Dean Lowry, DE, Northwestern
Rob Ninkovich, Jabaal Sheard, and Chris Long are at the top of the Patriots' depth chart at defensive end; there are a few young players developing in the wings, in Trey Flowers, Geneo Grissom, and Rufus Johnson. That being said, as the Patriots seemingly shift to a 3-4 as their base defense, those players may not be defensive ends in the pure sense. The Patriots will need more big bodies to man the end of the line.
At 6-foot-6 and 296 pounds, Northwestern defensive end Dean Lowry isn't quite the same as other "defensive ends" on the Patriots roster. He is a defensive end in the 3-4 sense of the position, for his larger frame and blue-collar mentality. He's not going to wreak havoc in the offensive backfield like Ninkovich, Sheard, and Long have done in their careers, but he has the size to hold up at the point of attack, and he has a non-stop motor that allows him to make more plays than his skill set might otherwise indicate.
There are areas of his game that need fine tuning, such as pad level and a more diverse set of moves, but given the Patriots' need for linemen that fit the bill of a 3-4 defense, Lowry's effort could yield results in a backup role.
Round 6, Pick 214: Chase Farris, OG, Ohio State
The Patriots may or may not be in the market for a guard, depending on how they feel about Tre' Jackson and Shaq Mason's respective rookie seasons. Given the fact that Dante Scarnecchia had a hand in scouting both men, it's my opinion that Jackson and Mason will get another shot at starting in 2016. Jonathan Cooper and Josh Kline could both also push for starting spots.
That being said, given the climate on the offensive line, and the performance of that unit last season, it would be understandable for the Patriots to beef up the depth up front.
Ohio State's Chase Farris is more of a mauler than the Patriots typically seek in their interior linemen, but perhaps he can be taught some of the finesse technique he'll need if he wants to be a starter with time. He played defensive line in 2013 and in high school, according to Zierlein, so he's still very raw; but Scarnecchia has worked with more raw individuals than Farris, and his skill set is enough to work with.
Just consider this: any time you hear about the draft's top running back, Ohio State's Ezekiel Elliott, remember that Farris was one of the key linemen opening holes for his second-straight 1,800-yard season.
Round 6, Pick 221: Tyler Matakevich, OLB, Temple
As it looks more and more likely that the Patriots will switch to the 3-4 as the base defense in 2016, the inside linebacker position could be even more crucial than before. The Patriots added linebacker Shea McClellin this offseason, but unless they want Jonathan Freeny to be one of the starters, their work isn't done yet.
At 6-foot and 238 pounds, Tyler Matakevich isn't quite the big, thumping linebacker that the Patriots typically target, but the 2015 Bronco Nagurski Award winner has a nose for the football, with more than 100 tackles in each of his four years as a starter for Temple.
Zierlein describes Matakevich as a "film junkie" who "has great eyes and processes what they tell him quickly." That kind of read-and-react ability, as well as that commitment to preparation, will go a long way in New England.
Round 7, Pick 243: David Morgan, TE, Texas-San Antonio
Two tight ends in one draft? What is this, 2010? Well, it might as well be. No, Ben Braunecker and Texas-San Antonio's David Morgan are not the next Rob Gronkowski-Aaron Hernandez (hopefully no one is the next Hernandez), but with the increased importance of the tight end position, the Patriots should be looking to create as much competition as possible at the position.
Morgan is a bit bigger than Braunecker, at 6-foot-4 and 262 pounds, and he has the willingness and the understanding of leverage to be a good blocker. He doesn't have the quickness, but he does have the body control (as a former basketball player) to make tightly contested catches.
Round 7, Pick 250: Tavon Young, CB, Temple
As was the case with K.J. Dillon, in the late rounds, part of the goal is finding players who can also contribute on special teams. Temple cornerback Tavon Young has the long speed to potentially be a gunner, having run a 4.38-second 40-yard dash at his pro day.
He's a bit smaller than the average cornerback at just 5-foot-9 and 183 pounds, but he has good ball skills and awareness in zone coverage, and scrappiness in man coverage to knock the ball loose when it arrives — granted he's in position, which isn't always a guarantee given his size and lack of elite speed.
If there's one position that maybe should have been drafted a little earlier in this mock, it's cornerback. The Patriots could use a legitimate third cornerback to add to a rotation with Logan Ryan and Malcolm Butler; last year, the third cornerback was usually safety Patrick Chung. But if the Patriots wait until the seventh for a cornerback, Young might be their best bet.
Bill Belichick's best Patriots draft picks
[bdc-gallery id="139049″]