Patriots
Court respects Roger Goodell's authority, and so Tom Brady will probably pay a ridiculous price
If the Patriots QB misses the first four games, blame belongs to the NFLPA.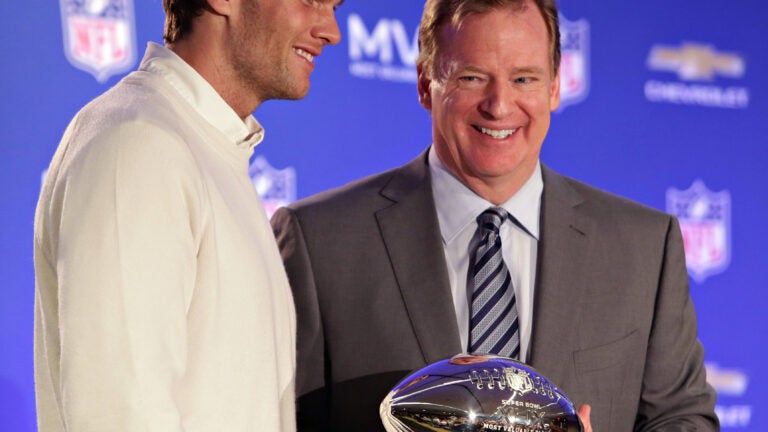 http://cinesport.boston.com/boston-globe-sports/finn-can-patriots-fans-punish-nfl/
COMMENTARY
The federal appeals court ruling that dropped Monday and determined that Tom Brady must serve a four-game suspension for his role in a ball-deflating scheme that may never have occurred is 33 pages long and chock-full of 10-cent words and tangled legalese.
It's the kind of document that must make NFL commissioner Roger Goodell all tingly beneath his shield, a wordy confirmation of his power that will make a person absent of integrity believe he possesses it in abundance. At the very least, it is a vacant man's vindication. Good job. Go celebrate with that first slice of pizza now. Your minions are hungry.
Fortunately, there's no need for you to read the whole damn document, your Patriots-loyalist blood rising beyond the boiling point with each turn of the page. You've endured the entire timeline. "Deflategate" has been a thing since January 2015, when Chris Mortensen's bungled ESPN report sent the story into the pop culture, hot-take stratosphere.
Brady's initial suspension was levied for it being – pardon me while I revive the deliberately hackneyed Wells Report parlance – "more probable than not" that he was "generally aware" of the usage of under-inflated footballs in the AFC Championship Game contested in January 2015. The punishment was announced in May 2015. That suspension was overturned in a lower court in September 2015.
And now this: An overturning of the overturn. Boom. Perfect. This story is harder to kill than a horror-movie psychopath. Fortunately – actually, make that unfortunately – we've had plenty of practice at parsing and deciphering the various courtroom-based plot twists in this nonsense. That's not difficult to do with Monday's ruling.
There's not even a need to read all 33 pages. What the decision from the three-judge panel in the 2nd US Circuit Court of Appeals in New York says in many, many words is essentially this:
The NFL Players Association gave Goodell the power to apply discipline as he sees fit. Goodell applied his power of discipline to Tom Brady as he saw fit. Case closed. That was easy. Now what say we break for lunch?
The outcome sucks, but it's hard to argue with the logic. It's not about fairness or what's right. It's not justice; in fact, it's patently unjust. But this isn't about that, either. It's about the law. The NFLPA royally screwed up in collective bargaining and gave Goodell too much clout. He wields it erratically and capriciously, but as the court's repeated references to his "scope of authority" in those 33 pages confirm, it is his to wield.
"Our role is not to determine for ourselves whether Brady participated in a scheme to deflate footballs or whether the suspension imposed by the Commissioner should have been for three games or five games or none at all. Nor is it our role to second-guess the arbitrator's procedural rulings," wrote Judge Barrington D. Parker in the majority opinion, which was determined by a 2-1 vote. "Our obligation is limited to determining whether the arbitration proceedings and award met the minimum legal standards established by the Labor Management Relations Act."
This part, however, is the kicker: "In their collective bargaining agreement, the players and the League mutually decided many years ago that the Commissioner should investigate possible rule violations, should impose appropriate sanctions, and may preside at arbitrations challenging his discipline. Although this tripartite regime may appear somewhat unorthodox, it is the regime bargained for and agreed upon by the parties, which we can only presume they determined was mutually satisfactory."
Don't know about you, but I'm interpreting "somewhat unorthodox" and "presumed they determined was mutually satisfactory" as Good lord, who was the lead negotiator for the NFLPA in this idiotic deal, Ray Lewis? Might want to go find your own Marvin Miller, fellas.
This has been such a prolonged and drawn-out charade that when the news broke Monday afternoon, the initial reaction in New England was not to rage at the injustice, but to lament the resurrection of the story: Deflategate? Again? Like a team with a relentless running game, the NFL wears you down until you're tempted to stop caring about victory and just wish the clock would run out.
But the apathy didn't last long. Once you remind yourself of all of the NFL's deception and misdirection along the way – the utter disregard of science, the tactical leaks about destroyed cell phones to control the news cycle, all of it – the anger boils again.
Monday's decision leaves the Patriots in the same lousy spot they were in after the initial suspension last May – but with slightly less hope. They could appeal to the same court, but it seems a Hail Mary at best. It appears as though Brady will miss 25 percent of his 17th NFL season for something that was a misdemeanor of gamesmanship at worst, if it happened at all.
It will be intriguing to see how backup Jimmy Garoppolo fares in the first four games, I suppose, but getting a sense of who he is as a quarterback is nowhere near worth losing arguably the greatest QB of all time for the season's first month.
This is a sham and a shame, but it's also the cold reality: Goodell won at the negotiating table in 2011 when the current collective bargaining agreement was reached. And that's why he won on Monday. The Players Association signed off on his power. Never would they have imagined he'd use it to take down their most prominent and accomplished player.
But that's what happens when you give an abundance of power to an empty suit. He starts believing he's a man of substance, and not even the law can tell him he's wrong.