Patriots
Jimmy Garoppolo is Patriots' next quarterback up with Tom Brady's suspension reinstated
Check out the first quarter of the Patriots' 2016 schedule.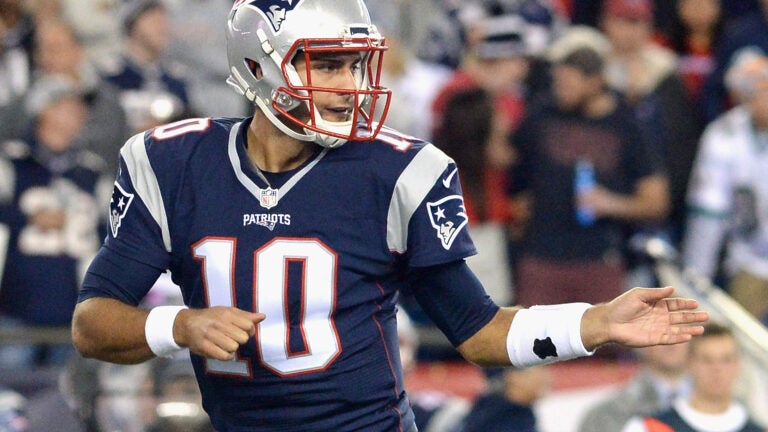 The Patriots have two quarterbacks on their roster: Tom Brady and Jimmy Garoppolo. It's been a long time since they needed more than the one atop the depth chart.
With Brady's four-game suspension reinstated by the United States Appeals Court on Monday, Garoppolo could be the starting quarterback leading the Patriots' offense during the first quarter of the 2016 season. Entering his third NFL season, the 24-year-old who was a second-round selection out of Eastern Illinois in the 2014 draft has appeared in just 11 career games (no starts). In this limited action, he has completed 20 passes on 31 attempts for 188 yards and one touchdown.
"He's made a lot of progress," Patriots head coach Bill Belichick said before the start of the 2015 season, when it first looked like Garoppolo could be starting for a suspended Brady. "It's different being out there in pads, different being out there in a competitive situation."
The Patriots open the 2016 season on the road against the defending NFC West champion Arizona Cardinals before three games at home. Two of their first four opponents (Cardinals, Houston Texans) reached the playoffs last season.
Here's what the Patriots are looking at for the their first four games of the season:
Sunday, Sep. 11: @ Arizona Cardinals at 8:30 p.m. (NBC)
Sunday, Sep. 18: vs. Miami Dolphins at 1:00 p.m. (CBS)
Thursday, Sep. 22: vs. Houston Texans at 8:25 p.m. (Twitter, NFL Network, CBS)
Sunday, Oct. 2: vs. Buffalo Bills at 1:00 p.m. (CBS)