Patriots
Patriots draft watch: Running back Kenneth Dixon
The Louisiana Tech standout could be a perfect fit with the Patriots.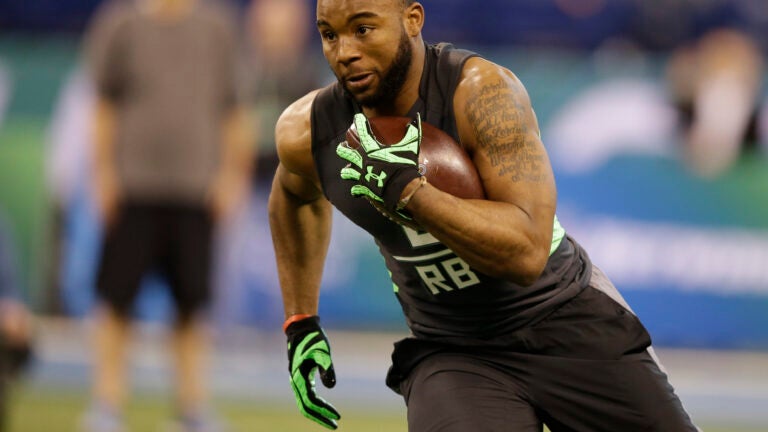 COMMENTARY
There are no perfect prospects in the NFL draft, especially outside the first round. But if the New England Patriots want to find the closest thing possible to a perfect fit for their offensive backfield, running back Kenneth Dixon would be the smart choice.
In his four-year career at Louisiana Tech, Dixon demonstrated dynamic playmaking ability as both a runner and a receiver.
Dixon set school records with 4,483 rushing yards and 72 rushing touchdowns in his four-year career. His 5.6 rushing yards per carry is the fourth-highest average in school history for any back with 100 carries or more, and his 87 receptions for 969 yards and 15 touchdowns are the third-most among that same group of backs.
Dixon's receiving ability is of particular note for the Patriots, especially given his effectiveness out of the slot. According to Pro Football Focus, Dixon caught 12 of 15 passes thrown his way for 185 yards when lined up in the slot. That's the kind of versatility that the Patriots love in their scat backs; Kevin Faulk, Danny Woodhead, Shane Vereen, and Dion Lewis have all made big plays as a receiver, whether from the slot or on the perimeter.
Some scouts do not see him as a a game-changing back, though. According to Bob McGinn of the Milwaukee Journal-Sentinel, scouts are referring to him as "solid" and "not special."
"Good football player," one scout told McGinn. "I don't think he's explosive. His speed wasn't that good. But he can run, catch and block. Really good catcher. He's not special."
But what's one thing that matters to the Patriots more than straight-line speed? Lateral quickness, which Dixon has in spades. He ran a 6.97-second three-cone drill, for one of the five fastest times among running backs at the 2016 scouting combine. What he lacks in speed, he makes up with "excellent vision and feel to pick through a crowd," according to CBS Sports' Dane Brugler.
In addition to his ability as a "slasher," Dixon has shown an aggressive and physical style of running that leads to a distinction as a "smasher." According to NFL.com's Lance Zierlein, Dixon averaged 3.3 yards after first contact against 1.7 yards before first contact.
At 5-foot-10 and 215 pounds, Dixon has a stocky frame and a low center of gravity. Not only can he keep his balance on plants, cuts, and jukes, but he can also get underneath a defender who tries to tackle him, and drive through the tackle attempt. Perhaps that's why Zierlein calls him a "hungry runner who almost never gives in to the defender."
One area where Dixon needs to improve is as a blocker. His size can be limiting, in that respect, but he doesn't show the same tenacity in protection as he does with the ball in his hands. He'll need to improve in that area if he is ever to be considered a real candidate for a big role in the Patriots' offense.
That being said, every prospect needs improvement. Given his current baseline, Dixon looks like a prime candidate for a spot in the Patriots' backfield due to his competitiveness and versatility.
The Patriots re-signed LeGarrette Blount, but one could argue that they still need a back who will compete for carries on first and second down. What's more, with Lewis recovering from a torn ACL, they could use another back with a similar skill set to contribute on passing downs in the event that he isn't ready to go.
For those reasons and more, Dixon should be firmly on the Patriots' radar in the second round of the draft.
The 2015 Patriots Season, game by game
[bdc-gallery id="543795″]