Patriots
7 times Bill Belichick surprised Patriots fans during the NFL Draft
Bold moves.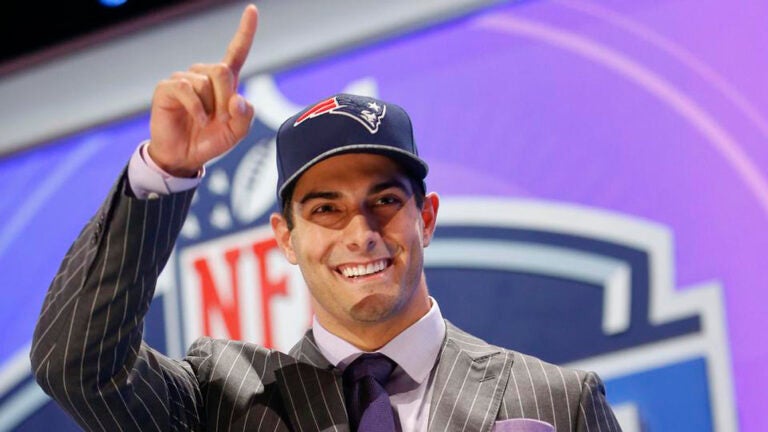 Patriots fans have learned to expect the unexpected during the NFL Draft. Seemingly every year, Bill Belichick finds a way to surprise. He's been known to pick a player many rounds before that prospect is projected to hear his name called. And just when a habit seems to emerge, Belichick might go ahead and do the opposite of what is expected.
Here are some of the Patriots' most surprising draft day moves during Belichick's 16 years in the team's war room:
Stephen Gostkowski, fourth round, 2006: Since the Patriots selected Gostkowski out of Memphis, no kicker has been drafted higher. The Patriots' Pro Bowl kicker was picked to replace Adam Vinatieri, who signed with the Colts during the 2006 offseason.
Patriots trade for Randy Moss in 2007: On the second day of the 2007 NFL Draft, the Patriots traded for Moss. After a tumultuous two seasons in Oakland, the All-Pro receiver was shipped to New England in exchange for a fourth-round selection. The Patriots had already added receivers Wes Welker and Donte Stallworth during the same offseason.
Chandler Jones, Dont'a Hightower, first round, 2012: After the Patriots had traded down or out of the first round in 2008, 2009, 2010, and 2011, Belichick did the opposite in 2012. He traded up twice in the first round to select Chandler Jones out of Syracuse and Dont'a Hightower out of Alabama.
Tavon Wilson, second round, 2012: Wilson wasn't invited to the NFL Combine, and was ranked by ESPN as the 24th safety in his draft class. But the Patriots made him the first player drafted at his position with the 48th overall selection. The former Illinois prospect now plays for the Detroit Lions.
Jimmy Garoppolo, second round, 2014: Belichick has drafted seven quarterbacks since selecting Tom Brady in 2000. But Belichick made Garoppolo, out of Eastern Illinois, his highest-drafted quarterback during his tenure as a head coach. Ryan Mallett, drafted by the Patriots in the third round in 2011, was still in New England at the time.
Jordan Richards, second round, 2015:  Ahead of the draft, NFL.com pegged Richards as a sixth- or seventh-round pick. The Patriots took him with the 64th overall selection. The Stanford standout may have been unfamiliar to many Patriots fans, but Belichick's penchant for spending high selections on relatively unheralded safeties — Duron Harmon and Wilson — was becoming known.
Joe Cardona, fifth round, 2016: Cardona, the 166th overall selection out of Navy, was the fourth long-snapper ever drafted. Ryan Pontbriand, who was the highest-drafted long snapper in NFL history, was taken only 24 spots higher in 2003.