Patriots
Patriots draft watch: Wide receiver Tyler Boyd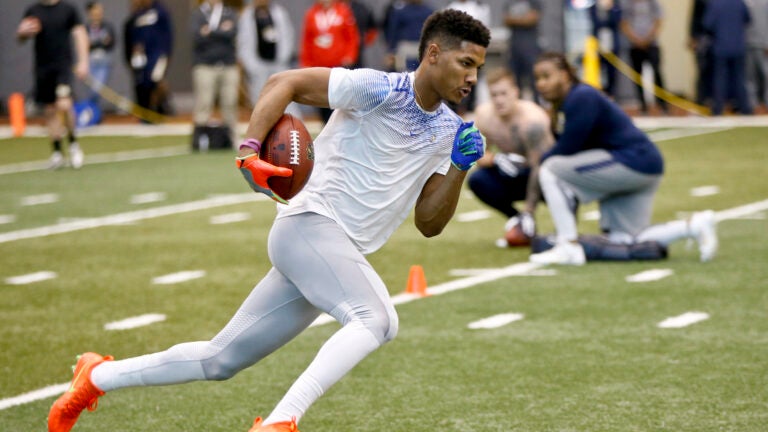 COMMENTARY
Pittsburgh wide receiver Tyler Boyd is as close as the New England Patriots are likely to get to a perfect fit for their offense in the second round of the 2016 NFL Draft.
He doesn't have the elite downfield speed of a No. 1 wide receiver (4.58-second 40-yard dash), nor does he have elite size (6-foot-1, 197 pounds, 32-inch arms); but what he lacks in size, he makes up for with toughness, competitiveness, and sharp route running.
"I think he can overcome some of his speed deficiencies with good routes and he has hand strength like (Jarvis) Landry in Miami," an AFC East scout said to NFL.com's Lance Zierlein. "I would take him in the second or third."
It's never been about dimensions with the Patriots. Otherwise, receivers like Wes Welker, Julian Edelman, and Danny Amendola would never have amounted to anything.
It's about being able to run varied routes, being smart, understanding how to get open, and catching the ball when it's thrown your way. Those are all areas where Boyd has excelled. According to stats website Pro Football Focus, Boyd dropped just 10 of the 182 catchable passes thrown his way from 2014-15. He also has the versatility to line up on the outside or inside, as demonstrated by 318 of his 589 snaps coming on the boundary with another 223 in the slot.
He's not a big-play threat, with an average of just 10 yards per catch on 94 receptions in 2015. Most of his routes are within seven yards of the line of scrimmage, but when has that stopped a receiver from being successful with the Patriots?
Besides Boyd's obvious qualifications, the Patriots arguably still have a need at the position, even with four experienced veterans currently on the roster.
For one, there have been reports for months indicating that the Patriots could move on from Danny Amendola or try to rework his contract. The seven-year veteran enters his fourth year with the Patriots, and will count more against the salary cap than either Edelman ($4.4 million) or tight end Rob Gronkowski ($6.6 million), according to PatsCap.com.
One of the two receivers they signed during the offseason, Nate Washington, is only on a one-year deal worth $985,000. Even if he performs well, the Patriots will need a minimum of one receiver — if not two — by the start of the 2017 season.
Why not get ahead of the curve by beginning to develop a young receiver like Boyd?
The only problem is, the Patriots' history of drafting and developing wide receivers is shaky, at best.
They've had some notable hits, such as Edelman, Deion Branch, David Givens, and others. But they've had as many memorable misses; who could forget Chad Jackson, Bethel Johnson, and Taylor Price? They've brought in some short-term fixes, like Randy Moss and Brandon LaFell; they've even found some long-term fixes, like Welker and Amendola, entering his fourth year.
But they're still waiting for that young, blossoming wide receiver to rise through the ranks and develop into a star.
Part of the problem is a transition that is difficult in general. As a wide receiver, jumping from college to professional football means learning new routes, learning new defenses, and facing more physical cornerbacks than any they've seen before. Another part of the problem? The Patriots' offense is extremely dense and difficult for an incoming rookie to absorb.
"There are systematic issues, there are some communication issues just in terms of I would say offensively how teams operate," said Nick Caserio, the Patriots' director of player personnel. "There's a lot of information that comes from the sideline. You're basically looking at one particular individual or one coach for a hand signal or a number or you're looking up at the cards. A lot of teams use those in college so you're basically wiping the slate clean and you're basically starting at a different point I would say regardless of the position so you have to take that all into consideration and then project them into your system and the things that you're going to ask them to do."
If one receiver has shown the potential to overcome those obstacles to be an effective receiver for the Patriots, it's Boyd. He may not be the dynamic "deep threat" most Patriots fans crave, but his skill set makes him a better fit for the Patriots' offense than almost any other receiver that's available in this year's class.
His reliability, and flexibility, would endear him to the Patriots in their search for a long-term solution at wide receiver, a position where they've continually duct taped fixes year after year.
A history of great quarterbacks in the NFL Draft
[bdc-gallery id="745881″]