Patriots
8 things you didn't know about Bill Belichick's NFL Draft habits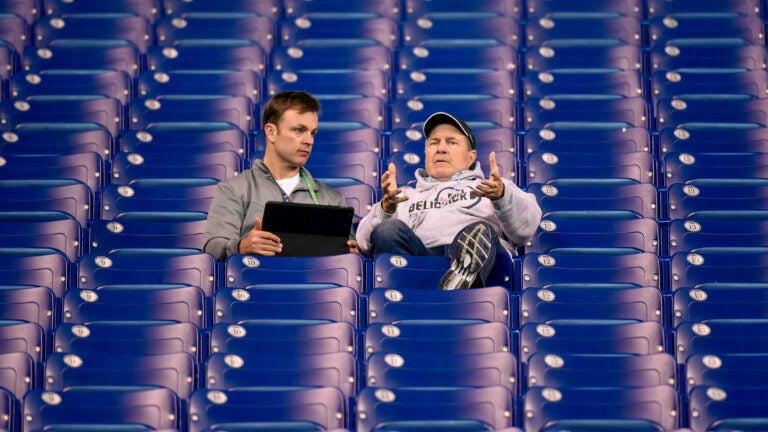 The NFL draft can involve a great deal of mystery, misinformation, and unexpected moves. Even by NFL draft standards, Patriots coach Bill Belichick can be something of an enigma.
But there are some things we do know about Belichick from the 16 drafts he has presided over in New England. Here are eight drafting habits that have emerged through the years.
The Patriots don't often trade players during the draft: On draft days, Belichick has traded for two players: Randy Moss (2007) and LeGarrette Blount (2013). He also traded Drew Bledsoe away to the Bills in 2002 for a first-round pick.
Belichick has said he thinks the second round has the highest "bust" rate: "In the second round you find a lot of players with first-round talent but not first-round performance or production," Belichick said in the book, War Room. "The highest bust factor is in the second." Some of Belichick's second-round selections include Jamie Collins, Aaron Dobson, Ras-I Dowling, Rob Gronkowski, and Chad Jackson.
He has drafted seven quarterbacks since drafting Tom Brady in 2000: Belichick has selected quarterbacks Jimmy Garoppolo (2014), Ryan Mallett (2011), Zac Robinson (2010), Kevin O'Connell (2008), Matt Cassel (2005), Kliff Kingsbury (2003), and Rohan Davey (2002). In that same span of time, quarterback-needy teams like the Browns and Texans have drafted the same number of quarterbacks.
Belichick has moved up and down the draft board 36 times: Entering the 2016 draft, the Patriots have traded up 17 times, and down 19 times under Belichick. Known for trading down or out of the first round, Belichick does a lot of trading up in the other six rounds. The 2004 draft is the only year the team did not make any trades.
Belichick has drafted more tight ends in the first round than all other skill positions combined: Belichick has selected two first-round tight ends. In the first round, he has taken zero quarterbacks, zero wide receivers, and one running back (Laurence Maroney).
Patriots evaluate draft prospects on what they can do, rather than what they can't do: "New England is a unique place," said Jon Robinson, former Patriots director of college scouting and current Titans general mange. "It forces you to learn football and it forces you to learn more than just, 'This player can do this.' It's, 'He can do this, and this is how he is going to fit into our football team.' It teaches you big-picture things when it comes to roster building, and I think that's kind of what has prepared Jason [Licht] and [Thomas] Dimitroff and Scott [Pioli] and Bob [Quinn] and myself to really attack our own individual clubs with a similar philosophy but with our own personality on the football team."
Belichick likes to pick first-round linemen: In the 13 drafts where Belichick has picked in the first round, he has selected a lineman (offensive or defensive) eight times.
Belichick's pre-draft workouts are all business: Former Saints linebacker Jonathan Vilma told NBCSports.com what his pre-draft workout was like with Belichick:
"Then he worked us out for the maximum time allowed. I mean: To the minute. At the end we were dog-tired, sweating, we had worked and worked. … And as soon as we stopped he said, 'All right guys.' And he walked off.

"We were just standing there, and we looked at each other like: 'Did that just happen?' Our agent called – we had the same agent – and he asked: 'How did it go?' And we just said, 'No idea. He didn't say anything to us.'"