Patriots
Patriots select Georgia wide receiver Malcolm Mitchell with 112th pick in NFL draft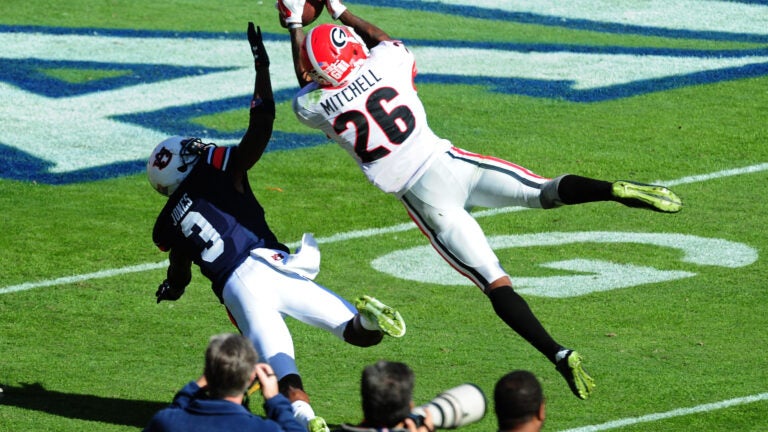 FOXBOROUGH — Tom Brady has a new weapon.
The New England Patriots added Georgia wide receiver Malcolm Mitchell to their offense with the 112th overall pick of the NFL draft on Saturday in the fourth round.
At 6-foot and 198-pounds, Mitchell is not the biggest wideout in this year's draft class, but he has the quickness to create separation through his precise routes. He has also shown an ability to fool defensive backs by running routes at different speeds.
#Patriots select a WR to start Day 3, drafting Malcolm Mitchell from Georgia with the 112th overall pick. #PatsDraft pic.twitter.com/4qotJEI5jY

— New England Patriots (@Patriots) April 30, 2016
Mitchell might have been drafted higher had he not dealt with injuries throughout his college career. Selected to the All-SEC freshman team in 2011, Mitchel came down with 85 receptions for 1,237 yards and eight touchdowns in his first two seasons with the Bulldogs. He then tore his ACL early in the opening game of the 2013 season. In 2015, he pulled down 58 receptions for 865 yards and five touchdowns.
The @Patriots are getting a good one! Can't wait to see @Money_Mitch26 do big things! #NFLDRAFT #DawgsInTheNFL pic.twitter.com/DcELQPqDM2

— Georgia Football (@FootballUGA) April 30, 2016
Julian Edelman, Danny Amendola, Chris Hogan, and Nate Washington are all veteran receivers, but the Patriots do not have a young, developing receiver waiting in the wings if and when any of those four get injured or are no longer with the team.