Patriots
Bill Parcells and Patriots rookie Jacoby Brissett form mutual admiration society
The Patriots' rookie quarterback pick has some impressive fans.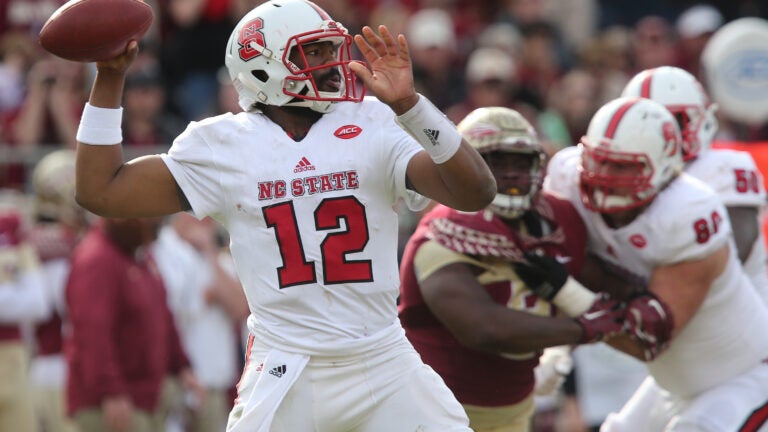 Jacoby Brissett may just be arriving in New England, but he has been forging connections to the Patriots since high school. Long before he was selected by the Patriots in the third round of the 2016 NFL draft out of NC State, the quarterback developed relationships with Bill Parcells and Charlie Weis.
"He's just an awesome kid. He's awesome," Parcells said of Brissett, via The Boston Globe. "He's got great character, he's committed, and I just have a very high regard for him personally."
Parcells, the head coach of the Patriots for the 1993 through '96 seasons, was a friend of Brissett's coach at Dwyer High School in Florida. As a teenager, Brissett met Parcells, and the two have stayed in communication since.
"I got the privilege to meet him, and he's been – I can't even describe what type of person he is, and what he's meant to my life," Brissett said on a conference call after being drafted. "Just him grooming me as a man, and preparing me for tough times, hard times, good times. He's been so helpful to me throughout this process, and just keeping me steady, and keeping a good head on my shoulders, and you know I just can't thank him enough."
After high school, Brissett played two seasons at the University of Florida before transferring to NC State. As a freshman in Gainesville, he played under offensive coordinator Charlie Weis, who previously held the same position with the Patriots during the 2000 through 2004 seasons.
"I only got to coach him for one season, but I absolutely loved the kid as a player and a person," Weis told the Boston Herald after the draft. "I couldn't be any happier that he ended up in New England."
Playing under Weis as a freshman in 2011, Brissett appeared in eight games for the Gators; he threw for 206 yards, two touchdowns, and four interceptions. He also rushed for a pair of touchdowns.
"We simulated some of the stuff that the Patriots do now, and it kind of gave me a little familiarity with some of the stuff when I went up there on my visit," Brissett said of his time with Weis. "I think he was instrumental to my learning curve in college, and I definitely carried a lot of things that he instilled in me at Florida."
Brissett transferred to NC State after the 2012 season. He became the Wolfpack's starter in 2014, and finished the 2015 season with 2,662 passing yards, 370 rushing yards, and 26 total touchdowns.
The 23-year-old joins Tom Brady and Jimmy Garoppolo in the Patriots' depth chart at quarterback. If Brady misses four-games due to his Deflategate suspension, Brissett could be backing up Garoppolo to start the 2016 season.
"He's a Curtis Martin, Willie McGinest, Troy Brown-type player," Parcells told the Boston Herald after the draft. "That's the kind of guy he is. Those kinds, those Tedy Bruschi types, those players who've been successful — he's very similar in his personal life to those kinds of guys."