Patriots
Patriots' Danny Amendola bolsters team-first reputation with restructured contract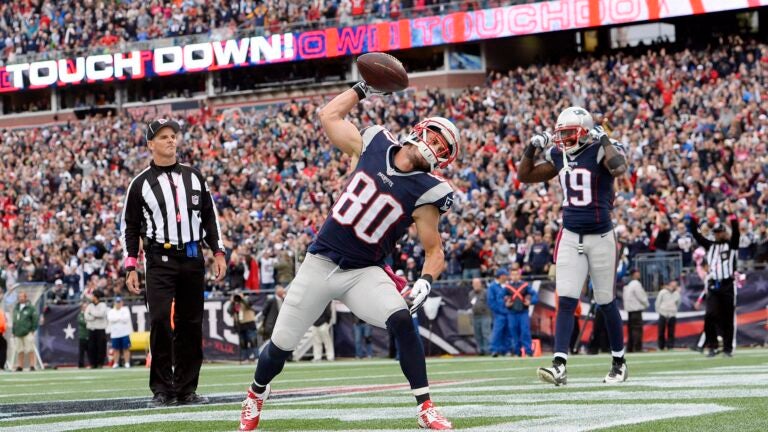 COMMENTARY
Tom Brady has a little competition.
Not at quarterback, but in his role as the Patriots' team-first guy who is never opposed to restructuring his contract, despite the fact that he delivers at a high level year after year.
That role might now be shared with Danny Amendola. The Patriots' wide receiver agreed to his second restructured contract in as many years, as first reported by Mike Garafolo of Fox Sports on Friday.
"It's an honor to play for this franchise and with this group of guys," Amendola said in a statement to Fox Sports. "We have one goal — to win another championship and that's all we care about."
That statement might as well have come straight from the Patriots' Super Bowl MVP quarterback himself.
In 2013, Amendola signed a five-year, $28.5 million contract to join the Patriots. In 2015, he restructured to a three-year, $12.75 million contract. He was scheduled to earn $5 million in base salary in 2016 and $6 million in 2017. In a detailed look at the revised deal, Ben Volin of The Boston Globe reported on Tuesday that Amendola took a pay cut of $4.4 million from his previous deal and will make $1.6 million, at most, in 2016.
Such move aren't completely selfless, in either Brady's or Amendola's case. For the franchise signal-caller, he benefits from giving the Patriots extra money to surround him with talent. For the slot receiver, the benefit is a better shot of making the roster.
Before restructuring his deal, Amendola was slated to count $6.8 million against the 2016 salary cap, according to PatsCap.com. The Patriots had more cap money allotted to Amendola this coming season than either wide receiver Julian Edelman ($4.4 million) or tight end Rob Gronkowski ($6.6 million). Amendola's previous cap number was not in line with his value relative to other players on the team, making him an easy target for release.
Just as importantly, the position of slot receiver might not be as prominently featured in the Patriots' offense this year as it has been in past years, with the arrival of Martellus Bennett and the possibility for a reintroduction of the two-tight end offense.
Given Amendola's potentially diminishing role on the team, the dollars just didn't make sense.
Entering the 2016 season, he will be battling against veterans Nate Washington, Chris Hogan, Aaron Dobson, and Chris Harper, and rookies Malcolm Mitchell and Devin Lucien for various slots on the depth chart: starting roles, backup spots and part-time jobs are all open at wide receiver. By accepting a much more manageable cap number, Amendola has improved his odds of emerging from training camp with one of the roster spots.
Clearly, the Patriots see value in Amendola's continued presence on the team. The quick passing attack will always be a key component to the Patriots' offense. We saw, in no uncertain terms, how quickly the offense went into the tank without Edelman on the field in the final six games of the 2015 regular season. If he gets injured again, the Patriots need to have a backup plan.
Hanging onto Amendola is preferable to cutting him, if only as an insurance policy for Edelman.
And given Amendola's willingness to restructure his deal, that doesn't seem like a role he would mind.
Meet the Patriots 2016 draft class
[bdc-gallery id="759535″]