Patriots
Patriots rookie Malcolm Mitchell has a spot in Reese Witherspoon's book club
The rookie wide receiver isn't just an avid reader, he's also a published author.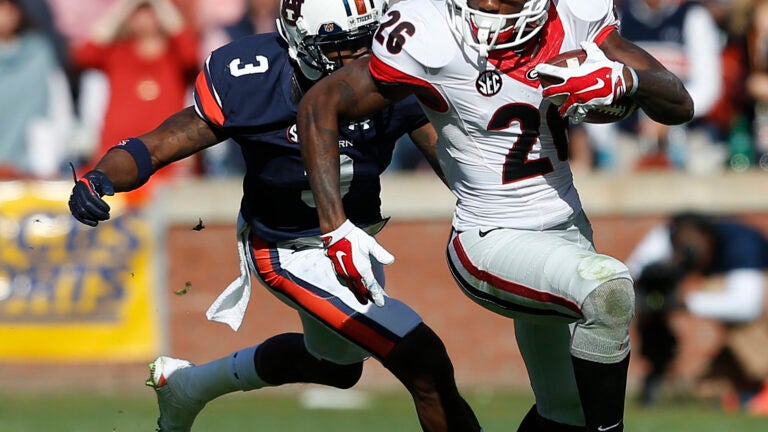 Malcolm Mitchell is in demand, on and off the field.
Not long after being picked by the Patriots in the fourth round of the 2016 NFL draft, the 22-year-old wide receiver was offered a spot in actress Reese Witherspoon's book club. The 6-foot, 198-pound wide receiver caught the attention of the Patriots with his performances on the field at the University of Georgia. Mitchell got on the radar of book club enthusiasts after a chance encounter at an Athens bookstore resulted in him joining a reading group then comprised of women ranging in age from their 40s to 60s.
A day after being drafted by the Patriots, Mitchell was recruited by Witherspoon for her book club on Twitter:
Hey @Money_Mitch26…Want to join my book club? #RWBookClub #NFLBookClub #TheMagiciansHat #DraftStory So inspiring❤️ https://t.co/qtOLImWBfc

— Reese Witherspoon (@RWitherspoon) May 1, 2016
Thank you @RWitherspoon. I'd love to join! What are you reading now? https://t.co/uGB4zXBfvR

— Malcolm Mitchell (@Money_Mitch26) May 1, 2016
Amazing! ? Right now, #TheOutliers – a great thriller by @kimmccreight. Let me know what ya think! #RWBookClub ? https://t.co/TqYZoaMDYP

— Reese Witherspoon (@RWitherspoon) May 3, 2016
During his post-draft conference call on April 30, Mitchell was asked about his book club in Athens.
"The book club is awesome," he told reporters. "The book club helped me grow into a better individual, a person who learns and grows throughout life in general. I joined the book club probably two or three years ago and from there it just grew into this story that people like to hear, but it was honestly an innocent interaction that I had with someone in the book club that grew into the story that it is today."
Mitchell's enthusiasm for literature and book clubs was apparent in his interactions with Witherspoon.
Thank you! I will definitely check it out. Have you read Sharp Objects by Gillian Flynn? I think you will enjoy it! https://t.co/VNLckWijsZ

— Malcolm Mitchell (@Money_Mitch26) May 3, 2016
.@Money_Mitch26 I loved Sharp Objects . If you like thrillers , I think you will like LuckiestGirlAlive [email protected] #greatbook

— Reese Witherspoon (@RWitherspoon) May 4, 2016
Agreed, Luckiest Girl Alive is a #greatbook. The Girl On The Train by Paula Hawkins is definitely a must read too. https://t.co/Kck7eyn5B8

— Malcolm Mitchell (@Money_Mitch26) May 4, 2016
While any pro-caliber football player joining a book club might garner attention, Mitchell's personal story made the hobby all the more noteworthy. Only able to read at a junior high level upon enrolling at Georgia, the wideout fell in love with reading in college, and eventually wrote a children's book, The Magician's Hat.
Here is the description of the story from the University of Georgia bookstore.
David, the Magician, loves to perform magic but his favorite trick is not pulling a rabbit out of a hat or finding quarters behind the ears of children. Instead, David knows the magical power of books, which can explore dreams and develop creativity. Bring your imagination and look inside The Magician's Hat.
Mitchell spoke about the book and his writing process in July 2015 with USA Today.
"With writing it's almost personal," Mitchell said. "This is a piece of me. It's my vision, it's my heart it's my words. Opening up and sharing that with everybody isn't the easiest thing to do, but if you want to get a message out you have to open your arms and allow people to step in and today is my attempt to do that."
Mitchell isn't actually the only Patriots' player to author a children's book. Tight end Martellus Bennett, who joined the Patriots by trade during the 2016 offseason, wrote a book series called Hey A.J.
"I'm pretty sure we'll talk about it eventually," Mitchell said of Bennett's book on April 30. "I'd say the first thing I need to do is come in and work hard. Then I'm going to have to stick around for a little bit, then I'll talk to him about it."