Patriots
Jimmy Garoppolo's dad says he hopes his son stays in New England
Garoppolo's contract doesn't expire until 2017.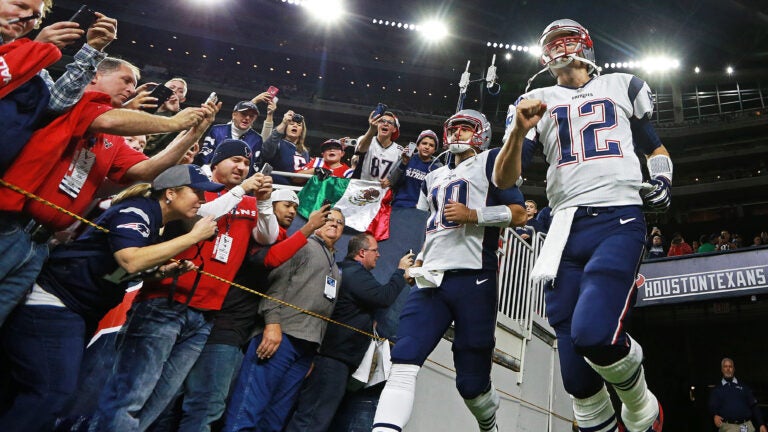 When the Patriots picked Jimmy Garoppolo in the 2014 NFL Draft, the match was seemingly perfect. Garoppolo needed time to develop after playing four seasons at Eastern Illinois, and he got that opportunity as Tom Brady's backup.
But with two NFL seasons under his belt, Garoppolo and the Patriots may no longer be such a perfect fit. If the former second-round pick wants to someday start for an NFL franchise, he may have to leave New England, as the 38-year-old Brady said in 2015 he hopes to play 10 more years.
Garoppolo is signed with the Patriots through the 2017 season. His father Tony Garoppolo discussed Jimmy's future with the Patriots in an interview with the Boston Herald Monday.
"There'll come a time in the next year or so, decisions are going to be made. You read so much, he's going, he's staying," Tony told the Herald. "You've got to just let it happen and hope for the best. It's the business end of it. But it's a wonderful situation to be in, whichever way it turns. We hope he stays in New England. Maybe there's a way they can still work with the two of them with the progression, only time will tell.
"But it's been a great experience. It's been great for him. You couldn't have drawn it up any better."
Garoppolo could get the opportunity to start during Brady's four-game suspension for Deflategate, which Brady is slated to serve but is currently under appeal in court. If Garoppolo excels as the Patriots starter, the 23-year-old quarterback may turn into a trade chip for the Patriots.
Bill Belichick — not Garoppolo — could decide how long the young quarterback stays in New England.