Patriots
Tom Brady has influenced the way Aaron Rodgers eats
It sounds like Aaron Rodgers bought the "TB12 Nutrition Manual"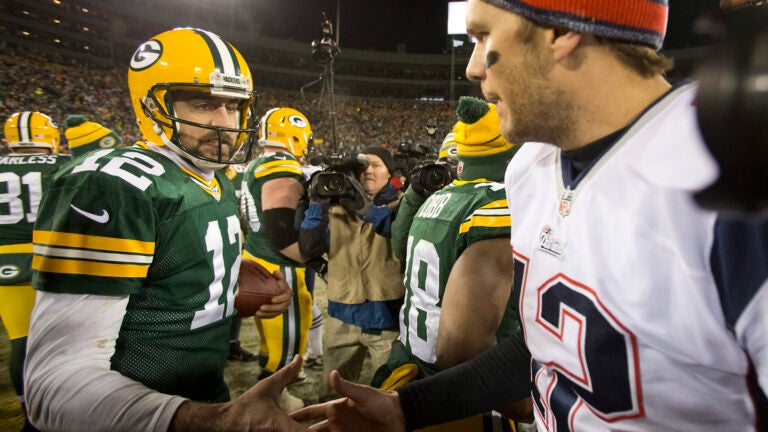 Aaron Rodgers has been listening to his friend Tom Brady's philosophy on nutrition, and the Packers quarterback has converted his diet.
Rodgers told ESPN.com he used to subscribe to an 80/20 diet, where he was allowed to eat 80 percent healthy and 20 percent of whatever he wants. But Rodgers and the Packers' director of performance nutrition decided to move the 32-year-old quarterback to a more regimented diet.
"To be honest, Tom Brady is an influencer there because of the stuff he talks about, and how healthy he is," Rodgers told ESPN.com last week.
Brady, whose personal chef detailed the quarterback's regimented diet, has spoken openly about how he thinks his dedication to nutrition has helped him continue to perform at a high level at 38 years old.
"I'm someone who does take nutritional supplements," Brady said on WEEI's "Dennis and Callahan Show" in November 2015. "I take a green supplement. I take different supplements to try to help my body recover from the rigors of the training that we do. I try to eat really well. I try to have a clean diet so that I can play and try to prevent inflammation in my body. I try to do that so that I can play for long periods of time."
Rodgers didn't outline what, exactly, his new dietary standards were, but shared the shift in philosophy.
"Everybody eats a little differently," Rodgers said. "But the more where you are aware of what you put in your body and how it affects your performance, the better opportunities you have. And that's what I'm trying to do."