Patriots
Here's the meal Guy Fieri would cook for Tom Brady before a game
"They gotta be ready to turn and burn. And that dude turns and burns."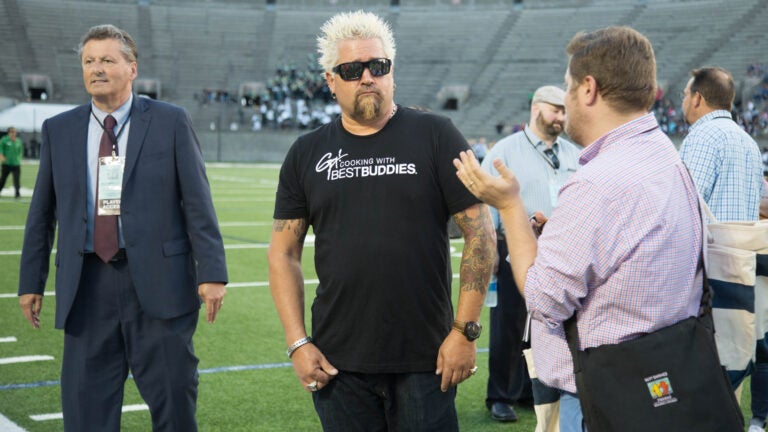 Standing on the sidelines at Harvard Stadium on Friday night, Food Network star Guy Fieri was briefly left at an uncharacteristic loss for words. As he watched Tom Brady participate in the Best Buddies Football Challenge, Fieri paused as he tried to answer a simple question: If given the chance, what pre-game meal would he serve the Patriots' quarterback with the famously austere diet?
"I don't know, man," Fieri said at first. "That dude's so lean and mean, I don't know."
After giving it some thought, Fieri offered his response:
I think it would have to be something healthy. I heard he's got a cookbook or something like that. So I imagine it would be some type of light fish. It would probably have some farro, some quinoa, maybe some roasted Brussels sprouts. A nice vinaigrette. It would be a nice, big protein, healthy, get-ready-for-game-day kind of food. Because these guys don't want to be tied up with anything too big. They gotta be ready to turn and burn. And that dude turns and burns.
As for what he would eat, Fieri continued along similar lines.
"Believe it or not, where did I eat last night? I ate a vegetarian restaurant," Fieri said. "I sent it out on Twitter and everybody's like 'you did not!' I'm a big vegetable fan. I mean I'm not 30 anymore so I don't get to eat all the carbs I want. I have to pay attention."
Green Elephant Vegetarian Bistro & Bar – one of the best vegetarian meals I've had in a lo… https://t.co/gjJET6OqWq pic.twitter.com/h780ULhNUs

— Guy Fieri (@GuyFieri) June 3, 2016
The Best Buddies event helped to raise money for Best Buddies International, a nonprofit that is continuing to improve the lives of those with intellectual and developmental disabilities.