Patriots
Video: Rob Gronkowski shaves his head, then takes control of the buzzers himself, for a cause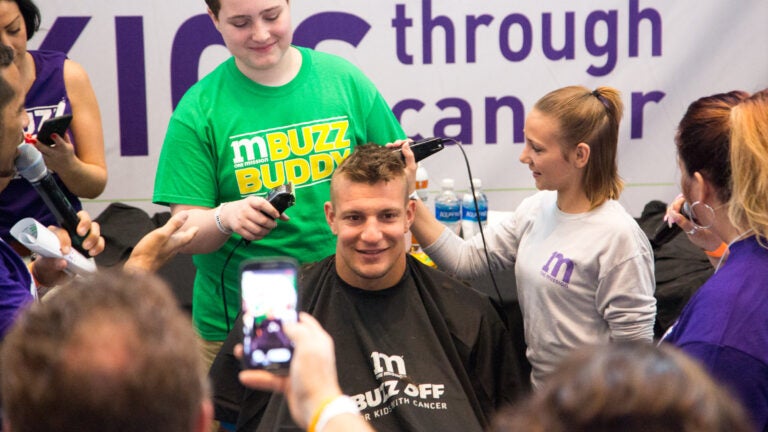 Rob Gronkowski was up early Sunday at Gillette Stadium. But rather than shedding defensive backs, the New England Patriots tight end was in Foxborough to shed his hair.
In what's becoming an annual tradition, Gronkowski shaved his head during a fundraising benefit One Mission Buzz Off in support of kids with cancer. It's the fifth straight year Gronkowski has participated.
(Gronkowski enters at about the 16-minute mark.)
WATCH LIVE: Rob Gronkowski -Gronk buzzes off his hair for kids with cancer. #buzzforkids

Posted by Boston.com on Sunday, June 5, 2016
While his hair was slowly being buzzed away, the Patriots star said that his experience meeting and visiting children struggling with cancer motivated him to go out to help support them and raise awareness.
After getting his own hair shaved, Gronkowski took control of the buzzers himself and proceeded to shave the heads of several other Buzz Off participants.
Asked what it felt like to have his hair shaved by the hulking Patriots tight end, one adult male "buzz-ee" said it was reassuring.
"Gronk's got great hands, as we all know," he said.
According to an organizer, One Mission Buzz Off events had raised $6 million as of Sunday. According to One Mission's website, Sunday's event accounted for at least $653,000 of the money raised.