Patriots
Jimmy Garoppolo isn't changing his approach with a possible Tom Brady suspension looming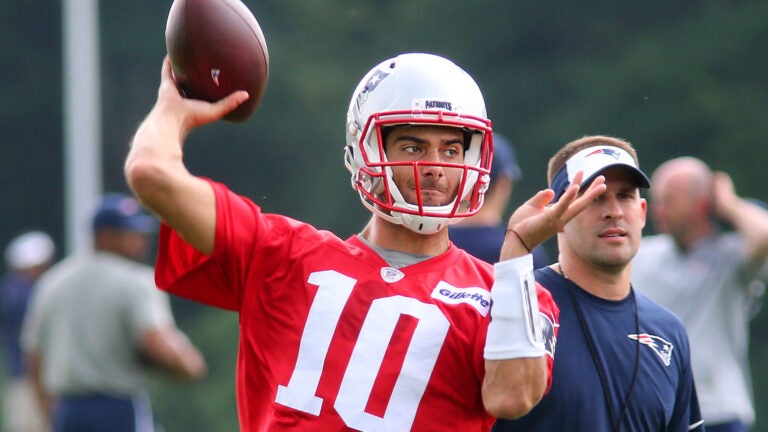 Tom Brady or no Tom Brady, not much changes in terms of Jimmy Garoppolo's preparation.
When it was announced on May 11, 2015 that Brady would be suspended four games for violating the NFL policy on the integrity of the game, Garoppolo was slotted to take his place before the suspension's nullification on Sept. 3.
Now, with Brady's suspension reinstated, the 24-year-old second-round selection out of Eastern Illinois finds himself in the same exact situation, and says that his approach has been the same all along.
"To be honest, it really doesn't change much for me," Garoppolo said Tuesday following the first of three practices at the Patriots' mandatory minicamp via the Boston Globe. "Whether it happened last year or it didn't happen, I'm pretty much going about it the same way. Just enjoying the process right now and trying to get through OTAs."
"I'm just coming out here and trying to get better every day," he added.
Play of day: WR Aaron Dobson a one-handed catch on a long-bomb TD from Jimmy Garoppolo. Dobson fell to ground after making catch.

— Mike Reiss (@MikeReiss) June 7, 2016
Garoppolo completed 29-of-36 passes during non-contact team drills, according to the Boston Herald.
Entering his third NFL season, Garoppolo has appeared in just 11 career games (no starts). In this limited action, he has completed 20 passes on 31 attempts for 188 yards and one touchdown.
Every matchup between Tom Brady and Peyton Manning
[bdc-gallery id="544114″]